Kia's new electric 8-seater SUV is full of innovation. Under certain conditions the car is able to drive autonomously, and it can transfer power from its battery into the power grid. That, and much more, makes the car attractive and exciting. And that's far from all that makes it a game-changer.
With a wheelbase of 3.1 meters, length of 5.1 meters, width of 1.9 meters and height of 1.75 meters, the Kia EV9 is one of the bigger cars on the market. Despite its size, the manufacturers haven't compromised with the aerodynamics which positively contributes to its range. It's expected to go 541 kilometers on a charge according to WLTP standards, which is above average compared to the segment it belongs to. Like the EV6, it is equipped with 800V technology, allowing for super-fast charging. In 15 minutes, you get 239 kilometers of driving range.
Build for autonomous driving
Besides the standard version, there will also be a GT Line version of the EV9, which stands out aesthetically and technically. It can be equipped with the Highway Driving Pilot system (HDP), which makes the car 'self-driving' under certain conditions. Fifteen sensors, including two LiDAR systems (Light Detection And Ranging Radar), enable it to detect objects in a full 360° field of view and react to the road and other users to avoid potential collisions.
The system will initially be rolled out only in certain markets which is due to various criteria and legal frameworks for self-driving cars. What will be possible immediately, however, is autonomous parking. Given the size of the Kia EV9, this functionality will undoubtedly appeal to many drivers.
Multifunctional battery
The EV9 features a V2L (Vehicle-to-Load) function as standard. This allows you to use electricity in the drive battery to power electrical appliances with up to 3.68 kW. Handy for those who like camping or doing odd jobs outdoors.
It will be more interesting though, as Kia eventually will offer the option of adding the so-called Vehicle-to-Grid (V2G) function via the Kia Connect Store. People with solar panels will especially benefit from this: they can store the energy from their photovoltaic system in their Kia EV9 and then use it as a home battery. Even better, they can also sell the stored power to the grid.
RWD or AWD
You will have a choice between three powertrain versions: a RWD with standard battery (76.1 kWh) and 150 kW of power, another RWD with large battery (99.8 kWh) and 160 kW, and the AWD, which always comes with the large battery and draws 283 kW from its two electric motors. That power output enables Kia's SUV to speed from 0 to 100 km/h in barely 6.0 seconds.
The EV9 will make its premiere at the 2023 Seoul Mobility Show but will also be exhibited at the New York International Motor Show in early April. Pricing and equipment details are yet to be disclosed. It will be available from autumn 2023 at the earliest.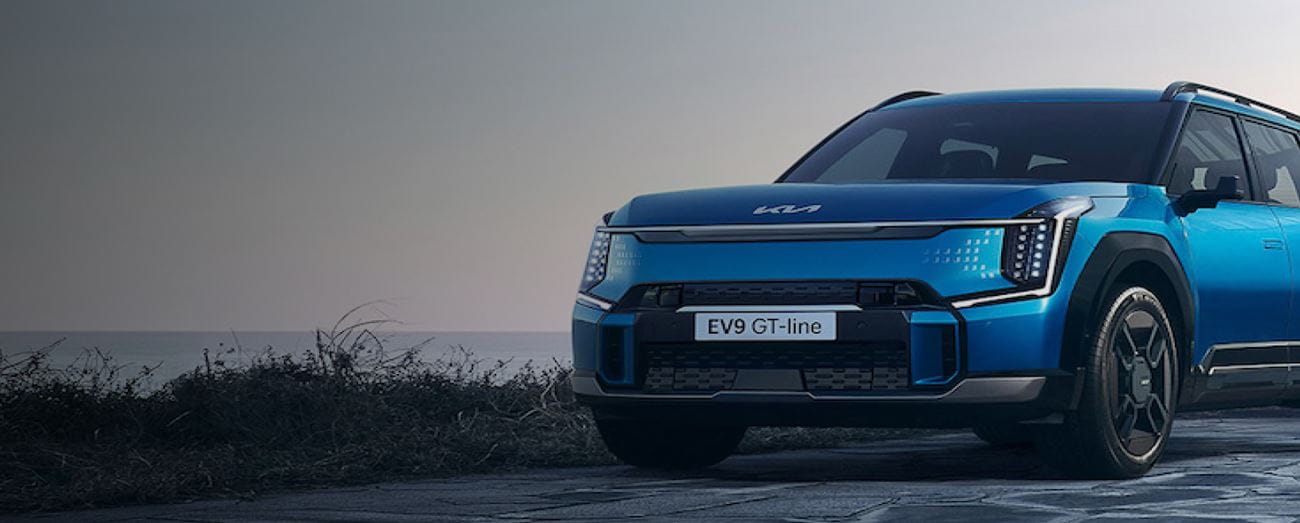 KIA EV9
Inform me when the Kia EV9 is available
Enter your details to be among the first to know about availability. As soon as the car is available at LeasePlan, we will contact you without obligation.