The next-generation car
With its 'intelligent design, identity, and visionary technologies', the ID.3 is an affordable and compact car designed for the masses and is very eco-friendly at the same time. Even though it looks like an updated VW Golf on the outside, it is all-new on the inside.
The first full-electric car from Volkswagen is ideal for the cost-conscious driver, but also for the electric newcomer. The ID.3 is equipped with VW Group's bespoke MEB, the world's first platform dedicated to electrification.
The future is fully electric
With its new and pioneering design, longer ranges, and impressive driving dynamics, the ID.3 has the potential to revolutionize the electric driving market. The ID.3 kicks off the company's ambition to produce 70 new, fully electric VWs by 2028.
The practical functions feature an advanced head-up display and a lighting system that can 'talk' to the driver. Plus, the ID.3 supports wireless connections with Apple CarPlay and Android Auto, so you never have to plug-in your phone to connect.
Performance
Chassis

Volkswagen chassis

Acceleration 0 - 100 km/h

In 8 sec
Miscellaneous
Technology

Holographic HUD
Eco-friendly car in multiple sizes
The new ID.3 is an eco-friendly car, which in many ways will inspire others. With the green transition in focus, the ID.3 makes it fun to drive an electric vehicle. VW sets the bar high with their new ID.3, and it will in many ways be a benchmark of comparison for other electric vehicles.
The new ID.3 comes in a variety of sizes, so you can choose the one that covers your needs. Choose from three different battery sizes: 45 kWh, 58 kWh or 77 kWh, with and expected range of 330, 420, and 676 km., and a range of two power levels – 148 hp and 201 hp.
FAQs of electric driving
What is a full electric vehicle? An electric vehicle, also called an EV, uses one or more electric motors or traction motors for propulsion. The energy used for driving an EV is stored in the battery and the battery is charged at a charging station (at home, at the office or in public).What do I need to charge my electric vehicle? To charge your electric vehicle, you will need a charging station, a charging cable, and a charging card.How many kilometres can I drive on a fully charged battery? It depends on what size of battery you have in the car. Many electric vehicles have an expected range of 200-450 kilometers, but many factors can impact this. Amongst others, temperature, speed, driving type, wind, and how much gear is in the car. Does an electric vehicle require different maintenance than a petrol or diesel car? An electric vehicle requires less maintenance. This is due to the engine's reduced number of moving parts compared to a conventional combustion motor, which therefore leads to reduced wear. Moreover, oil changes are a thing of the past and the vehicle does not have an exhaust or gears. In addition, the brakes are less susceptible to wear thanks to the regenerative braking capacity. How safe are electric vehicles? Electric vehicles are approved for all safety factors, just like conventional vehicles. In the event of a collision, there is a possibility that short-circuiting causes an electrical fire, though the safety precautions and construction have limited this risk to an absolute minimum. How long will it take to charge my electric vehicle? It depends on a lot of factors. Here you're looking at the type of car you're charging, battery size, and what type of charging station you're using. If you're charging the car with a regular charger, it will take approximately 5-10 hours to charge a car. If you're using a public charger, it might be faster. If you're using a super charger, your car's battery will charge to 80% in approximately 30 minutes. What does it cost to charge an electric vehicle? It depends on where you charge your car. Private charging stations are in most instances the preferred economical option. You have to look at the different charging suppliers and get more information. You can read more about how to charge an electric vehicle here: [Charging your electric vehicle](targetSelf:/en-dk/electric-driving/charging-your-ev/)
Want to know more? We're here to help!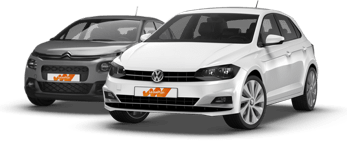 Looking for a specific car or deal?
We're happy to help you find the solution which best suits your needs.