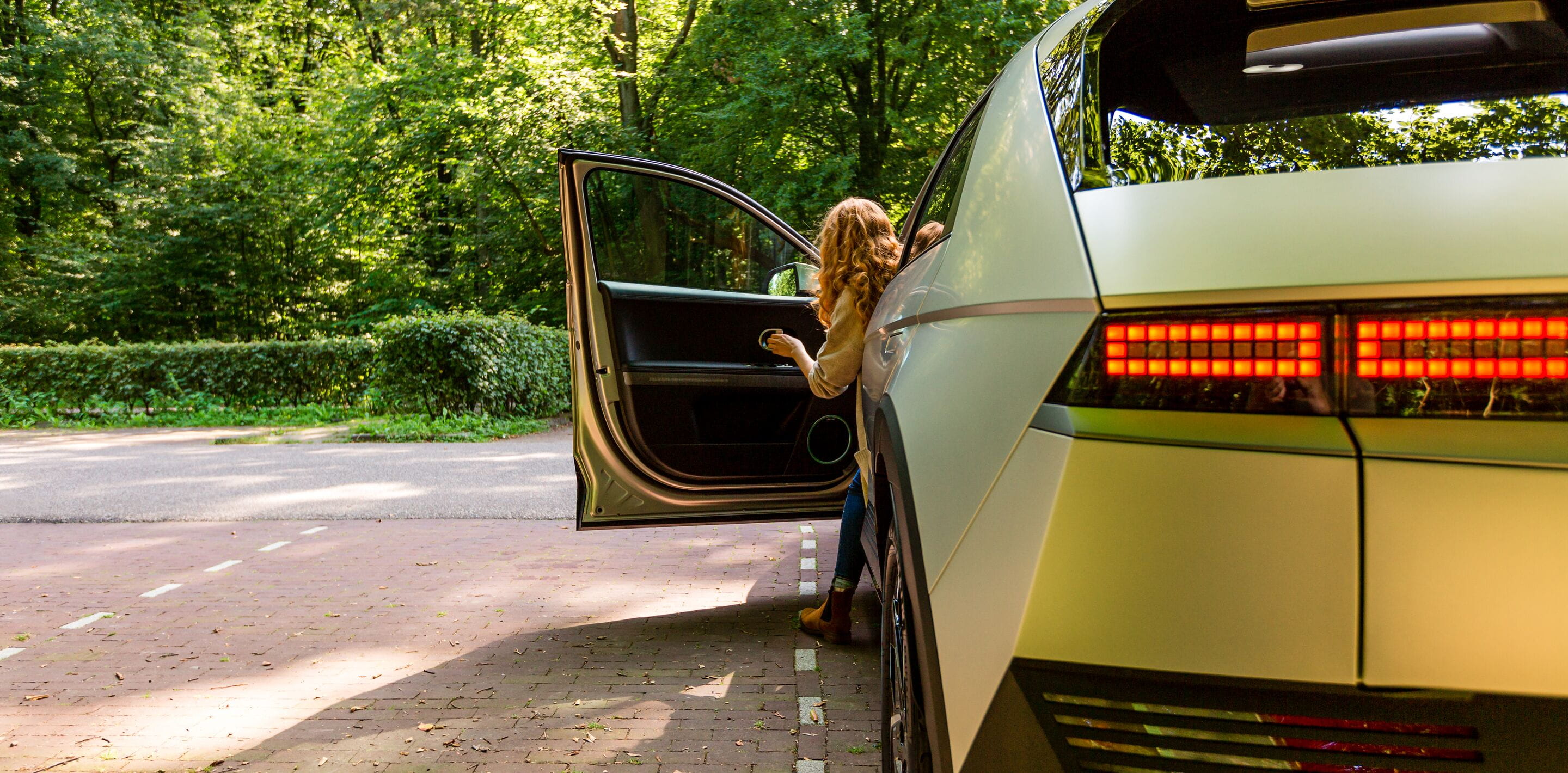 These EVs will leave you speechless
If you're looking for an EV, you have come to the right place. Check out five EVs that will leave you speechless
These 5 EVs leave an impression
The revolution is electric!
Let's start with a bold statement: we're in the midst of the biggest automotive revolution since Henry Ford installed the first moving assembly line back in 1913. What's more, this new electric reality will be here much faster than you think. We'd like to get you on board by introducing you to some of the best fully electric vehicles in our range.
Kia EV6 - F(r)unky through and through
Daring and innovative. A breath of fresh air. An electric vehicle with big dreams... The Kia EV6 has been praised to the skies, and rightly so! With its floating centre console, fully digital dashboard with two 12.3" curved displays, sporty two-spoke steering wheel, high-quality recycled vegan leather and augmented reality head-up display, you're in for a treat! It has a spacious boot (up to 520 L) at the back, as well as a 52 L 'frunk' at the front.
What about the range? Its 528 km range is nothing less than impressive! And thanks to the 800 V fast multi-charge system, you can charge up to 100 km in less than 4.5 minutes. Moreover, it takes only 18 minutes to charge from 10 to 80%. Ready for a new kind of electric driving experience?
Skoda Enyaq iV - Fully electric vehicle, with the 'F' of family
The ENYAQ iV is the first fully electric model of the 'simply clever' make and the perfect EV for a weekend away with the whole family. Its spacious interior easily accommodates five passengers and all their luggage. And thanks to a range of an expected 510 km, it's pushing the boundaries of the all-electric driving experience. Add to that its modern, expressive look, state-of-the-art technologies and lots of useful features like a built-in umbrella holder and ice scraper, and you get the perfect electric family car.
Tesla Model Y - Why go electric? This is Y!
According to Elon Musk, his Tesla Model Y could become the most popular car in the world. It has to be said, this 'middle segment' Tesla has it all: style, performance, space and comfort. What about the panoramic glass roof, heated seats, dual climate control and vegan seating? Its 75 kWh battery offers a 507 km driving range and acceleration from 0 to 100 km/h in 5.0 seconds. And it only takes 19 minutes to charge it. Middle segment? Yes. Middle of the road? Not in a million years!
VW ID.4 - e-Power to the people!
The ID.4 is still a real Volkswagen: a 'people's car'. It was designed for the people and the environment. The result is a practical, fun and all-electric SUV. It has an 82 kWh battery, achieves 100 km/h in 8.5 seconds and can reach up to 520 km between charges. You can easily charge it at home or opt for DC fast charging. This all-electric Volkswagen looks sleek, but is brimming with innovative technologies and driver assistance systems. So it's got both the looks and the brains. Get in and drive towards the future!
Ford Mustang Mach-E - Unleash your all-electric passion
Prepare for vigorous, emission-free acceleration kicks: the Ford Mustang Mach-E 2021 builds on an iconic legacy. The Mach-E is Ford's first all-electric crossover. The RWD Standard Range model has an expected WLTP range of 440 km. Available with a standard 75.7 kWh battery or a more powerful 99.8 kWh version, the interior can accommodate up to five people and has many contemporary features, advanced infotainment options and innovative loading and storage solutions. Horsepower has never been so environmentally friendly!
Want to know more? We're here to help!
Call us at +45 3673 8300
Call us Monday - Thursday from 8.30 AM - 4.30 PM and Friday from 8.30 AM - 4.00 PM