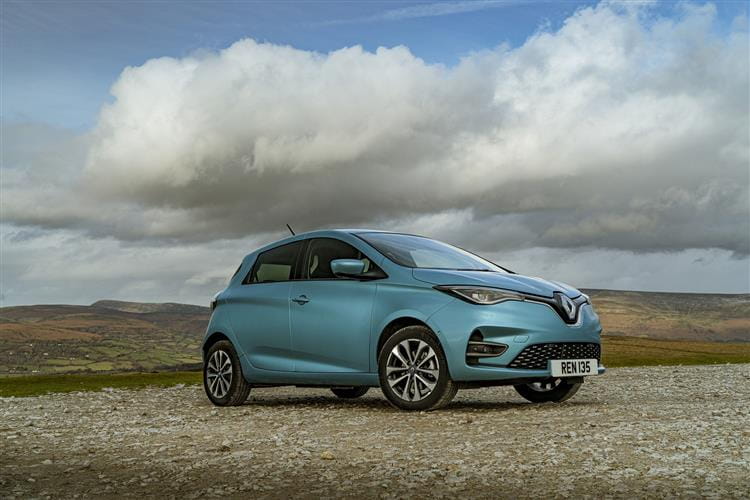 Top 3 Small Full Electric Evs
9 min to read
Electric vehicles
---
In our Small Full Electric Evs top 3, we look at the Renault ZOE, Peugeot e-208 and Honda e.
Renault ZOE
The problem with electric cars to date has been three-fold, high prices, restricted performance at higher speeds and a limited driving range. Renault is bent on changing that and the latest version of the company's ZOE supermini looks quite affordable compared to an alternative high-spec petrol supermini. In addition, the brand has added in a more powerful R135 electric motor to push things along in the mid range. And there's a more capable 52kWh Z.E. 50 battery that boosts the previous 186 mile WLTP operating range to as much as 242 miles. What's stopping you?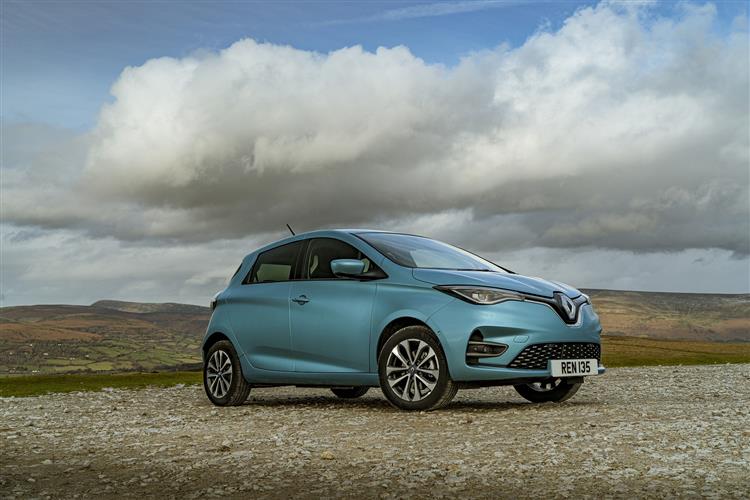 The ZOE is designed for city driving, so the steering has been geared to offer a smooth effortless feel. Likewise, the throttle pedal doesn't offer too much in the way of resistance but the brake responds to a good hoofing which seems a little odd at first. Like all electric cars, the ZOE feels eerily quiet as it pulls away, with no discernible engine noise other than a faint whine. This usually means you'll hear every bump and thump from the road as a result, but Renault has done a good job on chassis refinement and ride quality is excellent.
Handling is as good as you'd imagine for a car with such a low centre of gravity. The improved R135 synchronous electric motor with rotor coil has a power output that's 16hp up on the orginal unit fitted to this car, enough to shave almost two seconds off the 50-75mph overtaking increment. Acceleration and pull-away are responsive from low speeds and mid-range acceleration from this 100kW version is much improved. If you don't care about that, a cheaper version with the old 80kW motor is still available.
What about charging? Well, the standard type-2 cable provided with the car and its Cameleon charger are used for everyday AC charging use, such as at home with a Wallbox, at work, in the car park or on public roads using anything up to a 22kW supply. When using a 7kW Wallbox a 100kW ZOE model can charge from 0 to 100 percent in 9 hours and 25 minutes. This ensures that a complete recharge can comfortably be achieved overnight. Around 190 miles of range can be achieved in just 8 hours. Users charging their vehicle at home can also benefit from the programming options, adjusting their recharge to correspond with tariff fluctuations from their electricity supplier. Plugging the ZOE into a public 22kW roadside charger can deliver a useful 78 miles of range in only one hour. However, the fastest recharge times are achieved with the new 50kW DC charging option, which is perfect for longer trips. Replenishing the battery in this way can add around 90 miles of range in as little as half an hour.
On to design. Most people would walk past the ZOE and not take it for anything other than Renault's latest cute little car. Rather refreshingly for a car of this kind, its design inspiration is sophisticated and grown-up. With curvaceous flanks and neat one-box shape, it's quite a good-looking thing, especially in this revised form, where the car features full-LED headlamps, smarter bumpers and bigger LED tail lights.
The fascia's been updated too, primarily with a new 10-inch TFT instrument cluster, which is standard across the range. The dashboard has been completely redesigned to significantly improve the quality of its finishes and on 'Iconic' models there is 100 percent recycled seat upholstery. The centre of the dashboard houses the Renault EASY LINK multimedia system, which on certain models now benefits from a large 9.3-inch touchscreen. There's now an electronic parking brake too.
Otherwise, things are much as before. Some of the plastics aren't going to give Audi designers anything much to think about, but being built down to a price is very much the point of this car. It's no bad thing. The view out is extremely good as you sit rather high but a lack of seat height adjustability might prove an issue for taller drivers. As with most superminis, space in the back is more mini than super but access is good thanks to the standard five-door layout, and there's more than enough room back there for the kids. One substantial plus point is the 338-litre boot which extends to 1,225-litres should you fold the one-piece rear bench.
In summary, this improved Renault ZOE represents another step towards the electric vehicle becoming a genuinely practical mode of transport for the average motorist. If it works for you, why not?
Peugeot e-208
It's getting harder and harder to resist the draw of full-electric vehicles. Most of them seem to be SUVs these days but here's a Zero Emission supermini, the Peugeot e-208. It looks snappy, does 211 miles between charges, has no practicality downsides over the combustion-engined version and comes with monthly payment finance you could justify. What's not to like?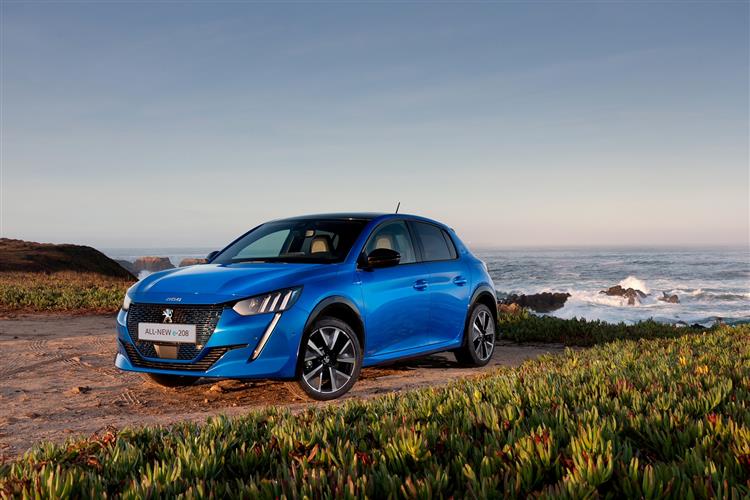 Here, as with this model's cousin the Vauxhall Corsa-e, a 50kWh lithium-ion battery is mated to a 100kW electric motor putting out 136bhp and working through the usual single-speed auto transmission you get with Evs. Like all electric vehicles, this one develops all of its torque at once (there's 260Nm of it) and this car simply hurls itself away from rest (it takes just a couple of seconds to crest the 30mph mark and 62mph is reached in only 8.1s), disguising the fact that (also like all Evs) this Zero Emissions variant has a bit of a weight problem - that drivetrain adds over 300kgs of bulk. That other small battery-powered little hatches manage this issue a little better is evidenced by the fact that the e-208's WLTP-rated 211 mile driving range is easily improved upon by the latest versions of the Renault ZOE and the BMW i3.
Still, all of this does represent a brave new world for forward-thinking supermini buyers looking to make the (still rather expensive) switch into all-electric motoring, it seems like only yesterday, after all, that a fully-charged small EV could only manage around half the kind of range you get from this one. Of course, you certainly won't achieve anything like that kind of operating capability if you get anywhere near this EV's quoted 93mph top speed. Or if you habitually drive your e-208 in the 'Sport' setting that'll be necessary to release to full 136bhp power output just mentioned. The quoted range figure will only be distantly possible if you instead engage a somewhat restrictive 'Eco' mode that drops power output right down to 83bhp. That's the setting you'll use in an e-208 around town, an environment in which it makes a strange polyphonic sound at low speeds to warn unwary pedestrians of its impending approach. Above 18mph, all you can hear is a bit of tyre roar from the eco-moulded Michelin rubber.
So how successful has Peugeot been with this e-208 in terms of what it describes as "unboring the future"? Well, we think you'll be impressed. Other sector competitors can go further on a single charge, but we think that this model's operating range will (unlike that of segment rivals like the Honda e and the MINI Electric) be quite sufficient for the average family's needs.
There may be a few supermini buyers who don't like the cabin layout, want something better suited to cornering their door handles or who might prefer a premium brand - but we're guessing they'll be in the minority. Most will recognise that in this e-208, Peugeot has delivered an EV supermini you could really bond with. Glug, glug, glug, plug: bring it on.
Honda e
Electric cars are all very worthy but, by and large, they tend to lack any kind of 'want one' factor. Here's one though, that you might really covet - the Honda e. Because it's very small and doesn't go particularly far on a single charge, it's very much an urban town runabout. But what a cool one to have.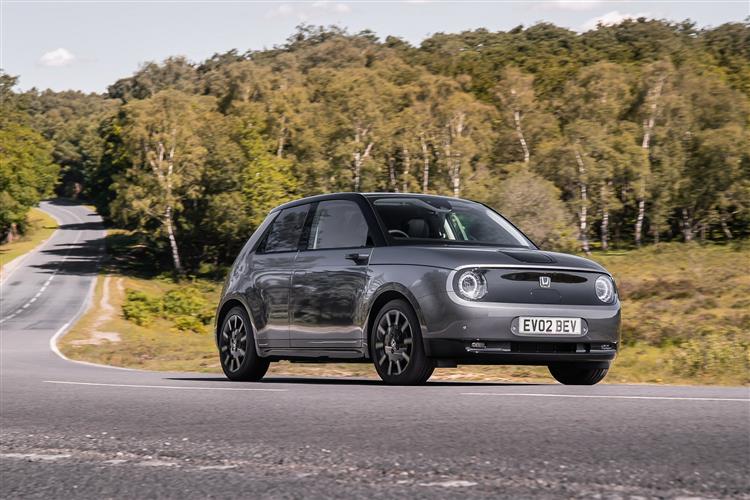 This is a great little city scoot. There are two outputs to choose from (136PS and 154PS) but the base one will be fine for most. With proper independent multi-link rear suspension (of the type most small cars do without), the ride is excellent and there's a super-tight 8.6-metre turning circle kerb-to-kerb. Honda has made the power output quite linear so you don't exhaust the limited battery capacity with neck-snapping acceleration from the get go, but 62mph from rest is still quickly dispatched in 8.3s in the higher output variant (it's 9 seconds for the 136PS model). With 315Nm of pulling power on tap, it should actually feel a bit faster than that.
Like most EVs, this one has a bit of a weight problem: 1,514kgs is a portly total for a car this size, though to be fair, that figure's not too bad by EV standards. Honda's very proud of the way it's been able to achieve a perfect 50:50 weight distribution thanks to the way that the batteries have been mounted as low as possible in the floorplan and as a result, cornering body roll is commendably well controlled. As with a Nissan LEAF, there's also a button for one-pedal driving, with this applied, the regenerative braking effect when you lift off the throttle slows you so much the brake pedal is virtually redundant.
Rarely have we ever tested a car that looks quite so much like a motor show concept. Not everyone will like the look of this Honda e, but there's certainly nothing like it on the road. It's certainly small - just 3.9-metres in length - and quite tall too, the roofline 100mm higher than a rival MINI Electric Hatch. It's a clean sheet design with virtually nothing - visually or in terms of engineering - shared with the brand's only fractionally larger Jazz Hybrid, which is impressive. There's brand DNA here, but the character and style of what a small Honda should be has been re-imagined for the 21st century. And so much about it will be fascinating if you find a different approach to be also an intriguing one.
At the wheel, there's lots of showroom wow factor, though we're not too keen on the incongruous light wood trim. Two 12-inch screens sit at the centre of the dash and it's possible to 'swap' displays between them - so, for instance, you might want to pass the sat nav over to the front passenger to type in an address, say. You can even hook up a games console to the HDMI input port. Or select wallpaper or aquarium screen backgrounds to sooth your mood. The main interior talking point though, will probably be the corner monitors that take the place of exterior door mirrors, a design idea we first saw on a much bigger EV, the Audi e-tron. Here, the concept actually works a little better - the mirror displays are a little better sited. And on the 'Advance' variant, aother little screen takes the place of the rear view mirror, though you can flip it back to a conventional mirror surface if you wish. Predictably, there's not much room in the back and the boot is just 171-litres in size.
Before the Honda e came along, only the smart fortwo EQ and the MINI Electric were able to offer something more charismatic and fun in the smallest end of the EV segment. And the firm ride that characterises those cars isn't really what you'd ideally want in an urban-based runabout. The Honda e is, for us, a better stab at what a more individualistic car of this kind should be. It's modern, yet memorable, both inside and out, and little touches like the clever fascia screens and the virtual door mirrors provide the required cutting-edge feel that early adopters of technology tend to like.
Quite a lot of the motor industry thinks that buyers want full-electric vehicles to look and feel just like the combustion-engined ones they left behind. Honda has a different perspective. Throughout its history, this innovative Japanese brand usually has had. Thank goodness for that.
Published at 17 January 2022
Was this article helpful?