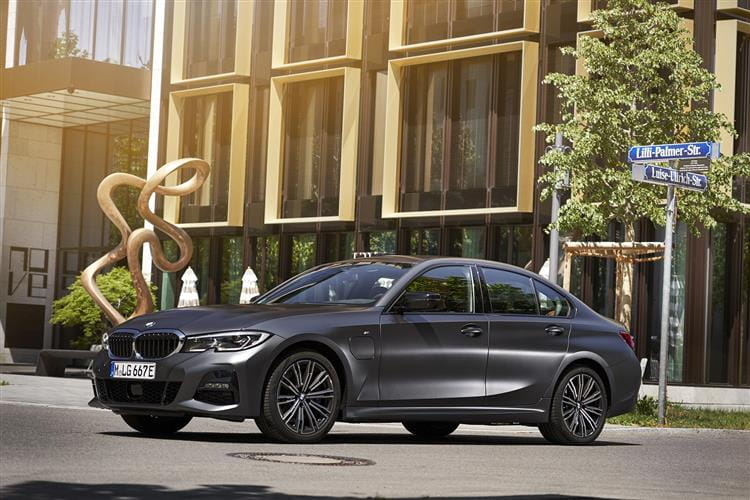 BMW 330e
With BMW's plug-in hybrid petrol/electric 330e model, the conventional 320i variant's 184hp 2.0-litre petrol engine has been matched with an electric motor and a larger battery to create quite a package. Now you can habve it with the estate body style and xDrive AWD too.
This current 330e Plug-in hybrid took a big step forward over its predecessor, the main difference between the two cars found when it comes to measurement of all-electric driving range. This was rated at only 21 miles in the previous generation 3 Series plug-in but in this current 330e design, BMW clams up to 37 miles of zero emissions motoring from a fully-charged set of batteries. In other words, if you've a pretty typical daily commute, you might never have to fuel up this car to complete it.
As you might expect, this kind of cleverness comes courtesy of a very advanced powerplant indeed, in this case a combination of the 184bhp 2.0-litre petrol unit from the 320i mated to an electric motor incorporating an 'XtraBoost' function. This can increase power to as much as 293hp, reducing the 62mph sprint time to six seconds exactly. The hybrid system's extra weight drops maximum speed slightly over that of the ordinary 320i, but it's still rated at 143mph. The brand's xDrive 4WD system is now available on this variant.
This isn't the kind of Plug-in hybrid model you'll buy if you want to make an eco-statement. Unless you really know your BMWs, there's almost nothing to visually differentiate a 330e from any other 3 Series saloon. The 3 Series styling theme by now should be familiar to almost every business buyer. Classic cues like the kidney grille at the front, the sharp lines of the flanks and the powerful rear end are all present and correct.
The cabin looks predictably smart, with chrome finishing and high-gloss surfaces. This 'M Sport'-trimmed models get the full 'Live Cockpit Professional' package which gives you a 12.3-inch virtual instrument binnacle screen and a 10.25-inch centre-dash iDrive monitor There's some clever stuff incorporated into this pricier set-up, including gesture control and what BMW calls an 'Intelligent Personal Assistant', which works a bit like the 'Siri' or 'Google Assistant' systems you might use on your 'phone and is there to answer questions you can voice to the car as you drive it. There's a respectable amount of rear legroom for what remains a manageably-sized car. The saloon's luggage bay still measures 480-litres in 330e form, exactly as it would on any other four-door 3 Series model.
BMW has at last brought us a hybrid 3 Series model that makes real world sense. The old 330e struggled a little in this regard with its relatively restricted all-electric driving range. Fortunately, technology has moved on and this current 330e demonstrates just how far.
If you were thinking of a high-spec diesel-engined version of this Bavarian model, we think you really have to look at a 330e as a realistic alternative. The long waiting lists for this variant suggest that many potential customers are.
Hyundai IONIQ
The Hyundai IONIQ was the first car ever to go on sale with three different forms of electric power. Buyers choose from pure electric propulsion, hybrid propulsion or, as in this case, a Plug-in hybrid model. Given the choice between these three options, we think most potential buyers would probably take the Plug-in route if money was no object - and it's easy to see why, with up to 32 miles of WLTP-rated all-electric driving range and CO2 emissions as low as 26g/km.
The IONIQ Plug-in model's engine, a 1.6 GDI direct-injection petrol four-cylinder unit with a class-leading thermal efficiency rating of 40%, is a good place to start in the design of this car. In combination with the 61PS electric motor powered by a 8.9 kWh lithium-ion polymer battery, it makes possible a CO2 emission reading of up to 26g/km (NEDC). The combined cycle fuel return is supposed to be 247.8mpg (WLTP), though as with any plug-in model, you can take that reading with a pinch of salt. The important thing though, is that the government believes it, hence the low BIK tax liabilities this IONIQ Plug-in model will deliver for you. As for the WLTP-rated 32-mile driving range potential, well that's a little further than you can go in other rival Plug-in models. A pricier Prius Plug-in, for example, offers a rated 30-mile range. Charging an IONIQ Plug-in Hybrid takes 2hours 15mins using a 7kW wallbox charger.
The IONIQ shares the same basic platform as the Kia Niro, which is a very good place to start from. As a result, the Hyundai handles nimbly and takes corners with more composure than you might expect for a car that's main focus is on low running costs and emissions. The only limiting factor is the reduced rolling resistance tyres, but in day to day driving you'll find this car very capable. It also enjoys a tight turning circle and steering that's light to turn at low speeds. You can add some more weight to the helm by selecting the 'Sport' mode, but we find this makes it too heavy. Around town, the suspension is on the firmer side of comfortable but by no means unsettled. Accelerate hard and you'll really notice the benefits of this IONIQ's use of a proper cog-driven 6DCT dual-clutch auto transmission, a much better gearbox than the jerky belt-driven set-up used in a rival Toyota Prius and other hybrids.
There's not much point building a new car that offers three different electrified power trains for the first time ever if you're not going to make the most of every facet of its design. This is why Hyundai has gone to great lengths with the IONIQ to come up with a shape that has a drag coefficient of just 0.24. That makes this one of the most slippery shapes ever for a car as it cuts through the air, which helps reduce energy use and noise. Recent design revisions include a smarter front grille and updated bumper styling.
And inside? Well, inside this Hyundai, it doesn't feel futuristic. It's not that it's dull in the cabin: it's just that it's not trying to be too clever for its own good. We like that. What you get is a dash that bears a strong resemblance to the Korean company's other models such as the i30 and Tuscon. That's a very good thing as it's clear and made from excellent materials. There are hints, though, at what lies under the bonnet, such as the battery indicator gauge on the left-hand side of the main 7-inch instrument display. It tells you how economically you're driving and whether or not you are using energy reserves or topping them up. In the centre is a simple to read speedo, while on the right is a configurable screen for information such as doors left open and water temperature. A dash highlight is a now-larger 10.25-inch colour touchscreen, which includes Tom Tom navigation. Both IONIQ Hybrid models get a 443-litre boot.
We can see why so many IONIQ sales will be of this Plug-in variant. When the government's Plug-in Car Grant is taken into account, it's hardly any more expensive to buy than the ordinary full-Hybrid derivative and it offers far more ownership flexibility, with its 32 mile all-electric driving range.
No, it isn't very interesting to drive - but then few eco-models of this sort are. If though, for you, 'interest' at the wheel is defined by technology, you might find this car thoroughly satisfying. It's certainly state of the art.
Kia e-Niro
Kia's full-electric e-Niro offers nearly 300 miles of WLTP-rated battery-powered driving range and a progressive package that buyers prepared to consider paying around £35,000 for this kind of car will probably like. The full-electric part of the mid-sized Crossover segment is presently quite a small one, but you can bet it will quickly grow, and cars like this are the reason why.
If you're wondering how far it goes between charges, the answer is up to 382 miles (though that's rated on the WLTP city cycle), you won't get anything like that on the open road if you use the performance on offer. The e-Niro is equipped with a long-distance 64 kWh battery pack paired with a 201bhp (150kW) motor, producing 395Nm of torque, enabling the car to accelerate from 0-to-60mph in just 7.5 seconds. Like the Niro Hybrid and Plug-in Hybrid variants, the new electric model is front-wheel drive.
The battery pack is located low down in the body, between the two axles, giving this crossover a centre of gravity more akin to that of a saloon or a hatchback. With a relatively wide stance, the e-Niro should offer drivers a reasonable feeling of stability on winding roads. The car is equipped with fully independent rear suspension, tuned to deliver high speed and immediate handling responses and filter out small vibrations at higher speeds when travelling over poor surfaces. The e-Niro's regenerative brakes - 305 mm in diameter at the front, 300 mm at the rear - exhibit a consistent, linear deceleration and braking feel, and harvest kinetic energy to recharge the battery pack on the move.
The exterior design of the e-Niro is punctuated by halogen headlights with Bi-Function projection, front fog lights, LED daytime running lights and LED rear combination clusters. Privacy glass for the rear windows and tailgate deliver a more upmarket appearance. The unique 17-inch alloy wheels have been especially designed and optimised for the pure-electric e-Niro, and the roof rails give a rugged and lifestyle-orientated appearance, accentuating its crossover stance.
The design of the centre console represents the biggest change for the e-Niro, with the all-electric powertrain not requiring a traditional gear lever and gear linkage. The physical transmission has therefore been replaced with a new 'shift-by-wire' rotator dial drive selector. The drive selector dial sits on its own highly-ergonomic panel which extends out from the base of the central armrest. In addition to the rotator dial, this new panel also houses buttons for the electronic parking brake, heated seats, heated steering wheel, drive mode selector, parking sensors, and the Niro's braking 'Auto Hold' function. The new panel requires no bulky transmission tunnel, enabling Kia's designers to create a larger storage area at the base of the centre console.
The dashboard features bright blue trim around the air vents, echoing the trim highlights found on the outside of the car. Plus there's the company's latest 10.25-inch centre-dash infotainment screemn with its UVO Connect Services media features. As for practicality, the rear seats handily fold down in a 60/40 fashion, with a luggage area load cover designed to hide items from prying eyes. There's a 451-litre boot that's bigger than most electric cars can offer.
The e-Niro shows just how far along the Kia/Hyundai Korean conglomerate is with its electric technology. Here, all the battery engineering has been incorporated in a way that doesn't extract too many compromises in cabin space. And most commentators are agreed that the driving dynamics are better than you'd normally expect from an electric car too.
Would you have it over the mechanically identical Hyundai Kona Electric? The bigger boot could well sway undecided buyers in the Niro's direction. And if you were thinking of a plusher-specced Nissan LEAF, you'd also do well to factor in this contender to your battery motoring deliberations. In short, it ticks a lot of boxes.
Published at 17 January 2022
Was this article helpful?