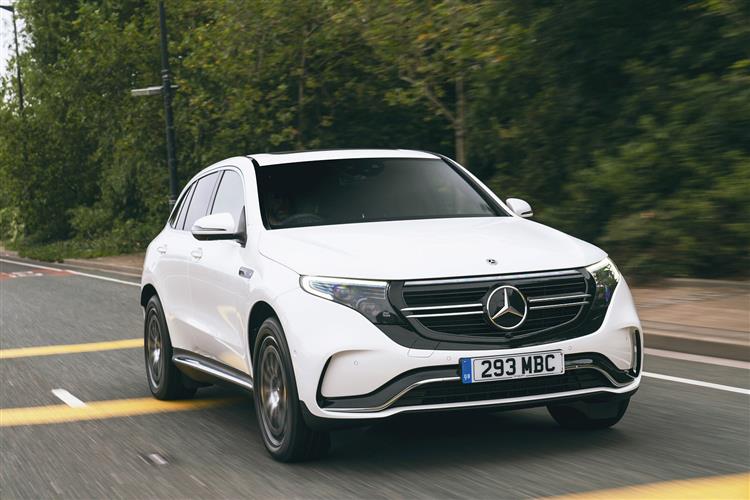 Top 3 Full Electric Luxury Cars
Audi e-tron
Audi's first full electric car, the e-tron, is a technological 'tour de force' and now comes in both '50 quattro' and '55 quattro' guises. This battery-powered large SUV takes the best bits from the brand's conventional Crossovers and blends them with next-level electrification technology. There's a beautiful cabin and we're even promised engaging driving dynamics. What's not to like? The price? Well you can't have everything.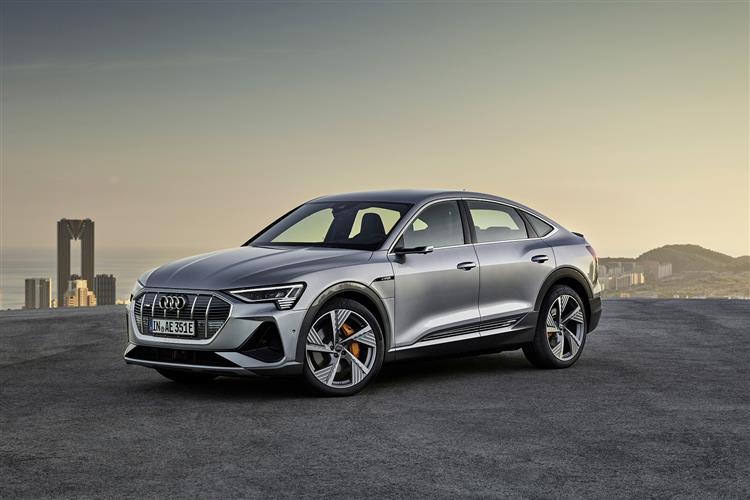 Electric cars may have come on quite a lot since you last looked. With this e-tron, there's a choice of two variants, starting with a 71kWh '50 quattro' entry-level model offering a total output of 313PS and 540NM of torque. Most e-tron buyers though, will opt for the 95kWh '55 quattro' derivative we tried.
With the '55' model, you get an electric driveline with two asynchronous motors, one up-front with 184PS and the other at the rear with 224PS. They're electronically linked and together deliver 4WD and a prodigious power output of 407PS. Mind you, that's only on offer in the performance-orientated 'Boost' mode that would decimate the WLTP-rated 249 mile driving range if you frequently replicated the 0-62mph time of 5.7s or approached the claimed top speed of 124mph. The development team just about managed to get this car to lap the infamous 20.8km Nurburgring Nordschleife race track twice at full tilt.
It's much more realistic to think of driving in 'Normal' mode, which sees the '55' model's overall power drop to 355PS - still enough to get you to 62mph in 6.4s. Not bad for a car that tips the scales at nearly 2.5-tonnes. Air suspension is standard with both e-tron variants and the ride height can be adjusted, with the 'Efficiency' mode lowering it by 27mm and 'Off-road' mode (yes, there is one) raising the car by 52mm. The steering's Q5-derived, while much of the suspension uses Q7 bits. As with other electric cars, the low centre of gravity should help in reducing body roll.
The e-tron rides on an electrified version of the Volkswagen Group's MLB Evo platform, the same underpinnings already used by the Audi Q5 - that shares similar exterior dimensions to this car. And the brand's Q7 model - that shares similar levels of interior space to an E-tron. You'd certainly know this was an Audi if you removed the badgework, design elements like the octagon chrome-framed front grille and the elongated rear lamps connected by a light bar fit perfectly in with Ingolstadt's current styling language.
Inside, at the wheel, there's the brand's usual digital 'Virtual Cockpit' virtual instrument binnacle screen as you would expect, plus the centre-stack twin-screen infotainment set-up familiar from the A6, the A7 and the A8. As a result, this electric design shares the button-free uncluttered cabin feel that characterises the interior of those models. What else? Well like the Q5 and the Q7, the back seat is comfortable for two but not really for three. There's a decently-sized 660-litre boot. And you get an extra little carriage compartment at the front where the engine would normally be, though it's mostly taken up by the charging leads. You could put a laptop or a small bag there though.
And in summary? Well if you like the idea of a mid-sized or large premium-badged large SUV but can't stomach the thought of such a vehicle's impact on greenhouse gases, then this e-tron model will be right up your street. It's a slightly more imposing thing than Jaguar's I-PACE - and from the next technological era on from a Tesla Model S. In short, you could imagine your top management colleagues being impressed at your decision, should you take the plunge, ignore a lot of more conventional but very desirable luxury machinery and decide to run an E-tron.
We still think driving range will be a dissuading issue with some buyers though. In this day and age, you should be able to take a full-electric luxury segment car of this price and be able to embark upon a five hour round trip without a moment's thought about driving range. You still can't do that with this Audi. But that's not Ingolstadt's fault, it's where the technology currently is. Given that, this is, without doubt, state of the art.
Mercedes-Benz EQC
The Mercedes EQC is a large luxury SUV that's fully electric but it's very much a product typical of the Three Pointed Star. It's extremely class-competitive in terms of things like driving range, cabin practicality and charging time replenishment. And arguably segment leading in terms of interior finish and driving refinement.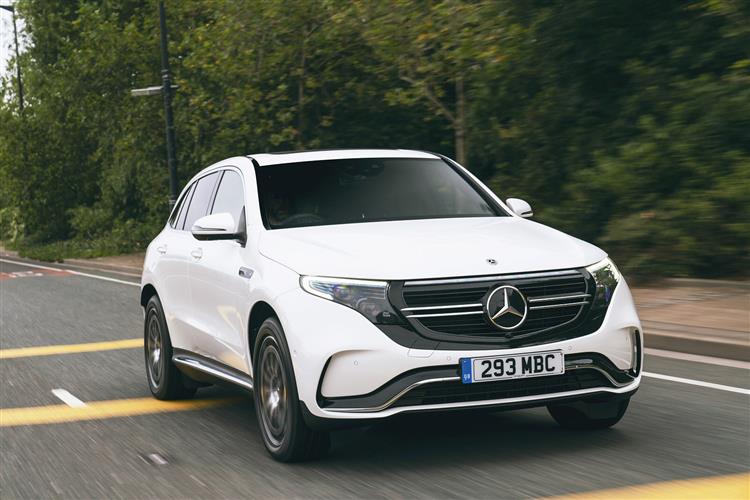 This EQC's 80kWh battery is of slightly lower capacity than the one you'll find in either of its two biggest rivals, the Jaguar I-PACE and the Audi e-tron quattro 55, but it doesn't affect the eagerness of this car's drive dynamics in comparison to these key competitors, thanks to a slightly greater torque output. Because this Mercedes is lighter than the Audi, the EQC can also slightly improve upon that Ingolstadt model's total potential driving range, managing a potential 259 mile WLTP-rated figure that's 10 miles higher. On the move, all electric vehicles are of course very quiet, but this one is particularly silent, Mercedes having taken great trouble to reduce the levels of road and tyre roar that always become more evident at the wheel of any EV.
There's plenty to get to grips with if you're to make the most of the EQC driving experience. There are five driving modes ('Comfort', 'Sport', 'Eco', 'Individual' and 'Maximum range'), and five different battery regeneration programs (the latter selectable via paddles behind the steering wheel). There's also an 'auto' regeneration mode that uses the car's speed limit detection, navigation systems and radar cruise control to blend the regenerative braking of the electric motors up and down automatically. Switch to 'Sport' and it's certainly quick, thanks to a 408hp total output and 765Nm of torque. As a result, 62mph from rest occupies just 5.1s, but the top speed is limited to 111mph.
Size-wise, the EQC sits between the Mercedes brand's mid-sized GLC and large GLE SUV models. It shares most with the GLC, though is 100mm longer but, like its main European rivals, can only take two rows of seats. Though the outward styling may be somewhat generic, the car is more recognisable as a Benz when you take a seat within. The brand's usual twin widescreen dashboard displays feature again here. In addition, there are a few fresh design details, some extra ambient lighting features, some eco-orientated trimming materials, plus of course you get a range of EV-specific displays.
There's a significantly higher-set driving position than you get in, say, a Jaguar I-PACE, which helps with all-round visibility. And there's the neat MBUX Mercedes infotainment system with its clever "Hey Mercedes" voice-controlled functionality, though it's very far from being infallible. In the rear, it's reasonably spacious, though headroom isn't helped by the raised floor (necessary to accommodate the large battery pack beneath) and what is a relatively low roofline for a family-shaped SUV. There's a 500-litre boot out back, which is reasonably large by class standards, but some way off the 660-litre trunk size of an Audi e-tron. It's easy to fold the 40:20:40-split rear bench.
It's fortunate for Mercedes that its premium brand rivals have been equally tardy about joining the EV revolution. Can they provide a better large electrically powered luxury SUV than this one? After trying an EQC, you might decide not. It might not be as boldly innovative as, say, a Jaguar I-PACE or a Tesla Model X, but in some ways, it's a more appealing package. After all, you get a nicer cabin than the Jag offers and better build quality than is found in the Tesla. And both of the other two key contenders in this segment (the BMW iX3 and the Audi e-tron) offer a shorter potential operating range.
So the EQC looks like a very complete package. It doesn't have the handling prowess of an I-PACE or the streetside wow factor of a Model X but you might think this Merc to be an arguably more complete product than both these two rivals. Just as perhaps you expected it to be.
Jaguar I-PACE
Jaguar becomes the first of the premium brand manufacturers to make a long range, practical, battery-powered electric vehicle. If you can afford the £60,000 asking price, you might well have everything you could want here: a 300 mile driving range, 395bhp, potentially zero emissions and a car that might be as comfortable taking to a racetrack as to a gravelly ravine. Welcome to the I-PACE.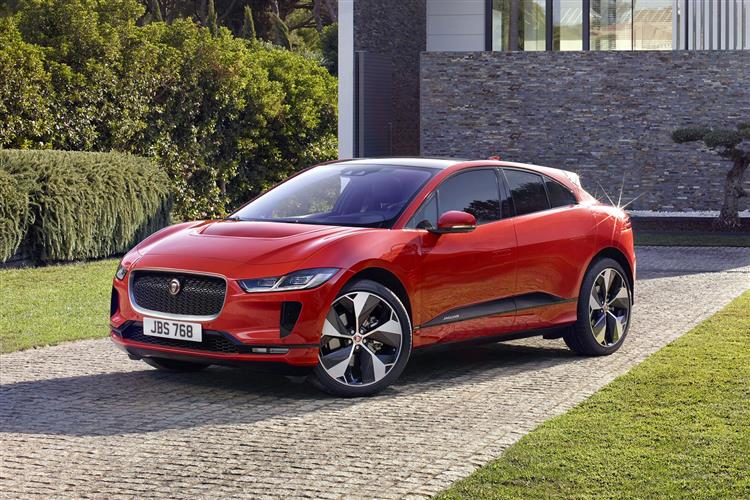 We're looking forward to putting this I-PACE to the test, the prospects certainly look promising. The stuff you need to know here's quite straightforward - by electric vehicle standards anyway. The 90kWh lithium-ion battery pack lies between the axles and Jaguar has specified two electric motors so that it could position the wheels for a perfect 50/50 weight distribution. They're powerful too, giving this 'performance' EV a 395bhp output. Rest to 60mph takes just 4.5s. Drive like that though and the claimed 300 mile operating range will be used up pretty quickly.
You'd expect silent refinement and instant acceleration from rest from an electric car but, due to the heavy weight of all those batteries, less than stellar ride quality. Jaguar claims it's put a lot of work into that and offers I-PACE buyers a wide choice of suspension options. You can have passive or adaptive dampers or air springs with adaptive damping. An electric 4WD system is standard - one of those that can put as much or as little torque as is necessary to any wheel. If you were ever brave enough to try your I-PACE off road, you might be surprised at what it could do. Jaguar claims it would wade up to 500mm of water.
In theory, the I-PACE is a kind of SUV. But you might equally want to see it as a coupe, a luxury saloon or even some kind of sportscar. Designer Ian Callum isn't bothered either way. At 4,682mm in length, this model is 10mm longer than Jaguar's XE, it's bigger than the larger XF saloon too, with a 30mm longer wheelbase and 15mm of extra width. There's more of a cab-forward stance than you'd get in a conventionally-engined Jaguar but the silhouette looks very agile in profile. And it retains a traditional big grille, even though the three independent cooling systems (for the electric motors, the battery and the interior) don't really need it.
Inside, the cabin's very Jaguar-like, with big comfortable seats that come with faux-leather as standard and real hide at extra cost. You can even have wood trim if you want it. Ahead of the driver sits an all-digital instrument binnacle and the centre-dash infotainment layout is bespoke to the I-PACE too. As in the Range Rover Velar, it's a two-screen package, the upper part dealing with navigation, audio and 'phone functions and the lower part operating informational stuff you'll need less frequently. It's a comfortable five-seater and there's a decent 656-litre boot, with a further 27-litre compartment out-front.
Would you want one? Perhaps a better question is 'why wouldn't you want one?' To which we'll provide some obvious answers. Firstly, clearly there's the premium pricing to consider. And secondly, despite the great job Jaguar's engineers have clearly done with the handling dynamics of this car, there's no way an EV weighing around 2.2-tonnes can respond and ride quite like a conventionally-engined fossil-fuelled rival. But all the signs are that this one gets very close to that benchmark.
If you've been waiting for luxury Evs to get serious, your time may have come here. In the future, there will certainly be better battery-powered electric vehicles than the I-PACE, but we don't think that there are right at present. And we think that in future, experts will look back at this car as the one that made the EV concept properly credible for the premium buyer. Which makes it very significant indeed.
Published at 17 January 2022
Was this article helpful?