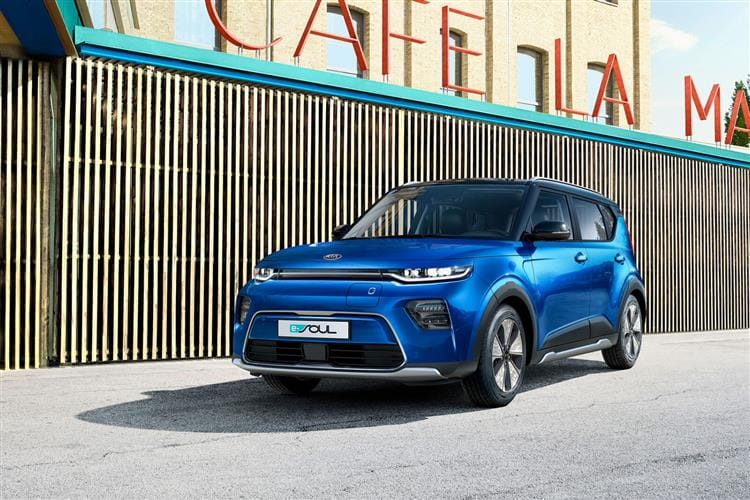 The Kia Soul now comes only in all-electric form, so it's just as well that this brand's EV technology has hugely improved. To the point where almost anyone ought to be able to consider it. If you've been waiting for the right moment to join the battery-powered automotive revolution, that time may just have arrived.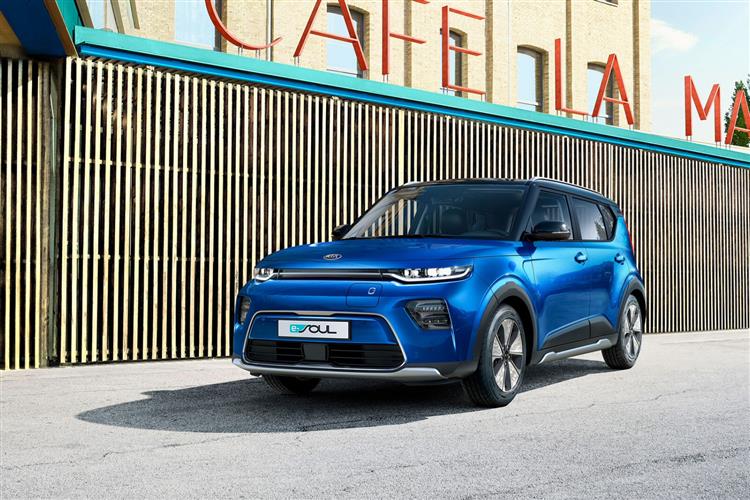 Given that there are now no longer any combustion-engined versions of this Soul, it's just as well that this EV model's WLTP-rated all-electric driving range is quite lengthy - 280 miles. That's thanks to a large 64kWh battery pack that can be recharged to 80% in just an hour and a quarter, providing you've got access to a 50kW DC fast charger. If you haven't, then a 7.2kW home wallbox will re-charge a Soul EV completely in 9 hours 35 minutes (which, to give you some idea, would use around £9 of electricity at current rates). You can eke out range by using these steering wheel paddles that allow you to vary the amount of regenerative braking. And by using the many EV features provided on the centre-dash screen.
The powertrain develops 201bhp and like most EVs, this one feels rapid away from rest, making 62mph in 7.6s. The suspension has been carefully worked on to try and deal with the effects of this car's rather prodigious 1,757kg kerb weight. Not enough to make this car feel anything like a satisfying steer through the bends though.
If you happened to like previous versions of the Soul, you'd probably recognise this third generation model, which adds a more modern feel with a front end shaped by narrow lights and a trapezoidal grille. The rear now features an LED light strip that wraps almost all the way around the rear screen. It's intended to be distinctive and needs to be to mask the boxy shape which is bigger this time round. This MK3 model measures in at 4,195mm, 55mm more than its predecessor. It's also 1,605mm high and 1,800mm wide and has a 2,600mm wheelbase that's 30mm lengthier than before.
That's not enough to enable this Kia to offer more luggage space than its EV cousin, the Kia e-Niro (315-litres as opposed to 451-litres), but the Soul has a nicer cabin and its higher roofline makes the interior seem much airier. There's also plenty of tech, with the latest 10.3-inch version of the brand's centre-dash touchscreen and a head-up display. One particularly nice touch is the provided button that enables you to control heat or chill only the driver's portion of the cabin if you're one-up and need to maximise range.
And in summary? Well car manufacturers are now getting a lot smarter when it comes to developing electric vehicles, something ably demonstrated by this Soul EV. Range anxiety used to be a sensible reason for not buying a full-battery-powered model but these days, that's becoming less of a credible excuse. For the majority of people, the 280 mile range figure offered here will be quite sufficient. And though this Soul still costs quite a lot more than you'd have to pay for an average family hatch to buy, you'd quickly start making the premium back in day-to-day use.
In a Volkswagen ID.3, you'd get an arguably classier interior. In a Nissan LEAF, you'd get more rear seat passenger space. But you'd have to be looking at the very priciest versions of both these cars to match the driving range this Soul EV can offer. And neither is quite as trendy to look at as a Soul, though of course, that's a matter of opinion. One thing's for sure: if you're serious about EV motoring, this car's a serious contender.
It's getting harder and harder to resist the draw of full-electric vehicles. Most of them seem to be SUVs these days but here's a Zero Emission supermini, the Peugeot e-208. It looks snappy, does 211 miles between charges, has no practicality downsides over the combustion-engined version and comes with monthly payment finance you could justify. What's not to like?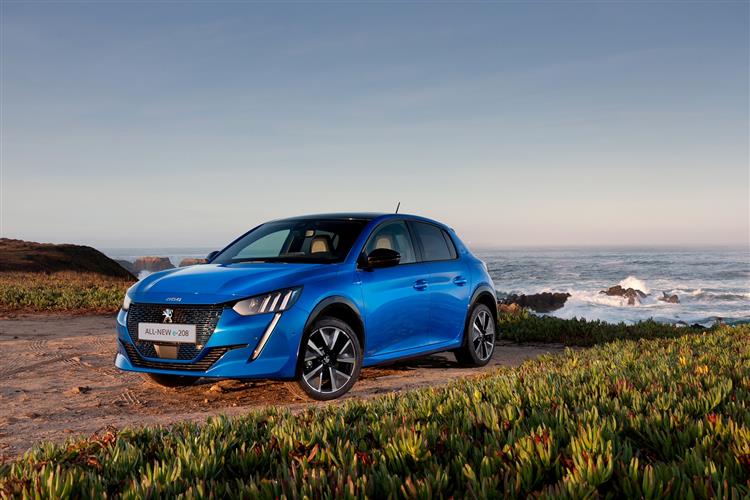 Here, as with this model's cousin the Vauxhall Corsa-e, a 50kWh lithium-ion battery is mated to a 100kW electric motor putting out 136bhp and working through the usual single-speed auto transmission you get with Evs. Like all electric vehicles, this one develops all of its torque at once (there's 260Nm of it) and this car simply hurls itself away from rest (it takes just a couple of seconds to crest the 30mph mark and 62mph is reached in only 8.1s), disguising the fact that (also like all Evs) this Zero Emissions variant has a bit of a weight problem - that drivetrain adds over 300kgs of bulk. That other small battery-powered little hatches manage this issue a little better is evidenced by the fact that the e-208's WLTP-rated 211 mile driving range is easily improved upon by the latest versions of the Renault ZOE and the BMW i3.
Still, all of this does represent a brave new world for forward-thinking supermini buyers looking to make the (still rather expensive) switch into all-electric motoring, it seems like only yesterday, after all, that a fully-charged small EV could only manage around half the kind of range you get from this one. Of course, you certainly won't achieve anything like that kind of operating capability if you get anywhere near this EV's quoted 93mph top speed. Or if you habitually drive your e-208 in the 'Sport' setting that'll be necessary to release to full 136bhp power output just mentioned. The quoted range figure will only be distantly possible if you instead engage a somewhat restrictive 'Eco' mode that drops power output right down to 83bhp. That's the setting you'll use in an e-208 around town, an environment in which it makes a strange polyphonic sound at low speeds to warn unwary pedestrians of its impending approach. Above 18mph, all you can hear is a bit of tyre roar from the eco-moulded Michelin rubber.
So how successful has Peugeot been with this e-208 in terms of what it describes as "unboring the future"? Well, we think you'll be impressed. Other sector competitors can go further on a single charge, but we think that this model's operating range will (unlike that of segment rivals like the Honda e and the MINI Electric) be quite sufficient for the average family's needs.
There may be a few supermini buyers who don't like the cabin layout, want something better suited to cornering their door handles or who might prefer a premium brand - but we're guessing they'll be in the minority. Most will recognise that in this e-208, Peugeot has delivered an EV supermini you could really bond with. Glug, glug, glug, plug: bring it on.
It's natural that there should be a MINI Electric variant. This little Hatch lends itself to battery power and quick-step EV pulling power. The driving range possible between charges isn't a particular strongpoint here, but it'll probably be fine for urban folk, who'll appreciate this car's enthusiastic take on life. Market interest suggests that it could prove rather popular.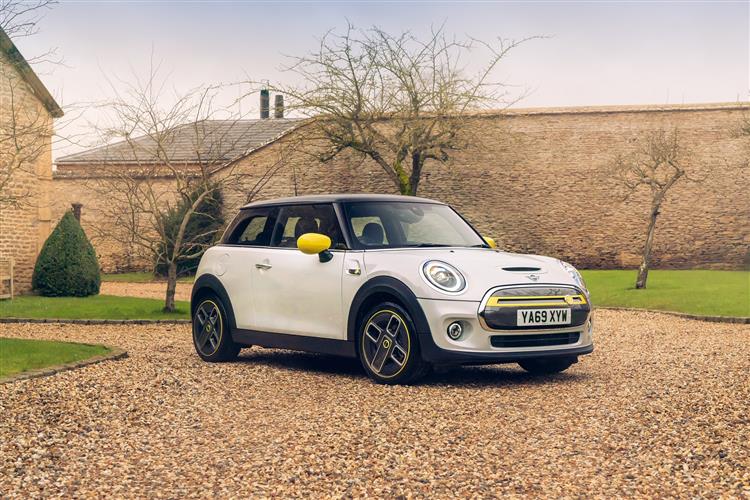 This MINI Electric uses a 32.6kWh battery pack with a 184hp output and maximum torque of 270Nm. From rest, 62mph takes just 7.3s, so we're talking near-MINI Cooper S levels of performance, though as with all EVs, the maximum speed is restricted - in this case to just 93mph. But then, when was the last time you drove over 93mph? The car sits a little higher off the road than a Cooper S to give the battery more clearance but the centre of gravity is lower because more of the mass is concentrated further down. Weight distribution is quite different to a normal MINI Hatch too, the battery's bulk dictating a 54/46 front-to-rear ratio rather than the usual 60:40-split.
To get the most from the electric motor's torque, you'll need to master the various driving modes - 'Normal', 'Green' and 'Sport', the latter offering slingshot acceleration. The digital dashboard provides information on the current flow of energy and the range, as well as offering ways of increasing range by deactivating comfort functions or boosting energy regeneration. On the navigation map, a circle that indicates the car's range can be shown. When the route guidance starts, it displays the fastest and shortest route and also suggests a GREEN route involving the lowest level of power consumption.
The MINI Electric is based on the same body shell as the 3-Door Hatch, with a number of specific differences. An embossed MINI Electric logo appears on car's side scuttles, as well as on the tailgate and front radiator grille. The front grille features the hallmark hexagonal shape but is closed, as the car requires less cooling. This also contributes to sleek aerodynamics, as do the enclosed undercarriage and the rear apron. Boot volume can be compromised in electric cars but the MINI Electric retains the full MINI Hatch 211-litres, expanding to 731-litres when the rear backrests are folded down.
Inside, it's pretty much like any normal MINI Hatch, except for the addition of a new digital dashboard with a 5.5-inch colour screen behind the steering wheel. Road speed is shown at the centre in figures with a peripheral scale band, as well as information on the charge level of the battery, the selected MINI Driving Mode, the status of the driver assistance systems and check control messages. In addition, details of the available range, current drive power, outside temperature, time and mileage are displayed, with traffic sign detection reports and directions from the navigation system.
The original Mini, designed by Sir Alec Issigonis, was born out of the Suez crisis oil shortage and the demand for affordable motoring. The first cars rolled off the line at Oxford in the summer of 1959 and so began a global success story which has spanned six decades. As the world faces new environmental, social and economic challenges, so perhaps the arrival of this MINI Electric is just as opportune.
We have some reservations about its rather limited driving range capability, but if you're going to be regularly town-based anyway, that may not be too much of an issue. And this car's spirited handling will make up for much. Sir Alec Issigonis would have been fascinated by this model. MINI is crossing its fingers that you will be too.
Published at 17 January 2022
Was this article helpful?