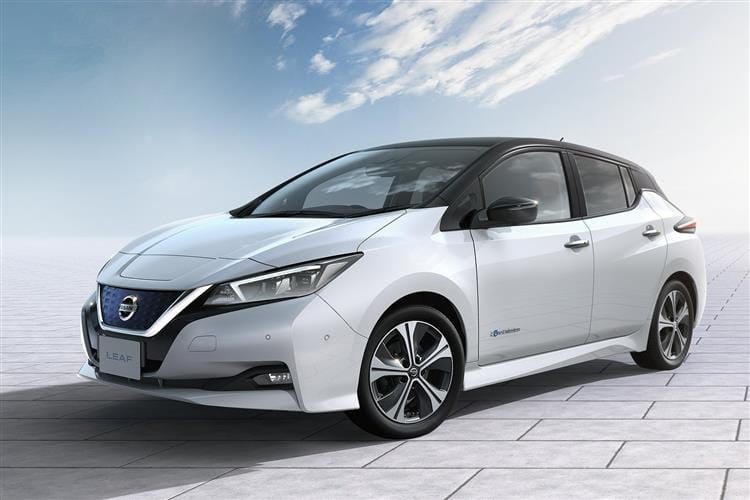 Top 3 Electric Family Cars
Renault ZOE
The problem with electric cars to date has been three-fold, high prices, restricted performance at higher speeds and a limited driving range. Renault is bent on changing that and the latest version of the company's ZOE supermini looks quite affordable compared to an alternative high-spec petrol supermini. In addition, the brand has added in a more powerful R135 electric motor to push things along in the mid range. And there's a more capable 52kWh Z.E. 50 battery that boosts the previous 186 mile WLTP operating range to as much as 242 miles. What's stopping you?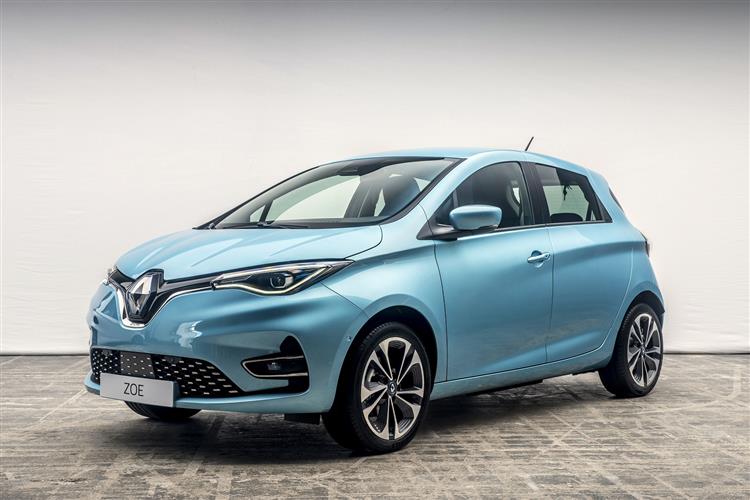 The ZOE is designed for city driving, so the steering has been geared to offer a smooth effortless feel. Likewise, the throttle pedal doesn't offer too much in the way of resistance but the brake responds to a good hoofing which seems a little odd at first. Like all electric cars, the ZOE feels eerily quiet as it pulls away, with no discernible engine noise other than a faint whine. This usually means you'll hear every bump and thump from the road as a result, but Renault has done a good job on chassis refinement and ride quality is excellent.
Handling is as good as you'd imagine for a car with such a low centre of gravity. The improved R135 synchronous electric motor with rotor coil has a power output that's 16hp up on the orginal unit fitted to this car, enough to shave almost two seconds off the 50-75mph overtaking increment. Acceleration and pull-away are responsive from low speeds and mid-range acceleration from this 100kW version is much improved. If you don't care about that, a cheaper version with the old 80kW motor is still available.
What about charging? Well, the standard type-2 cable provided with the car and its Cameleon charger are used for everyday AC charging use, such as at home with a Wallbox, at work, in the car park or on public roads using anything up to a 22kW supply. When using a 7kW Wallbox a 100kW ZOE model can charge from 0 to 100 percent in 9 hours and 25 minutes. This ensures that a complete recharge can comfortably be achieved overnight. Around 190 miles of range can be achieved in just 8 hours. Users charging their vehicle at home can also benefit from the programming options, adjusting their recharge to correspond with tariff fluctuations from their electricity supplier. Plugging the ZOE into a public 22kW roadside charger can deliver a useful 78 miles of range in only one hour. However, the fastest recharge times are achieved with the new 50kW DC charging option, which is perfect for longer trips. Replenishing the battery in this way can add around 90 miles of range in as little as half an hour.
On to design. Most people would walk past the ZOE and not take it for anything other than Renault's latest cute little car. Rather refreshingly for a car of this kind, its design inspiration is sophisticated and grown-up. With curvaceous flanks and neat one-box shape, it's quite a good-looking thing, especially in this revised form, where the car features full-LED headlamps, smarter bumpers and bigger LED tail lights.
The fascia's been updated too, primarily with a new 10-inch TFT instrument cluster, which is standard across the range. The dashboard has been completely redesigned to significantly improve the quality of its finishes and on 'Iconic' models there is 100 percent recycled seat upholstery. The centre of the dashboard houses the Renault EASY LINK multimedia system, which on certain models now benefits from a large 9.3-inch touchscreen. There's now an electronic parking brake too.
Otherwise, things are much as before. Some of the plastics aren't going to give Audi designers anything much to think about, but being built down to a price is very much the point of this car. It's no bad thing. The view out is extremely good as you sit rather high but a lack of seat height adjustability might prove an issue for taller drivers. As with most superminis, space in the back is more mini than super but access is good thanks to the standard five-door layout, and there's more than enough room back there for the kids. One substantial plus point is the 338-litre boot which extends to 1,225-litres should you fold the one-piece rear bench.
In summary, this improved Renault ZOE represents another step towards the electric vehicle becoming a genuinely practical mode of transport for the average motorist. If it works for you, why not?
BMW i3
BMW i3 has proved to be a successful first stab at the all-electric vehicle market for its Munich maker and since the original 2013 launch, the Munich maker hasn't stopped trying to improve it. In 2016, the original 60Ah version was replaced with a 94Ah variant that boosted this model's all-electric operating range to over 200 miles. A year later, BMW gave the styling a minor refresh and added a slightly pokier i3s derivative into the range. Then in late 2018, the brand introduced a larger 120Ah battery that promised a driving range increase of up to 30%. For all buyers, the option remains on both variants to add in a small 'Range Extender' petrol engine to further boost operating mileage. The result of all these improvements is a car that's now even harder to ignore in this growing segment.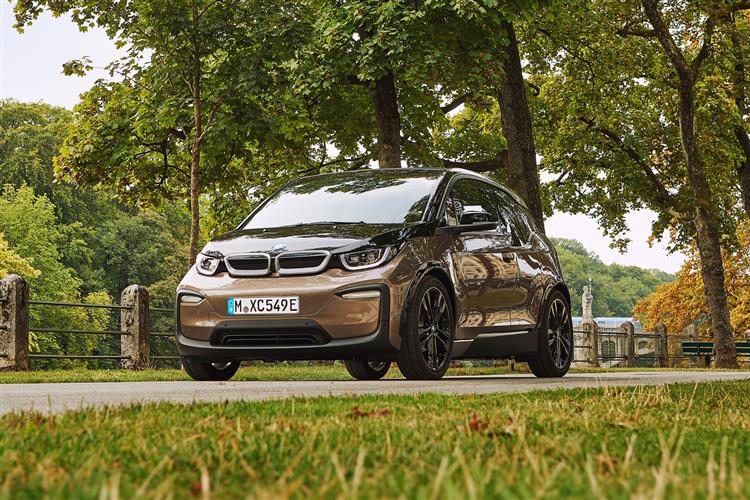 As you might expect from a BMW product, the i3 doesn't want for go. The electric motor is mounted low down within the rear axle which helps to keep a low centre of gravity and also to improve crashworthiness. The power unit weighs just 130kg and produces 170bhp in standard form, which means that the i3's power to weight ration of 141bhp per tonne is just 5bhp per tonne shy of a Honda Civic Type R hot hatch. If you're interested in a comparison of that sort, you'll be interested in the slightly pokier i3s variant, where the electric motor's power output is boosted to 184bhp, plus there's sports suspension with specially developed springs, dampers and anti-roll bars.
Whatever i3 variant you choose, as with all electric vehicles, a decisive advantage comes in its amount of torque. In a typical city scoot such as, say, a 1.2-litre Fiat 500, you can count on 102Nm of torque, but this BMW generates a hefty 250Nm of muscle in its standard frm (or 270Nm in 'i3s' guise), offering instant urge with all that torque available from idle. It's sent to the rear wheels via a single-ratio gearbox that offers the choice of three driving modes: Comfort, Eco Pro and Eco Pro+. The i3s has an extra 'Sport' setting.
This translates to a car that's certainly not slow off the mark. The standard model will get from standstill to 37mph in 3.8sec and to 62mph in 7.3sec (or 6.9s for the i3s). Either way, any Toyota GT-86 sportscar drivers will have a very hard time keeping pace with an i3. The top speed is limited to 93mph in the standard model or 99mph in the i3s. Extremely direct steering, a low centre of gravity, a clever DSC stability control system and lightweight body structures add up to very focused driving characteristics. BMW has engineered in a little body roll, largely to clue drivers in to where the limits of those narrow tyres are, but this remains a car you can enjoy hustling along. Go for the 'Range Extender' version of this car, as is possible with ether i3 or i3s variants, and a tiny 650cc two-cylinder petrol engine is added to cut in once the battery power is spent.
Design-wise, think of the i3 as a car in two halves. The bottom half is almost all aluminium, the upper half almost all carbon fibre. Armed with this information, you can rightly surmise that it doesn't weigh very much. Even with the weight of all those batteries - some 230kg comprised of 96 individual cells kept at an optimum 20deg Centigrade by their own air conditioning unit - the i3 only tips the scales at 1,195kg. Compare that to the 1,395kg of the entry-level petrol-powered Mercedes-Benz B Class and you'll appreciate the lengths BMW have gone to keep weight low and efficiency high.
The styling is determinedly modern, with the kidney grille being the key BMW styling signature. The black hood, roof and glazed hatch will be characteristic features for future BMW 'i' cars. Adaptive LEDs headlights and floating LED tail lights are standard. The lowered belt line in the rear and absence of a "B" pillar improves visibility, while the rear "coach" doors make entry easier.
As before, the i3 really isn't a very big car, measuring just 3,999mm long, which is only a tad longer than a Ford Fiesta. Despite that, thanks to the flat floor, the thin seats and the low window line, the cabin feels surprisingly roomy. The instrument cluster and Control Display comprise two screens, one behind the steering wheel and the other at the top of the centre console.
Interior materials are eco-orientated, with the dashboard and door cards made from dried grass fibres from the kenaf plant and eucalyptus wood being optional. The boot measures 260-litres, but fold the rear seats and you get up to 1,100-litres. Expect that capacity to drop if you choose the range-extender motor. This is a modified version of the 650cc two-cylinder petrol engine used in the company's CT650 GT maxi-scooter, with a nine-litre fuel tank ahead of the front seats.
This car's certainly widened its market scope since BMW gave it an uprated 120Ah powertrain, which on the full-battery-powered model has facilitated an increase in all-electric NEDC driving range from the 112 mile total on offer when this car was originally launched to as much as 223 miles in its current form - quite a change. Think around 160 miles in realistic regular use. The 'Range Extended' versions offer a slightly lower all-electric NEDC-rated driving range but of curse, when that expires, you've the advantage of knowing that a frugal little petrol engine will cut in, exending your driving range to nearly 300 miles.
Recharging times vary, but are much quicker than you'd expect, despite the significantly larger battery capacity. A DC Rapid-charge system is standard and AC charging is multi-phase, meaning full charging can be completed in under 3 hours with the multi-phase system. As before, the car can also be charged at home using a standard three-pin plug or by specifying a BMW I Wallbox.
Nissan LEAF
The Nissan LEAF has always been a car that divides opinion. Some love this fully electric vehicle for its bold engineering and surprisingly enjoyable driving dynamics, but to date, many other green-minded potential buyers have struggled to make a case for it. That could change thanks to the improvements made to this second generation model, which offers a further big enhancement in driving range and some really clever new technology.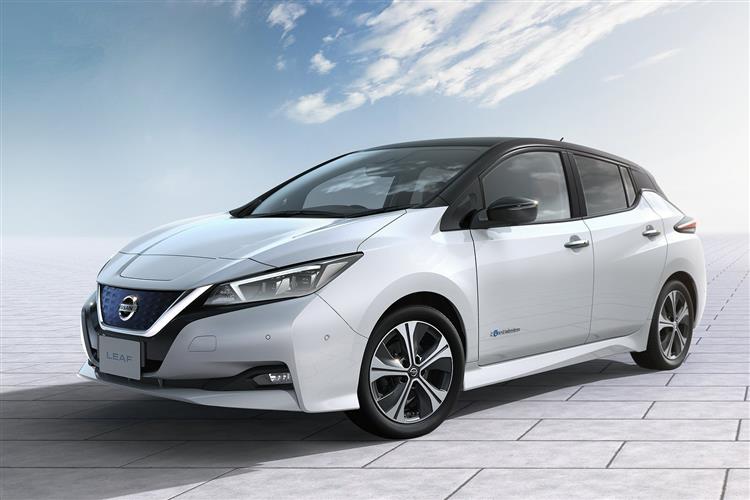 Let's deal quickly with the first thing you'll want to know about: driving range. We remember vividly setting off in the first generation LEAF model back in 2010 and struggling to get much more than 60-70 miles out of it between charges. With this second generation design, Nissan claims a homologated WLTP driving range of 168 miles from the standard 40kWh model - or 239 miles (WLTP) from the alternative 'e+' version with its 62kWh battery. Even if you think in terms of a 'real world' driving range being about two-thirds of those total figures (which is our experience anyway), you can't deny that these readings represent an impressive improvement, representing a 50% increase over the final version of the previous model.
The 40kWh lithium-ion battery that virtually all LEAF models use is larger this time round (the previous generation car had a 30kWh battery) but the unit is no larger in terms of actual size. It produces 110kW (which equates to 148bhp), which significantly improves on the previous model's figures of 80kW / 108bhp. That means pulling power's up too - a rise to 320Nm - making the LEAF feel even faster from a standing start: Nissan say that the 0-62mph time has been improved by 15%, which should translate into a sprint time of about 9.8s. Previously with LEAF models, the amount of retardation you got when lifting off the throttle meant that the brake pedal was something you rarely needed to use. This time round, you'll hardly need it at all thanks to 'e-Pedal' technology that can bring the car to a complete stop when you come off the accelerator.
There are two routes to styling an all-electric car. Either you make it look exactly like a conventionally-engined model, as Volkswagen did with the e-Golf, or you go for something overtly futuristic, as Nissan did with the first generation LEAF model. That approach continues on with this second generation design, which gets a completely re-worked body featuring a flat floor, a sharper nose and a more aggressively tapered rear end. There are though, familiar cues from more ordinary Nissan models - things like the company's signature 'V-motion' front grille, the 'boomerang'-style lights and the kicked-up rear shoulder line for example.
The MK2 model shape is certainly sleeker, Nissan says it now has a slippery drag coefficient of 0.27Cd. And the whole structure's stiffer too, torsional rigidity having improved by 15%. Importantly, interior practicality is additionally much improved, notably in terms of boot space, which rises from 370 to 435-litres. The designers have also tried to give the cabin more of a premium feel, with upgraded cabin materials and a smarter look for the 7-inch centre-dash infotainment touchscreen. To remind you of this car's eco-friendly remit, there's vibrant blue stitching on the seats, the dashboard and the steering wheel.
Has this car's time finally come? Probably not quite yet, but the improvements Nissan has made will open up a much larger market for it. In developing this second generation model, the Japanese maker has clearly listened to customer feedback. The biggest issue of course was driving range, but as well as enhancing that, the brand has also added a package of technology that will make buyers feel that they're at the cutting edge of automotive technology.
Of course, some of the previous issues still remain. The car is still quite expensive to buy, the looks will divide opinion and you won't even be able to consider it unless you have off-street overnight parking. Little by little though, all-electric motoring is widening its customer reach. And, as it's always been, the LEAF remains right at the forefront of that change.
Published at 17 January 2022
Was this article helpful?