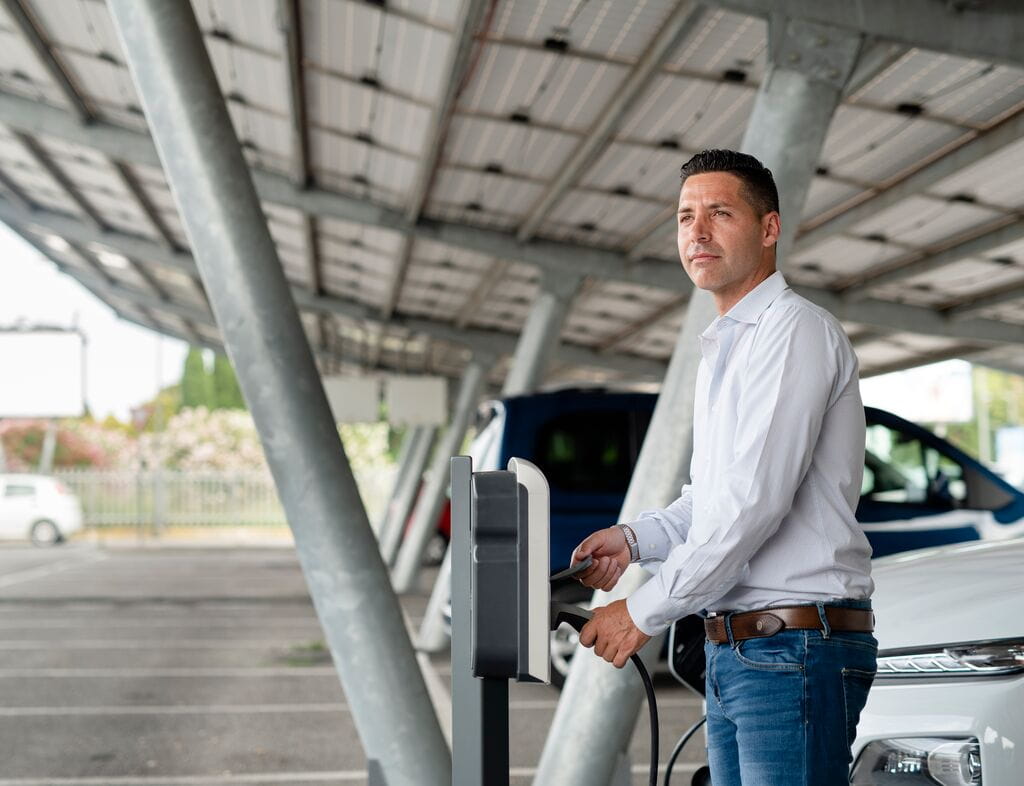 Thinking EV? We explain charging
3 min to read
Electric vehicles
---
It's easy to see why many drivers want to make the move to electric vehicles (EVs). These vehicles can be surprisingly quick, they're very quiet and they're environmentally friendly. However, the challenge for many drivers is that there are some elements of owning an EV that can be quite different to having a car with a petrol or diesel engine. In particular, there's the issue of refuelling - or charging, as it is for EVs. Our short guide explains how it all works.
Technology is moving quickly when it comes to charging EVs and the result is a selection of chargers with different speeds that you can find at different locations. The four main types are shown below.
Speed (vehicle dependant) |
Up to 100 miles in 10 minutes |
Selected Forecourt Services |
Up to 33miles in 10 minutes |
Up to 5 miles in 10 minutes |
Home Workplace & Destination |
Up to 2 miles in 10 minutes |
Home Workplace & Destination |
Charging at home: Domestic 3 pin cable
Home charging is a big part of owning an EV or a plug-in hybrid. This doesn't mean that you can't have an EV if you don't have a way of plugging it in at home, particularly if you have charging options at work or a public charger nearby, but for many people it will be the main way they keep their cars moving.
This is why all electric and plug-in hybrid cars can be charged at home using a domestic 3 pin cable. The cable you need to do this is called an EVSE (Electric Vehicle Supply Equipment) charging cable and it may well be included with your vehicle. If it isn't, it will be available as an option when ordering your vehicle. It's worth noting that charging via this route can be slow - sometimes in£excess of 24 hours for 100% charge - particularly for newer models with a larger battery capacity.
Charging at home: Dedicated home charge points
All EVs come with a Type 2 universal public charge cable, which can be used with a socketed home charge point.
If you lease an EV from LeasePlan, we can help you have one of these installed and the cost can be included in your rental price or paid by you. Our package includes:
You can then control your Homecharge unit remotely, as well as monitoring usage and costs through the ChargeVision app. In addition, you will own the charge point, so it will have no impact on early termination.
Your Type 2 universal public charge cable can also be used at public charging points ? and there are more than you may realise. In December 2019, there were 16,890 devices across 10,535 locations offering 29,366 connections, with more being added every month with many sites free to use.
Drivers can also opt for a Polar public charging subscription with fob and App. This is the UK's largest public charging network, with more than 7,000 nationwide charging points.
Claiming back the electricity cost of charging
If you use an EV for work, you may want to claim back the charging cost for the miles you do. In theory, it is possible to claim the price of the electricity directly from your employer, but in practice it's very complex to track and report.
As a result, many employers prefer to use the official HMRC Advisory Electricity Rate (AER) rate, which is currently set at 4p per mile. However, there is no car fuel benefit tax implication for using these figures, as HMRC does not consider electricity a fuel.
Please note, though, that these rates apply to fully electric cars. Plug-in hybrids use the standard business mileage rates for petrol or diesel, depending on their engine.
Published at 5 August 2020
Was this article helpful?