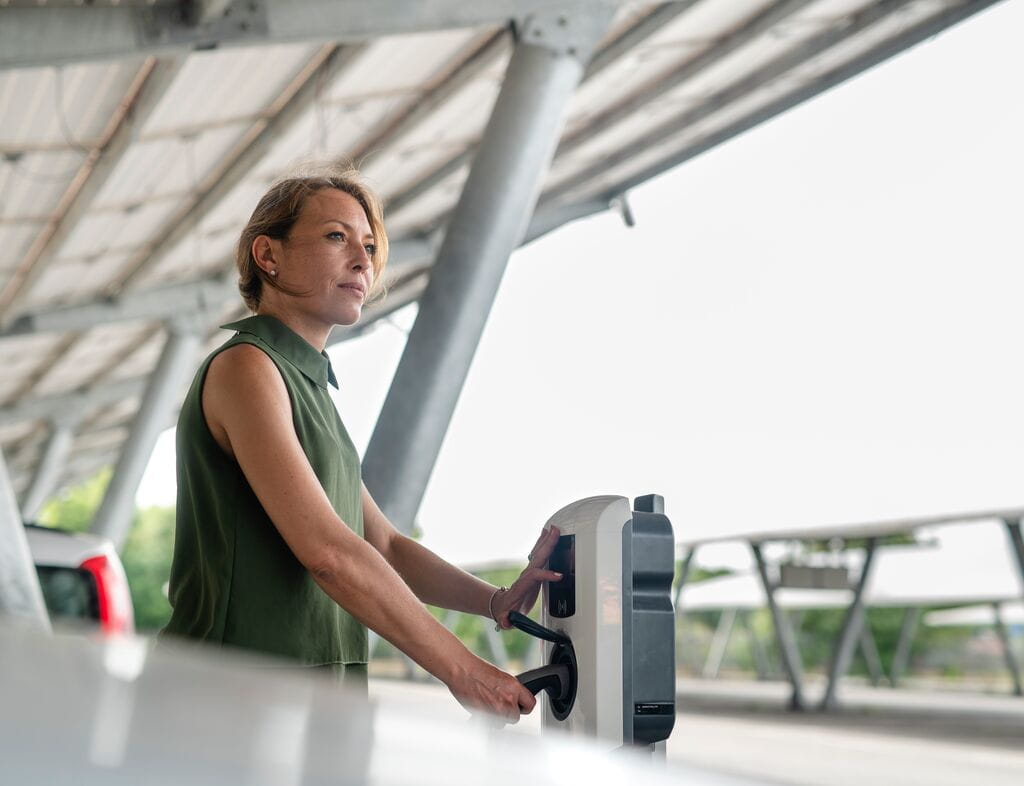 How do drivers claim back the cost of electric vehicle charging
5 min to read
Electric vehicles
---
What mileage rates are available for electric vehicle drivers, and are they still covering the rising cost of energy? Read more
What mileage rates are available for electric vehicle drivers?
HMRC issues different rates depending on who owns the vehicle, and how it's used.
Company car (private and business use)

drivers can claim a flat 5p per mile, known as the Advisory Electric Rate (AER), for business journeys. Employers can also use this rate to claim back the cost of private mileage, if employees have a fuel card.

Privately owned cars

can claim at a flat rate of 45p per mile, known as the Approved Mileage Allowance Payment (AMAP), which also covers running costs – such as insurance, servicing, maintenance and depreciation. The AMAP is reduced to 25p per mile if the driver covers more than 10,000 miles within the same financial year.
How much does an electric car cost to run?
The 'fuel' costs for an electric vehicle are just as varied as their petrol, diesel or hybrid counterparts. Larger, heavier vehicles are generally less efficient than smaller, lighter ones, and even competitor vehicles can vary. Some examples are shown below:
| Car | Charging cost per mile |
| --- | --- |
| Fiat 500 Icon Hatch | 4p |
| Volkswagen ID3 Life Pro | 5p |
| Kia Niro EV 3 | 5p |
| Polestar 2 Long Range Single Motor | 5p |
| Audi e-tron Sport 50 quattro | 7p |
Although there are multiple Advisory Fuel Rates (AFRs) to suit different engine sizes and fuel types, the 5p per mile Advisory Electric Rate (AER) is the same for all electric cars. This could leave some drivers out of pocket, even if they charge at home – which is usually the cheapest, most convenient place to plug in.
The AMAP is always the same, regardless of fuel type. With the latest LeasePlan Car Cost Index showing the electric Volkswagen ID.3 is between 20% and 26% cheaper to run than a petrol, diesel or plug-in hybrid Golf in the UK, it should cover drivers' costs if they use their own car for work.
Are mileage rates keeping pace with rising EV charging costs?
Europe is in the grip of a once-in-a-generation energy crisis. Global demand for wholesale gas was already outstripping supply before Russia's invasion of Ukraine, and subsequent embargoes on Russian energy, in February. This also affects electricity prices, as 37.9% of the UK's supply was generated using gas in 2021 and in turn this is increasing the cost of charging on the road and at home.
Home charging:

Domestic energy prices are capped by Government regulator Ofgem, which designed to ensure fair pricing for customers while letting utility companies cover their costs. The price cap is adjusted twice per year and, in April, the maximum cost per unit of electricity was increased from 21p to 28p per kilowatt hour for end-of-contract 'default' tariffs. This equates to a one-third increase in charging costs for drivers in more than 22 million UK households.

Public charging:

Businesses are not subject to Ofgem's energy price caps, and this affects costs for employers and public charging networks. Several chargepoint operators began raising their prices November to cover the cost of energy – prices for some rapid charging networks have almost doubled since early 2021.
HMRC increased the AER from 4p/mile to 5p/mile however in Autumn 2021. However, despite adjusting rates for petrol and diesel cars to match rising pump prices, the AER has not increased in line with home or public charging costs.
The following table shows charging costs for the Kia Niro EV at 3.8 miles per kilowatt-hour (WLTP, combined).
| | May 2021 | | May 2022 | |
| --- | --- | --- | --- | --- |
| Charging location and tariff | Cost/kWh | Cost/mile | Cost/kWh | Cost/mile |
| Home: Standard flat-rate tariff | 18.9p | 5p | 28p | 7p |
| Public: BP Pulse PAYG (7kW, member) | 12p | 4p | 35p | 12p |
| Public: BP Pulse PAYG (50kW, member) | 15p | 5p | 43p | 14p |
| Public: Electric Highway (Rapid Charger) | 30p | 10p | 48p | 16p |
| Public InstaVolt | 35p | 12p | 57p | 19p |
| Public: Ionity (50-350kWh) | 69p | 23p | 69p | 23p |
HMRC advises that mileage rates can be adjusted to reflect real-world running costs, as long as fleet operators can prove these are accurate and do not include private journeys. Otherwise, this may be classed as additional income and can be taxed.
What systems are available to track charging costs at home, on the road and at work?
There are several automated reimbursement solutions which log home, workplace and public charging sessions under a single account, then invoice employers automatically for any business mileage involved. These can provide a more accurate indication of travel expenses, while reducing the administrative burden compared to manual claims.
LeasePlan recognises that, for corporate clients, capturing personal and business mileage is key to managing reimbursement. We work with a number of carefully selected suppliers and can give expert advice to help guide you towards a reimbursement solution suited to your needs.
Centrica Fleet Charging Management System:
Centrica used experience from managing its own electric vehicles to develop a charging and reporting solution tailored to fleets. The system links to employees' home charge points (regardless of manufacturer) and drivers are provided with an RFID tag to access workplace chargers and selected public networks, with usage aggregated into a single monthly statement detailing driver usage for the fleet manager. The report includes detail for payroll management to enable the client to easily manage their driver reimbursement via their existing payroll process.
Shell Recharge Solutions
Shell offers an automatic reimbursement solution which connects drivers' home chargers to an account which provides roaming access to a growing choice of public networks (including on-street networks Char.gy and Ubitricity) and workplace charging via a single RFID card or app. Shell will then invoice the employer for charging sessions on the road and reimburse employees directly for business-use energy drawn at home minimising impact of drivers personal cash flow.
Shell also provides a mixed-use fuel card designed for fleets with electric and ICE vehicles, which includes both charge point access and payment for petrol or diesel, enabling operators to minimise fleet administration and keep costs under control.
The Miles Consultancy (TMC):
TMC's reimbursement service for electric vehicle charging can take in and collate data from domestic, company and public charging. This can help provide cost-effective and fair reimbursement – either using the AER or actual costs. The company also offers an easy-to-use system for pay and reclaim public charging and an electric charge card which can pay for sessions at 92% of the UK's public charge points.
Published at 29 November 2022
Was this article helpful?