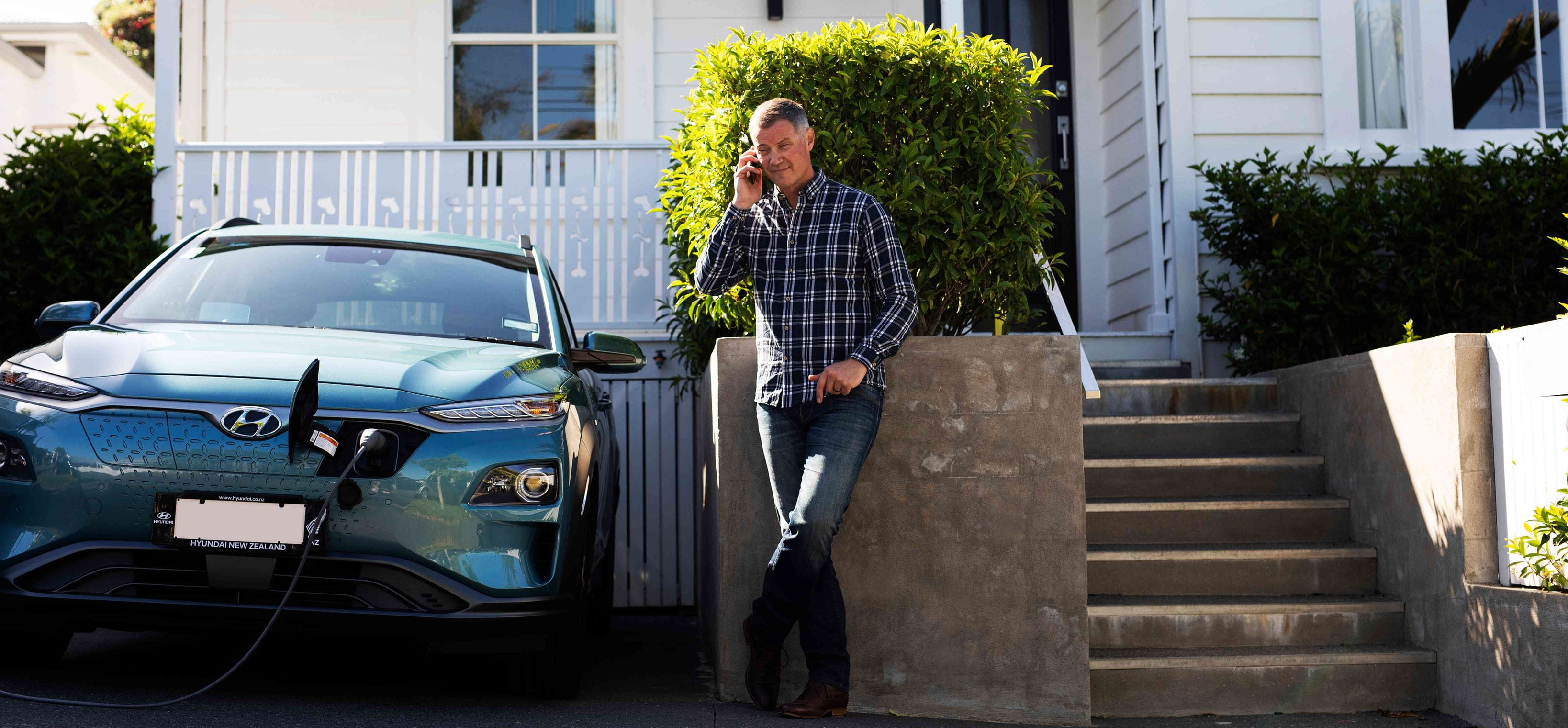 Electric vehicle charging
4 min to read
Electric vehicles
---
Charging an electric car to 'refuel' at home is one of the biggest perks of driving an electric vehicle. So, what do you need to know before you install your own charging point?
Why should I consider getting an electric car charger?
Most electric vehicle charging takes place at home, and having the right equipment makes the experience much more convenient. A wallbox offers:
Faster top-ups than plugging into a domestic socket.
Weatherproof protection against the elements.
Location next to where you park.
There's no need to trail cables through windows or under garage doors to charge your electric car at home. It's also becoming the default electric car charger. Most plug-in hybrid and electric cars are supplied with a cable suitable for both public and domestic charging points. Cables with a three-pin plug are increasingly offered as a backup, at extra cost, which a lot of public infrastructure doesn't support.
What funding is available for electric car charging at home?
The UK government has provided grant funding for installing electric vehicle chargers at home since 2012, administered by the Office for Zero Emission Vehicles (OZEV – formerly OLEV). As of April 2020, the Electric Vehicle Homecharge Scheme covers up to 75% of the cost of the equipment and installation, capped at £350. OZEV grants are available for registered keepers of eligible plug-in hybrid or electric cars. Lease and company car drivers can also apply, as long as they will use the vehicle for at least six months. Households can apply for multiple electric car charging points if they have more than one plug-in vehicle. Funding can be used to upgrade older units if they were fitted by a previous owner or tenant.
How do I know if my home is suitable for an electric car charging point?
The main condition of the OZEV grant is that you have an off-street parking space. This doesn't have to be attached to your home (for example, if you live in a flat). However, it can't be shared with other households, and it must be possible to plug in without trailing cables across public land – such as a pavement or footpath. Grant funding is also available for rental and leasehold properties, with permission from the landlord.
Otherwise, EV charging points are classed as permitted development, so don't require planning permission. The only restrictions for domestic units are:
Listed buildings
Monuments
Installations within conservation areas
Charging points two metres from a public highway
How do I choose the right EV charger type?
There are more than 400 different EV charger types eligible for OZEV funding, but choosing an appropriate electric car charger for your home isn't as complicated as it may sound. Almost all new plug-in hybrid and electric cars sold in the UK use the same 'Type 2' charging connector. This means compatibility shouldn't be an issue and decisions can be made based on personal taste and usage.
Here's what you need to consider:
Speed of the electric vehicle charger
Most domestic EV chargers offer a maximum output of:
4kW (16-amp) – restoring around 15 miles per hour plugged in.

7kW (32-amp) – restoring about 30 miles per hour plugged in.

Faster rates are most important for electric vehicles with long ranges and large-capacity batteries. Only a few plug-in hybrids can charge at 7.4kW. Households with a three-phase supply can claim grant funding for 22kW units, though not many vehicles support this.
Tethered or socketed electric car charging point
Some electric vehicle chargers feature a Type 2 socket. This is compatible with the cable supplied with the majority of cars and vans – a bit like how a USB port can charge different portable devices. Others feature a built-in cable and connector that matches the socket on the vehicle. It's easier than unravelling a cable from the boot, but may be incompatible with some older cars and vans.
Built-in data connections became mandatory for grant funding in July 2019. This means new units can:
Be updated and maintained over the air
Track and report usage
Eventually enable charging to be controlled remotely – avoiding demand spikes on the grid
What does installing an electric car charging point at home involve?
Installing a home electric car charging station will be undertaken by approved contractors. It's a routine job that typically takes less than a couple of hours.
Similar to an electric oven, the units are hard-wired into the household's 230-volt supply and – aside from old properties that haven't had recent upgrades – there should be no need for additional work. Installers will carry out a survey beforehand, apply to the electricity DNO (Distribution Network Operator) for permission to install, and can even apply for the grant on your behalf.
Easier still, LeasePlan enables drivers to add a domestic charge point during the vehicle ordering process, either as part of the monthly costs or paid for up front. This provides either a tethered or socketed 7.4kW wallbox, fully installed and accompanied by a three-year warranty and 24/7 support. It's a convenient way to get the right start for your electric journey.
Published at 11 April 2022
---