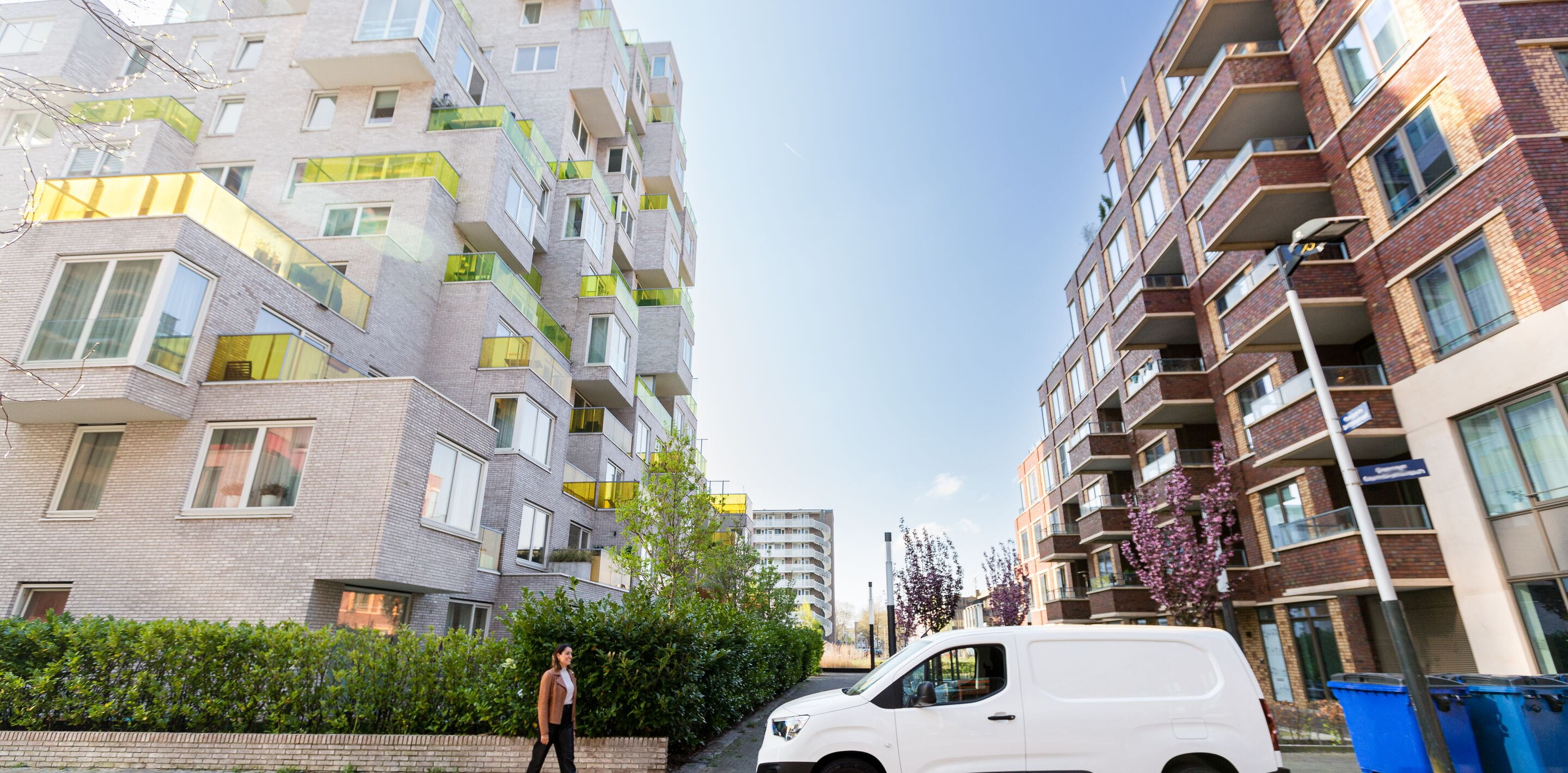 How to protect your van from thieves
5 min to read
Commercial vehicles
---
Security should be a priority for any fleets, but it's especially important for commercial vehicles. Here are some top tips to keep your vans – and their contents – safe.
Vans are the backbone of many businesses, but they often contain valuable equipment that makes them a magnet for thieves. Research by Volkswagen Commercial Vehicles suggests vans carrying, on average, £2,500 of worth of tools – usually essential for drivers' jobs. By disrupting their day-to-day work for an average of six days, the company claims break-ins cost British businesses a combined £5.2bn per year.
Security is something no commercial vehicle fleet can afford to overlook – and there's a much wider range of considerations than for passenger cars. The most determined thieves will find a way to get what they want, but there are steps you can take to slow them down and deter the opportunists. Here's how.
How do you compare security features for new vans?
A secure fleet begins with selecting the right vehicles, so it pays to do your research. Insurance ratings are a good starting point, as they include a suffix (a letter) indicating the level of factory-fitted security features. Vehicles with a rating ending with an 'E' have gone above and beyond, and this should be reflected by lower premiums.
Brochures and manufacturer websites are also a useful way to compare standard equipment. Depending on what you're carrying, it's often worth paying extra for options or a better-equipped vehicle to keep your business on the road.
What can fleets do to make their vans more secure?
Van fleets are incredibly varied, so there's a long list of factory-fitted and aftermarket security equipment to give operators peace of mind.
Bulkheads - Unlike Germany, there is no legal requirement for bulkheads in the UK. However, the benefits are such that some manufacturers (such as Ford) fit them anyway. Separating the load area protects the driver from being injured by moving cargo during a crash, but this also makes it harder for thieves to get access to equipment by breaking into the cab.

Alarms - Engine immobilisers are mandatory, but vans don't have to include an alarm and factory equipment can differ. They might have perimetric (doors being opened) or volumetric (changes in pressure, such as broken windows) sensors, while the most advanced alarms have both. Some of these (including aftermarket alarms) also have a Category 1 insurance approval from Thatcham Research, which can cut the cost of your premiums.

Door Locks - Additional locks put another barrier between thieves and the contents of your van and, although they arguably suggest there's something valuable inside, they're an effective deterrent. There are two types. Deadlocks are manually activated, so drivers could forget to lock them, but there's no way for thieves to know without trying to break in. Slamlocks lock automatically as the door closes, but this can risk accidentally locking keys inside.

Trackers - A tracker won't protect you from break ins, but it's an effective way to make sure your van doesn't disappear completely if it is stolen. Thieves have got better at jamming or removing these devices, but vehicles are usually recovered within a couple of days and that's often enough to deter opportunists. ALD | LeasePlan can supply built-in devices for vans, and insurers often offer discounted premiums for fleets who invest in them.

Catalytic Converters - All vans will have a catalytic converter to control harmful exhaust emissions. They're surprisingly valuable, containing precious metals (platinum, rhodium and palladium) and this means there's a sizeable black market for them. Thefts take minutes, immobilise the vehicle and leave owners with four-figure repair bills. A £200 cat lock device, or a cheaper marking system, will make your van less likely to be targeted.

Locking Bolts/Nuts – Most vehicles with alloy wheels will have locking wheel nuts, but it's much less common for steel rims. With tyre prices rising and more parts sharing among vans than cars, even the most basic wheels can be desirable for thieves. A £40 set of locking nuts is a small investment compared to the disruption of coming back to find your vehicle on bricks.
What can drivers do to avoid break-ins?
Your drivers are perhaps the most important security measure of all. Briefing them about good habits, or incentivising those who don't suffer a loss during the year, is cheaper and more time-efficient than ending up with vehicles off the road. Here are some tips:
Park Carefully – A well-lit parking spot with CCTV might cost a bit more and require a few extra minutes of walking time, but it could protect your van. This is also important at home; a Logistics UK survey found 38% of drivers had tools stolen while parked on the road overnight, compared to 24% parked on a driveway.

Lock it Up – The Office for National Statistics says 14% of vehicles stolen in 2019/20 had been left unlocked. It's worth taking a few seconds to tug on the handles to check it's locked before walking away, and vehicles mustn't be unattended if the engine is running. Besides invalidating your insurance, excess idling is illegal.

Think Visual – Consider how your van looks to would-be thieves. Leaving valuables on show is a definite no-no, and remember that customers aren't the only people paying attention to your signwriting. On the other hand, stickers highlighting alarm upgrades and trackers are as effective a deterrent as the devices themselves.

Care for Keys – Immobilisers have made cars much harder to steal, so keep your keys out of sight at home and work. Thieves are also targeting keyless systems, using a device to relay the keyfob's signal to the vehicle so it opens and starts. Storing the fob in a signal-blocking Faraday container (a metal biscuit tin works) can prevent this.

Secure Apps – A growing number of new vans, especially electric models, have smartphone apps which can locate them, check their status and even unlock their doors. These should be protected by a PIN or password – different to the one used to unlock the phone – in case the device is stolen.
What should you do if your vehicle is stolen?
If the worst happens, don't panic. Contact your local police station (dial 101) with your van's registration number, make, model and colour to hand. They will give you a crime reference number and notify the DVLA about the theft, including if the vehicle is recovered.
Once the police have been informed, you'll need to pass your crime reference number on to your insurance company to begin the claims process. If the vehicle is leased through LeasePlan, then our customer service team can also guide you through the next steps.
Published at 20 October 2023
Was this article helpful?