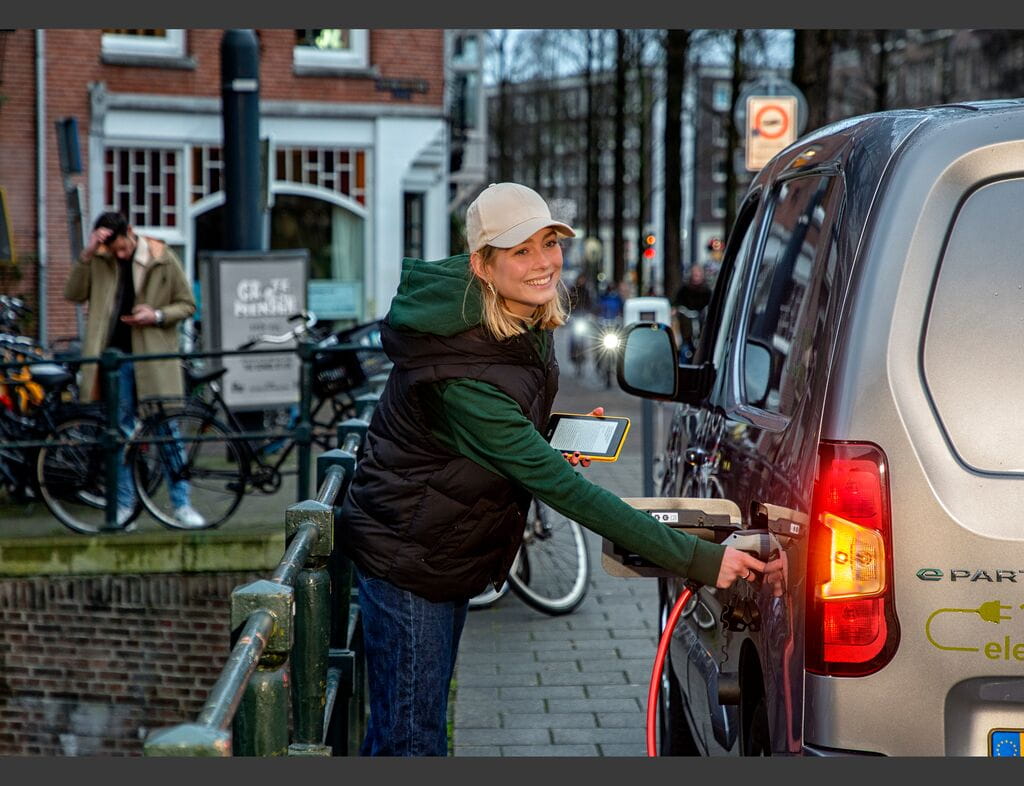 Analysis shows new eLCV registrations up by 422% in three years
In December last year, new registrations for battery electric vehicles (BEVs) overtook diesel for the first time ever, becoming the second most popular powertrain behind petrol.
Many took this as the long-awaited tipping point – the moment where EVs would finally enter the mainstream. For the past few years, the EV market has gone from strength to strength, defying the odds as sale figures for other vehicles dropped against the backdrop of the pandemic and a semiconductor shortage.
But as this booming growth continues in the electric car market, is the electric light commercial vehicles (eLCVs) keeping pace?
With a 275% Google search demand increase for 'electric vans' and an increase in BEV LCV registrations, it would appear that the market is also on an upwards trajectory.
Yet, analysis from LeasePlan UK on data from the Society of Motor Manufacturers and Traders (SMMT) shows that despite this exponential growth, the eLCV market is still lagging far behind EVs.
Since the announcement of the 2030 petrol and diesel ban and the start of the UK's electrification plans, the van market has experienced significant transformations.
In the last four years, eLCV registrations have increased by 422%. However, in comparison BEV registrations grew by 711% in the same period – showing a disparity in the growth of the two markets.
A look behind the data
The evidence of an increase in demand for eLCVs is reflective of the market's transition to electric driving. eLCVs are becoming increasingly cost-competitive as manufacturers focus their attention on more affordable models.
The implementation of Clean Air Zones (CAZs) and Ultra Low Emission Zones (ULEZs) across the country has also made electric driving a priority for fleets operating in bigger cities. At the same time, companies are re-evaluating their sustainability plans due to the rising prominence of Environmental, Social, and Governance (ESG) reporting.
Despite the boom, new eLCV registrations are still far behind BEV car registrations and there several reasons for this.
Firstly, there's the higher upfront costs. In many cases, electric models are still more expensive than their petrol and diesel counterparts, leading some fleet decision makers to view them as too pricey. This is especially true for smaller businesses with limited budgets. However, the total cost of ownership, which takes into consideration things like running costs, maintenance and depreciation, is typically less for eLCVs than it is for petrol or diesel. We'd therefore urge fleets to adopt a long-term mindset as there are considerable savings to unlock.
Some fleet-operating businesses also have concerns about range and operational suitability of electric vehicles. eLCVs generally have a shorter driving range than ICE vehicles, which can make them less suitable for long-distance journeys or for businesses with delivery routes outside of urban areas. The size of the battery also reduces the payload for each vehicle, which means less space for cargo. However, this is getting better all the time as battery technology improves and the range of models on the market expands.
Lastly, there are still ongoing challenges around charging infrastructure. A perceived lack of chargers for EVs, particularly in more rural areas, is holding many fleets back and while this has greatly improved in recent years, some existing charging stations aren't suitable for larger vehicles. This can make it difficult for fleet managers to plan routes and ensure that their vehicles have sufficient charge to complete their deliveries.
What's next for the eLCV market
If the eLCV market is to remain on course for the 2030 deadline, we need to see continued investment from the government in the rollout of charging infrastructure across the country and the range of financial incentives available for business and drivers. Standardisation and accessibility are also important factors when encouraging people to make the switch as it will ensure that every driver has the same, positive experience.
Fleet decision-makers should spend time planning their eLCV charging strategy to identify which vehicles are suitable for switching out immediately and which may need to wait for more appropriate options. Likewise, fleet managers should work closely with drivers to optimise routes for eLCVs and provide the necessary training to help them to operate their vehicles efficiently.
As EV100 founding members, we are working closely with businesses to help them start their electric journey and maximise the benefits. We have a range of online tools available, including our EV readiness tool for fleets, which helps you to determine the suitability of your fleet for electrification.
As industry partners, we need to help businesses to take incremental, more realistic steps towards electrification which help to deliver on their sustainability goals and wider business objectives. These smaller steps will soon add up to something far more significant, and that is where real change is born.
Published at 13 April 2023
Was this article helpful?