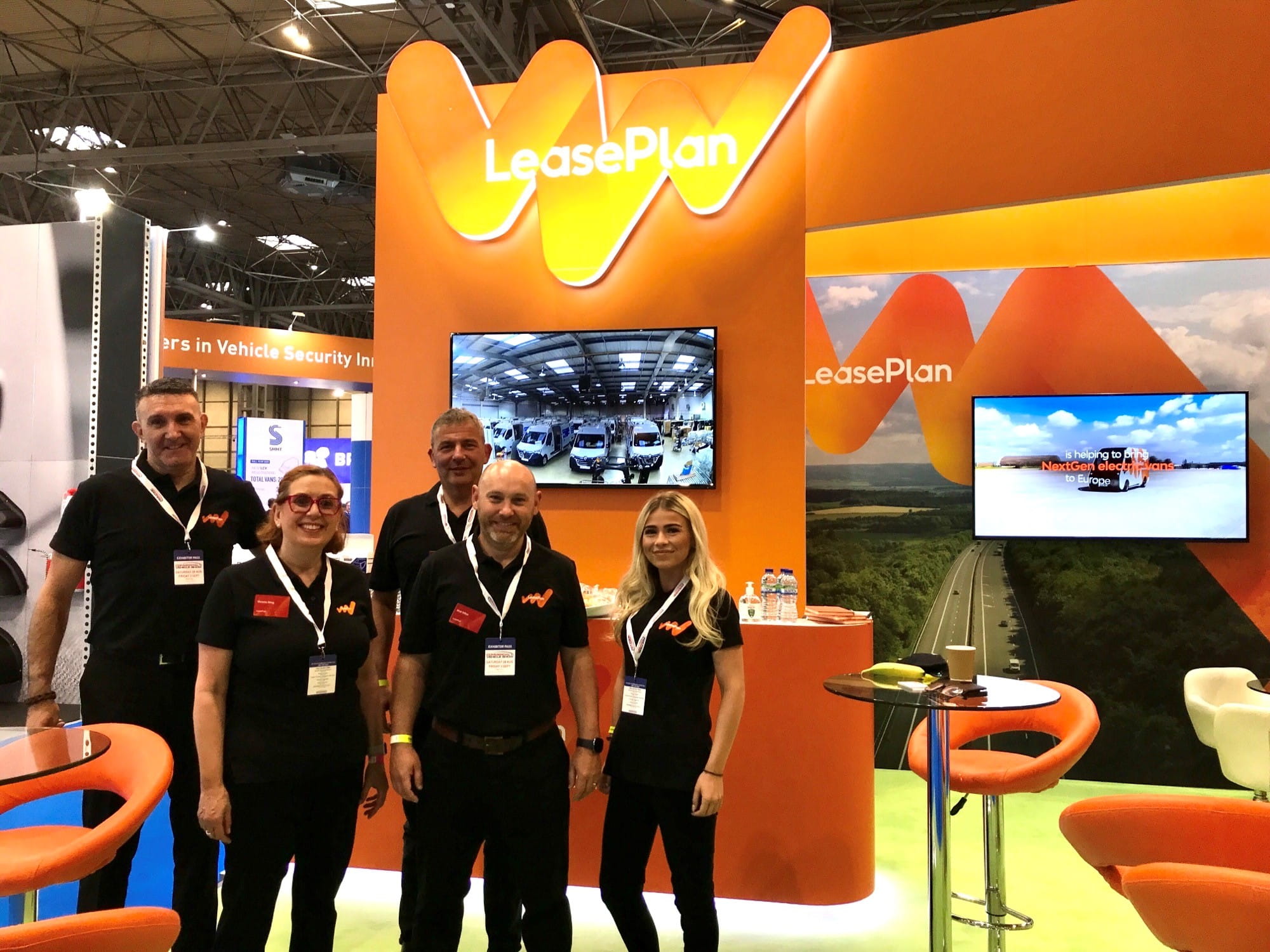 CV Show 2021 Highlights
4 min to read
Commercial vehicles
---
The 2021 Commercial Vehicle Show shone a spotlight on the latest innovations for an increasingly diverse, high-tech fleet sector. Here's our pick of the newcomers.
UK-based technology company Arrival has named LeasePlan as the preferred operational leasing partner for its forthcoming electric van line-up. The initial order of 3,000 lightweight, space-efficient commercial vehicles will serve a fast-growing market for electric last-mile deliveries, and another step towards LeasePlan's target of a net zero carbon funded fleet by 2030.
Customers will be able to choose a range of panel, chassis and passenger-carrying versions with different battery sizes to suit their range requirements, and Arrival has developed a unique production process for easy scaling using localised supply chains. The target is price parity with an equivalent diesel van.
New technology for a familiar nameplate, an electric version of Ford's two-tonne Transit van made its European debut at the Commercial Vehicle Show. The E-Transit will use technology shared with the Mustang Mach-E, offering 200 miles of range, multiple wheelbases, bodies and gross weights and a power outlet for running tools and equipment. Trials are already underway with delivery and utility fleets, ahead of the launch in 2022.
Ford's stand also highlighted enhances to the rest of the LCV line-up, including a low-floor Luton variant of the Transit, multiple new versions of the Ranger pickup and the Ford Liive telematics system, which provides remote real-time vehicle health data for fleet operators to help minimise downtime.
Isuzu has partnered with Bristol-based converter TGS (UK) to develop a 3.5-tonne GVW Utility Tipper conversion for the D-Max Extended Cab pickup. Its lightweight aluminium tipper body features an electro-hydraulic scissor-lift for maximum stability, and controls on a wander lead, so it can be operated from a distance. The company claims a payload in excess of one tonne, with easily cleaned vinyl flooring in the cab, upgraded VB Tech air suspension and a full suite of safety assistance features as selling points for fleets.
The latest in a long lineage of rugged work vehicles, the Land Rover Defender Hard Top is tailored to the rugged demands of farming, search and rescue and emergency service fleets. It's available with 90 and 110-inch wheelbase variants, a choice of three diesel engines and intelligent all-wheel drive, with a towing capacity of up to 3.5 tonnes. The load area includes multiple lashing points, underfloor storage and a bulkhead, and there's space for three passengers in the cab.
LEVC showcased a range of security solutions for the VN5 range-extended electric van, developed with Kent-based supplier Locks 4 Vans. These include an additional hook lock, an automatically-engaged slamlock for drivers regularly getting in and out of their vans, and bespoke shielding to protect the factory latches.
The VN5 features the same lightweight aluminium chassis and range-extended electric powertrain as the TX taxi, and is now being rolled out to other markets after the UK launch last year. It provides up to 5.5m3 of cargo capacity and an 830kg payload with a range of up to 304 miles, including 60 miles purely on battery power.
With electric vans accounting for more than half of its UK sales, MAXUS came to this year's event with an entirely battery-powered line-up. Reveals included a Dropsider based on the e DELIVER 9 electric van and a refrigerated version of the smaller e DELIVER 3, in line with growing demand from the grocery and pharmaceutical sectors.
New vehicles will be available with a real-time telematics system provided by LEVL and Geotab, and MAXUS is expanding its dealer and service footprint to 80 sites ahead of additional variants arriving next year. A long wheelbase e DELIVER 3 is due in 2022, and a pickup and electric minibus are also in the pipeline.
Korean brand SsangYong is working to strengthen its relationships with specialist fleets. Newly facelifted, the Musso pickup offers the longest load bed in its class, at up to 1.6 metres, with a 3.5-tonne towing capacity and 1,140kg payload. Its CV Show debut coincided with that of a Rexton SUV converted for use with police fleets and developed with conversion partner Bespoke Traffic and Highway Solutions.
The UK will be the first market to get Toyota's Corolla Commercial hybrid van when it launches next summer. Unique in its class, it's based on the Touring Sports estate but a large load area in place of the rear seats.
Final figures have not been confirmed yet, but Toyota says the 1.8-litre petrol-electric hybrid system could offer fuel efficiency of up to 62.7mpg with CO2 emissions from 102g/km and a 750kg towing capacity. Indicative pricing is £22,134 on the road.
Vauxhall will only sell electric cars and vans by 2028, and it's already close to offering battery-powered versions of every model in the range. New to the line-up is a Platform Cab version of the mid-size Vivaro-e electric van, designed with Paneltex and aimed at supermarket and retailer delivery fleets, while the compact Combo-e and larger Movano-e will bookend the range next year - the latter offers up to 17m3 of loadspace.
Fleet trials are also underway for the Vivaro-e Hydrogen fuel cell van, which is set to come to the UK in 2023. This uses an electric motor powered either by a mains-rechargeable battery or a fuel cell, which produces energy from a chemical reaction between hydrogen stored on board, and oxygen from the air. The result is a 249-mile range for inter-city fleets, with three-minute refuelling stops and only water vapour emitted at the tailpipe. Loadspace is identical to the diesel version.
Published at 20 September 2021
Was this article helpful?