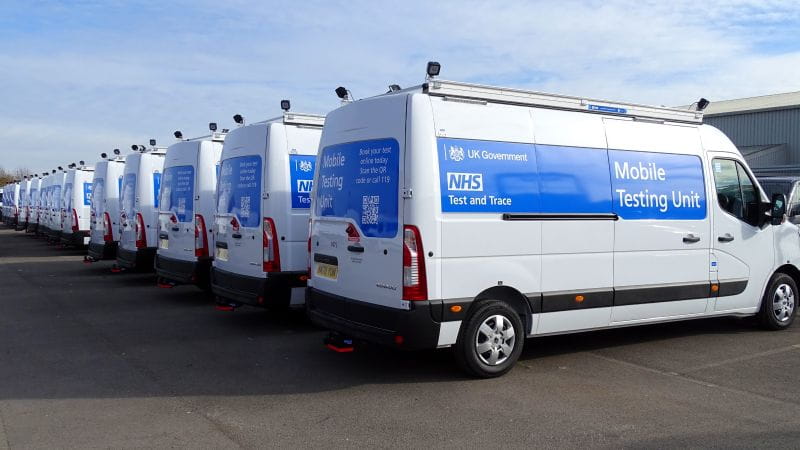 LeasePlan UK deliver 500 Mobile Testing Units
7 min to read
Case study
---
500 COVID-19 Mobile Testing Units (MTU) ordered by the Department of Health and Social Care (DHSC) doubling its existing fleet.
Developing such a specialised vehicle and delivering it in significant numbers, on budget, and within an extremely tight three-month timeframe, ensued close collaboration between suppliers, with all involved in playing a key role in helping the Government to suppress the spread of COVID-19 across the UK.
The 500 Renault Masters replace, and nearly double, DHSC's existing MTU fleet of 258 vehicles. The bespoke conversion, developed by LeasePlan UK and TGS, also offers twice the daily testing capacity of the previous MTU, with each of the new vehicles having the ability to store 1,000 test kits compared with the original's capacity of 500. These developments significantly increase the testing capacity offered by the UK's mobile testing capability and enhance the NHS Test and Trace Programme.
Tenders, issued via the Department of Health (DoH) and Crown Commercial Services (CCS) - saw the contract for the supply of the vehicles was awarded to LeasePlan UK, following success in an initial tender for consultancy work to create a single, viable conversion which LeasePlan delivered pro bono. TGS was chosen for the conversion of all 500 vehicles after completing the pre-order concept and having the ability to deliver the order within a tight three-month timeframe. £Renault UK awarded the contract to supply the entire order of 500 vehicles after demonstrating its manufacturing capacity.
TGS, which is a Tier 1 supplier to LeasePlan UK, completed up to 60 MTUs per week. Despite a late design change dictating the necessity for sliding doors on either side of the Renault Masters, all 500 MTUs were completed by the end of March. It is believed that the delivery of such a detailed conversion in such a quantity and timeframe is near unprecedented in the industry.
The purpose-built conversion ensures safe and comfortable testing conditions for staff and subjects in all weather conditions. Features include twin awnings with layouts to accommodate drive-through testing and staff welfare areas, pedestrian testing bays, onboard heating, hot water and hand-washing facilities, generator for additional power, comprehensive charging and electrical access points, and extra lighting. To ensure the MTUs are instantly work-ready, TGS and LeasePlan UK have worked with third-party suppliers to guarantee the continual flow of components and inventory sourced from across the EU and included in each van before delivery.
Alfonso Martinez, Managing Director, LeasePlan UK, commented:
"Making sure that vital vehicles remain on the road has been a priority for us throughout the pandemic, and the involvement we?ve had with this tender has been no different. Our remit has spanned initial conversion concepts and vehicle supply, to ongoing training, and a full-service, rapid-response maintenance and repair program should the vehicles need it. We're delighted to play our part in ensuring the DHSC has all it needs to continue the great work it's doing in keeping people safe, protected and constantly tested, as part of the wider effort in combatting this virus."
Vincent Tourette, Managing Director, Renault UK, added:
"We are exceptionally pleased that the Renault Master is playing a part in helping the DHSC to continue its invaluable work in controlling the spread of COVID and further enhance the size of what is the largest network of diagnostic testing facilities in British history. Being able to provide such a substantial number of base vehicles in such a short timeframe presented a significant challenge, but it's something that we and our factory were proud to overcome. It's very rewarding to see the Renault Master MTUs in service on the frontline and contributing to the UK's fight against COVID."
Glenn Smith, Director, TGS UK, added:
"We are very pleased that we have had the opportunity to play a vital part in supporting DHSC in their heroic effort to suppress the spread of COVID by converting these Mobile Testing Units. Fellow director Nathan Smith and I worked closely with DHSC and LeasePlan to develop the initial design concepts within a very short timeframe, through to delivering the completed vehicles to the testing sites, fully stocked and ready to work. Our industry expertise and dedication has resulted in us delivering this 500-strong fleet at a speed that is unprecedented and which many believed was unachievable. This project has set new levels of performance and service in the industry and really set us apart, highlighting our ability to progress a complex order in record time, spanning prototype£ development through to deployment of the completed vehicles. Our dedicated Customer Care Team supported by highly trained on-site technicians now look forward to supporting DHSC in ensuring these vehicles stay in service, performing their important role in combating this pandemic."
The MTUs have been praised by their users. Crews have been particularly receptive to the improvements that the new conversion offers over the previous vehicle, notably the improved welfare facilities, the ability to complete some duties inside within clinical requirements and the new walk-through awning providing a more private experience for the person being tested.
The order has also included the delivery of technical training to MTU operatives, COVID-safe handling procedures for those involved in the collection and handover of the vehicles, a rapid response servicing programme and a dedicated hotline for MTU service providers by LeasePlan UK.
The Renault Master is available in Panel Van, Crew Van, Platform and Chassis Cab format with a choice of wheelbase lengths: short, medium, long and extra long and roof heights. A variety of 'Off-the-shelf' factory conversions are also available, including Tipper, Luton Box Van, Dropside and Luton Low Loader, while the Platform and Chassis Cab versions also form the basis for bespoke conversions that can be ordered via the Renault UK 'tailor Made' conversion programme.
Customers can choose from a comprehensive range of strong and efficient diesel engines, plus the all-electric Z.E. powertrain, with a choice of FWD, RWD and 4WD. Twin-wheel RWD versions are available giving optimised traction for heavier loads or towing. Two trim levels are available - Business and Business+. The Business+ specification, which features on the DHSC Renault Master MTUs includes such features as manual air conditioning, electric windows with one-touch operation for the driver's, multi-function trip computer, rear parking sensors, radio with DAB, Bluetooth and USB, and ESC (Electronic Stability Control) with Grip Xtend, Hill Start Assist and Trailor Swing Assist.
The Renault Master is priced from £28,400 excluding VAT and comes complete with a three-year/100,000-mile warranty.
Groupe Renault is at the forefront of a mobility that is reinventing itself. Strengthened by its alliance with Nissan and Mitsubishi Motors, and its unique expertise in electrification, Groupe Renault comprises 5 complementary brands - Renault, Dacia, LADA, Alpine and Mobilize - offering sustainable and innovative mobility solutions to its customers. Established in more than 130 countries, it currently employs more than 180,000 people and has sold 2,9 million vehicles in 2020.
Ready to pursue challenges both on the road and in competition, Groupe Renault is committed to an ambitious transformation that will generate value. This is centered on the development of new technologies and services, and a new range of even more competitive, balanced and electrified vehicles. In line with environmental challenges, the Group's ambition is to achieve carbon neutrality in Europe by 2050.
Lauren Prema Press Relations Manager lauren.prema@renault.co.uk - 01923 697203 - 07741 233530
Charlie Roper Brand Affairs Manager Charlie.roper-extern@renault.co.uk - 01923 697778 - 07816 641843
Gemma Croft Press Fleet Manager gemma.croft-extern@renault.co.uk - 01923 697355 - 07887 468977
Yasmin Rhodes Press Officer yasmin.rhodes@renault.co.uk - 01923 697289 - 07385 398222
LeasePlan is a leader in two large and growing markets: Car-as-a-Service for new cars, through its LeasePlan business, and the high-quality three-to-four-year-old used car market, through its CarNext.com business. LeasePlan's Car-as-a-Service business purchases, funds and manages new vehicles for its customers, providing a complete end-to-end service for a typical contract duration of three to four years. CarNext.com is a pan-European digital marketplace for high-quality used cars seamlessly delivering any car, anytime, anywhere and is supplied with vehicles from LeasePlan's own fleet as well as third-party partners. LeasePlan has approximately 1.9 million vehicles under management in over 30 countries. With over 50 years' experience, LeasePlan's mission is to provide what's next in sustainable mobility so our customers can focus on what's next for them. Find out more at www.leaseplan.com/corporate.
For further information on LeasePlan UK, please contact:
Gillian Foley Senior Editor Gillian.Foley@wearebottle.com - 01865 338225 - 07880 404464
Bristol based TGS Automotive Group is an Industry Leading Vehicle Converter and are accredited by most LCV Manufacturers as well as the foremost Leasing Companies in the UK. Wholly owned by family members and driven by a strong Management Team, TGS continues to grow in the LCV Conversion Market and our product range has a well proven track record with many of the UK's Public Sector and Corporate Organisations. Our facilities extend to 80,000 square feet on a 3.5-acre site with secure parking for our customers' vehicles. A comprehensive 'turn key' solution is at the heart of our success and the DHSC Contract has proved beyond doubt that TGS are now firmly at the forefront of the UK Conversion Market.
Glenn Smith Sales Director glenn@tgs-group.com - 0117 9659965 - 07848 453837
Published at 16 April 2021
Was this article helpful?