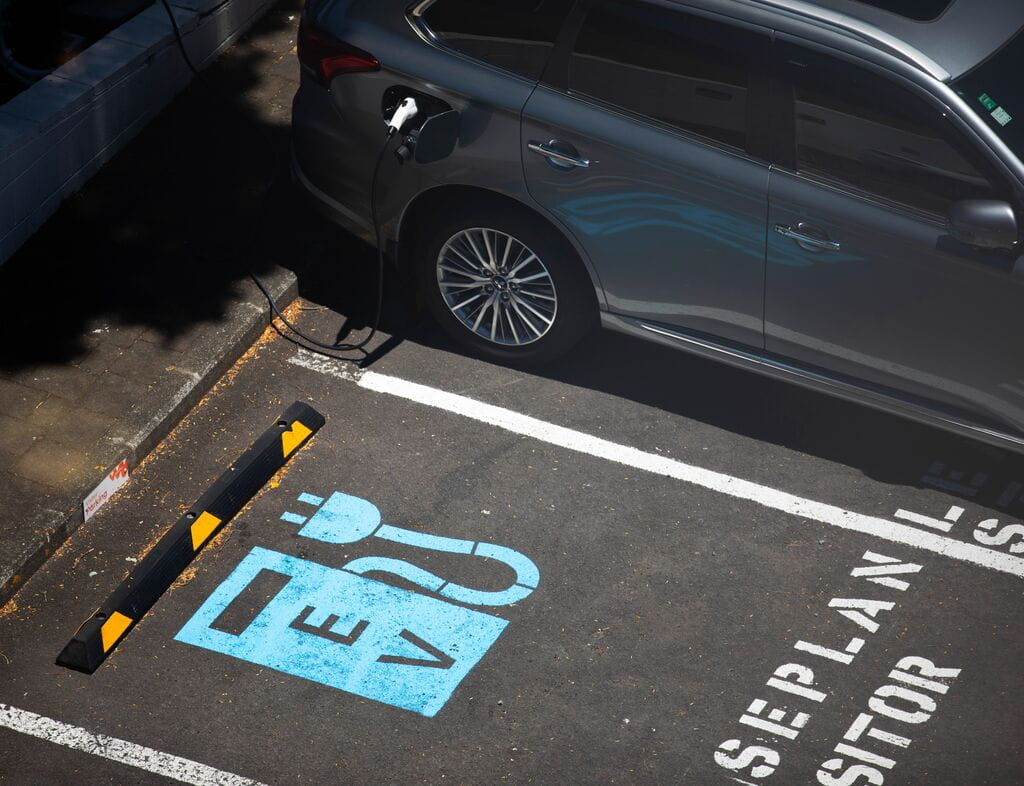 Getting Started: An introduction to Workplace EV Charging
4 min to read
Electric vehicles
---
Providing EV charging points at work for your employees and fleet is an important enabler of the wider adoption of plug-in vehicles. Here's what you need to know to get started.
Why should I consider installing workplace EV charging points?
The popularity of electric and plug-in hybrid vehicles is booming. According to figures from the SMMT, more than one in five (18.5%) of new cars was a plug-in in 2021 [1]. With a growing choice of vehicles in the pipeline and renewed incentives for company cars introduced last April, it's increasingly likely that drivers will choose to make the switch.
Workplace charging is an important component for encouraging further uptake. It provides vital infrastructure for shared and depot-based fleets and enables employees to charge where they park. That strategic importance was recognised in Prime Minister Boris Johnson's 'Ten Point Plan for a Green Industrial Revolution' in 2020 [2], and there's a package of support measures in place for businesses looking to install their own infrastructure.
What funding is available?
Introduced in 2016, the Workplace Charging Scheme provides financial support for businesses, charities and public authorities to install EV charging points at work [3]. Administered by the Office for Zero Emission Vehicles (OZEV, formerly OLEV), this covers up to 75% of the hardware and installation costs, a maximum of £350 per outlet. Units with more than one outlet (i.e. capable of charging two vehicles simultaneously) qualify twice.£ Funding is available for up to 40 outlets per applicant.
The Workplace Charging Scheme application is significantly different to the Electric Vehicle Homecharge Scheme. There's no requirement to have plug-in vehicles in your fleet and you can apply for funding in multiple rounds, rolling out infrastructure in line with the demands of your workforce and fleet. However, the amount of funding available will depend on the grant scheme at the time.
There are also tax incentives. Businesses can claim a 100% first-year allowance (FYA) for charging points, deducting the total cost from profits before tax. Employees charging at work do not have to pay benefit-in-kind for the electricity used.
How do I know if my premises are suitable?
The Workplace Charging Scheme only provides funding for off-street parking spaces. These don't have to be adjacent to the workplace itself, but they must be reserved for staff and fleet vehicles associated with the applicant. Charging for visitor or customer parking or installing where the business is based at a home address are not eligible for the grant.
Otherwise, the requirements are straightforward. Charging points are classed as permitted development and restrictions only apply for [4,5,6]:
Installations within two metres of a public highway
For leased properties, applicants need the landlord's permission before claiming.
How do I choose the right EV charging point?
The Workplace Charging Scheme covers a broader range of equipment than the Electric Vehicle Homecharge Scheme. It's possible to tailor your infrastructure to suit your fleet. Here's what you need to consider:
How long will your vehicles be parked?
Charging rates are measured in kilowatts (kW). Funding is available from 3.5kW units (restoring around 12 miles per hour plugged in) to 62.5kW (charging at up to 250 miles per hour) [7].
For electric vehicles that are typically parked for several hours, or plug-in hybrids with smaller battery packs, 3.5kW or 7kW AC charge points should be adequate. DC 'rapid chargers' are significantly more expensive to buy and install. They're usually only required for depots where vehicles have short turnaround times between shifts.
Should you get sockets or cables?
Most new cars and vans use the same Type 2 charging connector, so compatibility issues are rare, but they are still worth considering. Grant funding is available for AC units with a tethered cable or a Type 2 socket that allows drivers to bring their own - similar to charging different portable devices from the same USB port.
The latter offers more flexibility for charging electric cars at work that don't have a Type 2 socket - such as the Nissan e-NV200 and Mitsubishi Outlander PHEV. Rapid chargers always have multiple tethered cables to suit the most common charging connectors, as the cables are much thicker than slower units.
What usage data do you need?
All grant-funded workplace charging points must have a built-in data connection, primarily for OZEV to monitor the demands on the electrical grid. This means some units can be integrated into a back-office system to monitor users' power consumption, based on individual RFID cards used to begin a charging session.
Key and RFID cards could help prevent unauthorised access in areas that are open to the public, or points can be left 'open' to any user. LeasePlan can provide solutions for each use case.
What does installation involve, and how much does it cost?
Installations can only be carried out by OZEV-authorised installers, who also claim the grant on your behalf. The process and associated costs vary, from a few hundred pounds for the slowest AC charge points located close to an existing electrical supply, to tens of thousands for a rapid charger requiring other upgrades.
Each socket must be capable of providing at least 3kW, regardless of how many vehicles are plugged in. OZEV advises an electrical survey before applying, to identify additional work.
References:
[1] SMMT. (2022). December & Full Year 2021 New Car Registrations. [online] Available at: https://media.smmt.co.uk/december-2021-new-car-registrations/ [Accessed 29. Mar 2022].
[4] Ministry of Housing, Communities & Local Government (2015) Town and Country Planning Act (General Permitted Development) (England) Order 2015 [Accessed 29. Mar 2022].
[5] Department for Communities and Local (2019) Town and Country Planning (General Permitted Development) (Amendment) (Wales) Order 2019[Accessed 29. Mar 2022].
[6] Local Government and Communities Directorate (2014) The Town and Country Planning (General Permitted Development) (Scotland) Amendment Order 2014[Accessed 29. Mar 2022].
[7] OZEV (2021). Workplace Charging Scheme: minimum technical specification. [online] Available at: https://www.gov.uk/government/publications/workplace-charging-scheme-minimum-technical-specification/minimum-technical-specification-workplace-charging-scheme-wcs [Accessed 29. Mar 2022].
[Article updated 5th April 2022. Originally published 21st April 2021]
Published at 29 April 2022
Was this article helpful?