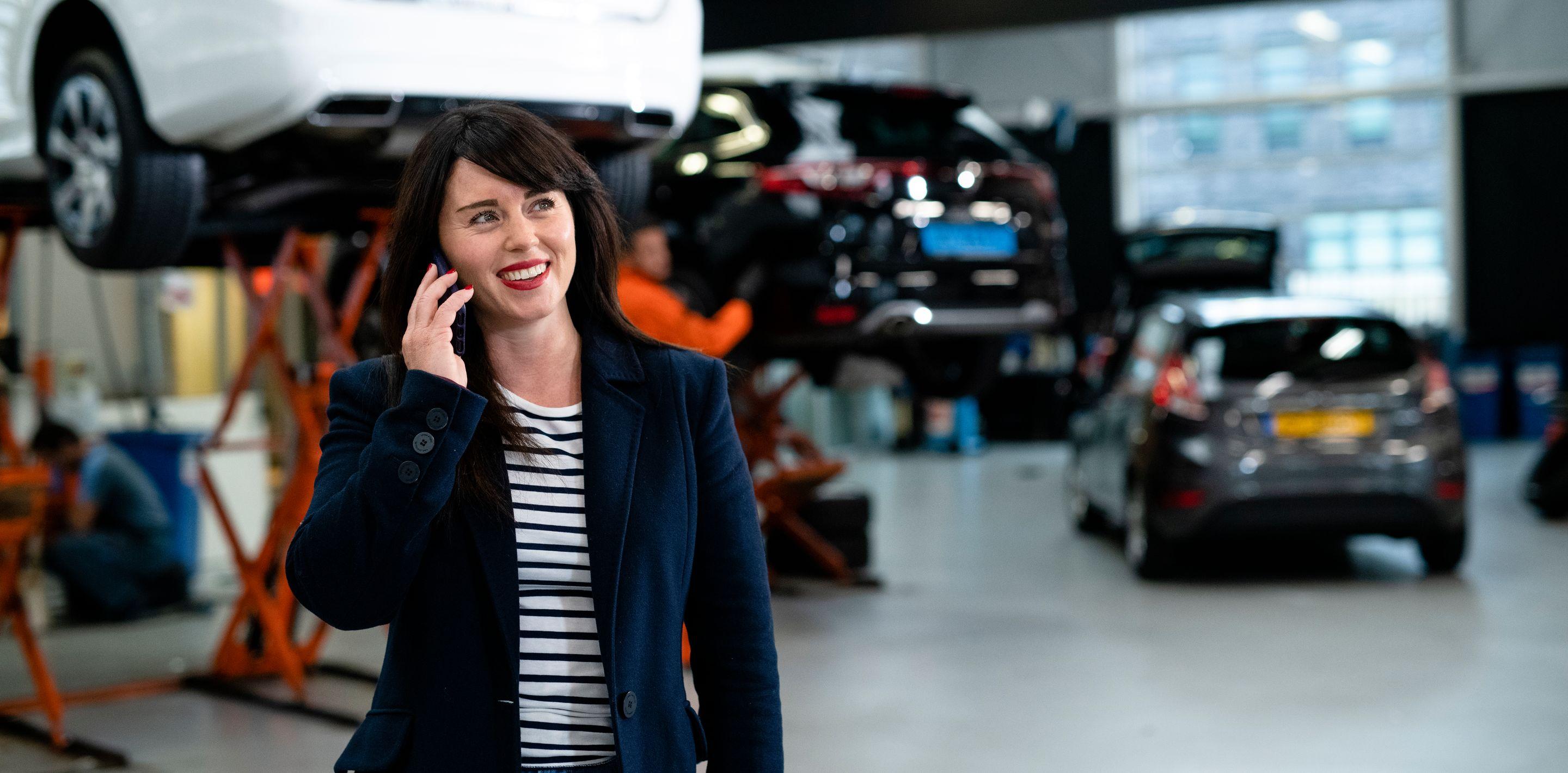 MOT
Book your test with ease
All the information you need to book your vehicle's MOT
We will contact you to confirm your booking via email or text.

Subject to availability, we can collect your vehicle and return it at your convenience, or if a courtesy vehicle is available at the garage, we can book it for you

if you contact us far enough in advance

. You can book your MOT up to 3 months before it's due date if needed. Please be aware that the garage might charge you a fee to be added to their insurance.

We will communicate with the garage on your behalf, track the progress of your MOT, and keep you informed if there are any queries or delays.
 

Tip!

Tyres are one of the main reasons vehicles fail an MOT, so it's worth checking the condition of them before the test. If they need replacing, contact your DriverLine.

To keep your car in top shape, remember to regularly check the condition of your tyres and keep an eye on your coolant, windscreen wiper fluid and oil levels.
FAQs
This will be in your contract or your fleet manager will know. If you're still unsure, please call the DriverLine.

You can check your MOT status here and we'll send you or your fleet manager reminders as your MOT due date approaches with instructions.

If you have a maintained contract, call your DriverLine number and we'll get you booked in. If you arrange your own test, please book into a local approved MOT center.

We'll only MOT a vehicle when it's due one. If you have a maintained contract, you must use the Service Booking option on the DriverLine to book work. You can also book an MOT online.

Our MOT slots prioritise those most in need while ensuring your job is handled promptly. Booking directly with the garage will hamper our efforts to allocate the slots fairly, so we may reallocate bookings if they are not made through our Service Booking Line.

Please contact the DriverLine if you have a maintenance contract., you can also book an MOT online. If you don't, you can take your vehicle to any main dealer or independent garage to be serviced as long as:

The garage is a VAT registered business.

Any parts replaced are manufacturer approved with paperwork showing the work has been carried out. Please keep these documents as they will need to be returned with the vehicle at the end of your contract (if applicable).

The majority of vehicles that go in for an MOT are returned the same day if there are no complex issues. The vehicle should be ready for collection between 4pm - 5pm or delivered back to you between 4pm - 5.30pm - unless otherwise agreed. Unfortunately, we cannot guarantee a specific time.

If any complex issues are found, your vehicle may be off the road for more than a day. If this happens, we'll let you know as soon as possible and we'll aim to return the vehicle as fast as we can.

A courtesy vehicle may be available but we can't promise a like for like one. We can provide you with a hire vehicle (at a cost) if you need one, depending on your contract.

If you do get a replacement vehicle, please take the necessary steps to protect yourself from COVID-19 and check that all surfaces have been wiped down.

You may need to have your vehicle MOT'd before returning it depending on when the MOT is due. If the MOT is due before the vehicle is returned, then the vehicle must be MOT'd and confirmation of this provided when returning the vehicle.

We will only MOT a vehicle when it's required. If it does not need an immediate MOT, it won't be booked in.

Tyres are one of the main reasons vehicles fail an MOT, so it's worth checking the condition of them before the test. If they need replacing, contact your DriverLine.

We will often use LP tyre centres for MOTs to ensure that if the vehicle needs tyres, we can fit them during the same visit to save you having to return.

Yes - please contact the DriverLine and select the 'MOT' option. This is only available during regular business hours - 9am to 5pm. You can also request the original copy.

If your contract includes maintenance, the garage will forward the certificate to LeasePlan. If it's given to you, please send it to us - Fleet Administration, LeasePlan UK Ltd, 165 Bath Road, Slough, Berkshire, SL1 4AA - as we're the registered keeper of the vehicle.
Need to make a MOT booking now?
Call 0345 250 0000
You can book your MOT Monday to Friday between 8:00 & 20:00 and Saturdays between 9:00 & 13:00.


call now