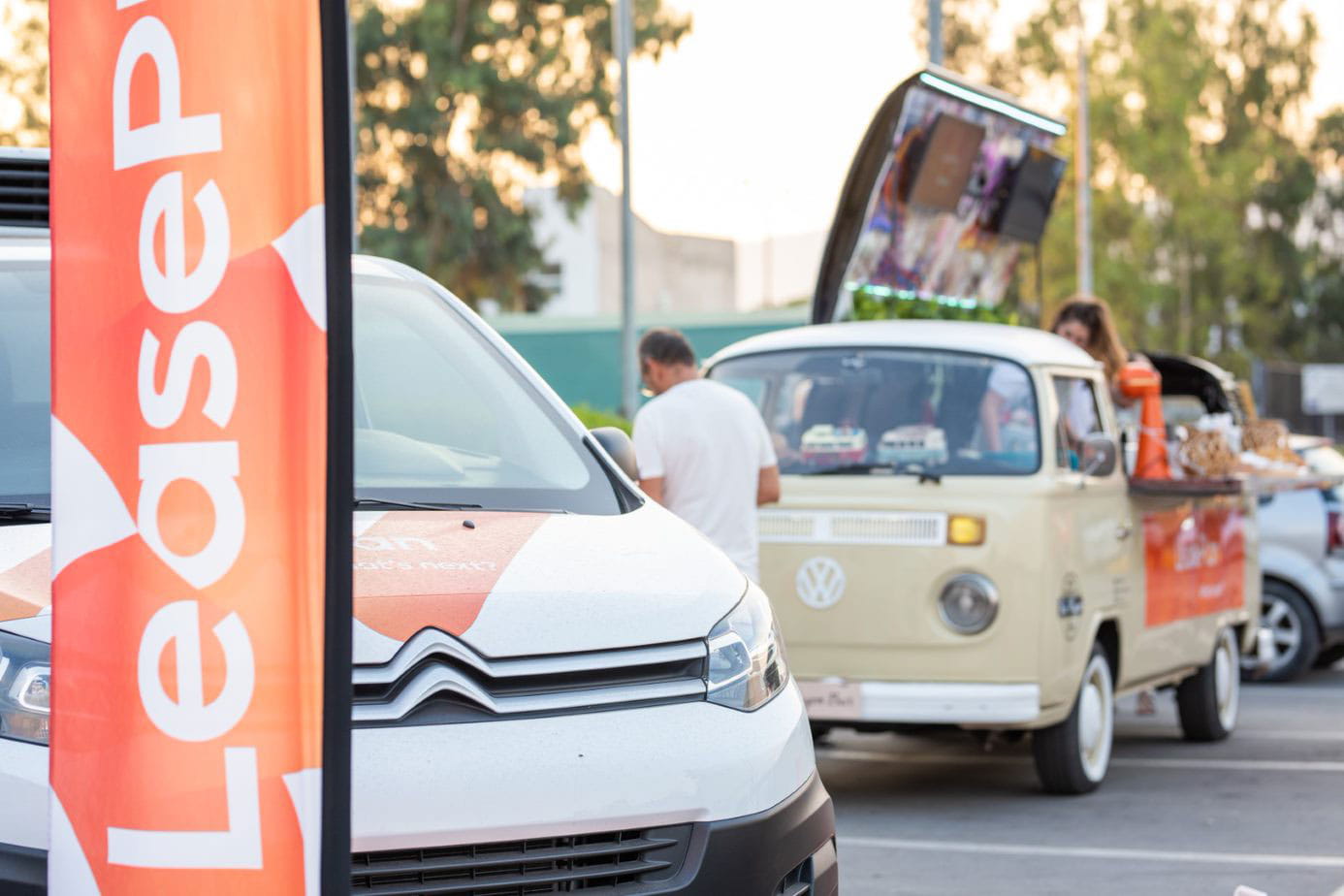 "The merchant in the foreground": LeasePlan at the Athens Central Vegetable Market
2 min to read
Collaborations & Actions
---
An imaginative and targeted action was designed and implemented this summer by LeasePlan Hellas, in order for the company to present its proposal for leasing refrigerated fully electric LCVs.
For over one month (June 1st to July 13th), an electric van of LeasePlan was placed at the Athens Central Vegetable Market, which hosts more than 350 merchants and producers in its 260,000 m² area. There, the professionals got to know "what's next" in LCVs. As part of the action, two separate events took place, on July 7th and 13th respectively.
On July 7th, at sunrise, the professionals were informed of anything that makes leasing by LeasePlan the smartest and most advantageous choice for their businesses, whatever their needs may be. The company provides an integrated support and insurance package that relieves professionals of the worries and time required to take care of their vehicle, allowing them to focus exclusively on their core business activities. By choosing leasing by LeasePlan, professionals do not need to deal with vehicle road taxes, insurance and maintenance. At the same time, they can also feel safe in case of an "unexpected" event, as they have the company's 24-hour customer serviceand vehicle replacementat their disposal. In addition, leasing with LeasePlan means having the opportunity to drive a brand new car every 4 years and enjoy both unique tax benefits and everyday convenience.
On July 13th, at an innovative event that took place at sunset hour, with a sustainable, authentic and fun "taste", the customers attending were introduced to 4 new e-LCV models. The people of LeasePlan were there to discuss with them the multiple benefits of the transition to EVsfor their commercial vehicles and how such transition is made easy with LeasePlan. Besides, the company is committed to the promotion of EVs, within the framework of its global strategy for net zero carbon emissions from its entire privately-owned fleet by 2030.
Especially for LCVs which carry out tasks requiring little autonomy (such as last-mile delivery services and local businesses), electric mobility is an increasingly attractive option, thanks to technological progress, reduced costs and related state initiatives that provide a number of tax and other incentives for the transition to EVs. As a leading Car-as-a-Service company, LeasePlan Hellas offers the appropriate electric vehicles for every professional, based on the needs of their businesses, and undertakes the financing of the vehicle and the management of the fleet, offering all the services that ensure the safe and uninterrupted operation of commercial vehicles, throughout the leasing period. The company's specialized consultants help professionals choose the vehicle and charging solution that suits them, offering integrated services for the implementation of the transition plan to EVs.
From the Athens Central Vegetable Market to every part of the country where LeasePlan offers its services, the company continues to make "what's next" a reality in mobility– and in commercial vehicles, today.
Published at August 23, 2022
Was this article helpful?