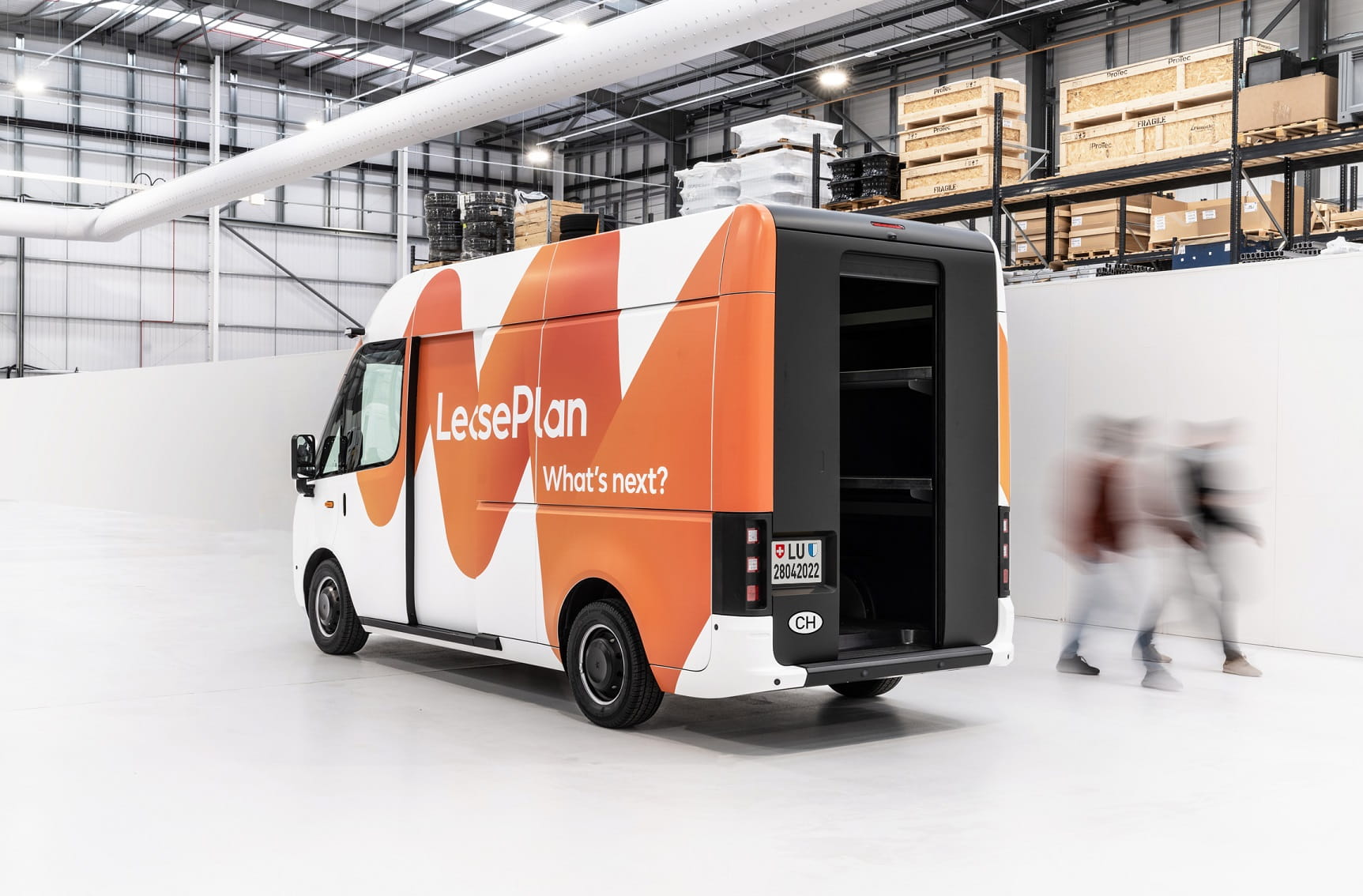 LeasePlan welcomes Arrival to Switzerland
2 min to read
Mobility
---
LeasePlan is bringing the Arrival Van to Switzerland. 
The innovative and sustainable e-transporter for deliveries will complement the global Car-as-a-Service provider's fleet offering. This will enable sustainable supply chains, from production to delivery. Arrival and LeasePlan have entered into a partnership. The company specialises in all-electric commercial vehicles. It has designed the entire production process to be sustainable using the latest technology: with rapidly scalable Microfactories that use proprietary technologies and materials.
The Arrival concept is in line with the LeasePlan philosophy.
While other OEM suppliers only replace the ICE, Arrival rethinks the entire vehicle. "This is in line with our philosophy of reimagining mobility for business and society," says Niklas Zetterlund, the managing director of LeasePlan Switzerland. "LeasePlan has shown a long-term commitment to reducing the carbon footprint as a founding member of the EV100 - putting sustainability on the agenda long before it became popular."
A truly sustainable electric van
Arrival has pioneered a new method of design and production of affordable, commercial electric vehicles in Microfactories. This is only possible through the invention of Arrival's in house technologies including software, hardware, materials, components and robotics. This results in an expected lower total cost of ownership. The vehicles will also lead to a more sustainable supply chain in Switzerland, as Arrival deploys Microfactories locally, serving cities that need them and taps into local supply chains. The Arrival Van is ideal for e-commerce deliveries with today's minimal "tyre footprint" and for use in communities and by local businesses. The vans will be available as a Delivery Van and Cargo Van. LeasePlan Switzerland will introduce the Arrival Van in the next few days. Customers can already book it for test drives and place orders today. "Arrival will start production for the Van in Q3 2022 and Switzerland will become an important market in the near future," says Niklas Zetterlund. "As Arrival's global partner, we are proud of this innovative concept that will make deliveries more sustainable."
About Arrival
Arrival was founded in 2015 with a mission to make air clean by replacing all vehicles with affordable electric solutions - produced by local Microfactories. Seven years and over 2,000 people later, we are driving the transition to EVs globally by creating products that are zero-emission, more desirable, more sustainable and more equitable than ever before. Our in-house technologies enable our radical new method of design and production using rapidly-scalable, local Microfactories around the world. This method facilitates cities and governments in achieving their sustainability goals whilst also supercharging their communities. We are a technology company, a product company, a supply chain company, an automotive company, a mobility company, a fintech company and a service company - all rolled into one with a shared goal of true sustainability. This vertically integrated business model is how we can have the radical impact our world needs today.
Arrival (NASDAQ: ARVL) is a joint stock company governed by Luxembourg.
About LeasePlan
LeasePlan is a leading global CaaS (Car-as-a-Service) provider, managing approximately 1.8 million vehicles in over 29 countries. The company buys, finances and manages new cars for its customers, providing a complete end-to-end service for a typical contract term of three to four years. With over 50 years of experience, LeasePlan aims to deliver the future of sustainable mobility so that our customers can focus on their next goals.
Published at May 10, 2022
Was this article helpful?
---