LeasePlan provides the charging solutions you need for your electric cars. At home, on the move and at work. This means you will have a single point of contact for everything involving electric cars.
Find out what you need to charge your electric car
  At home, at the office or on the road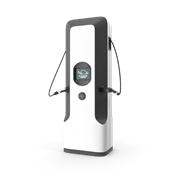 Charger
The charger can be installed at home or at the office; alternatively, you can use public chargers available on the road.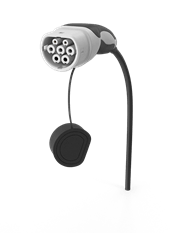 Charging cable
Electric vehicles come with a cable to connect the car to the charging station. In some cases, you can use whatever is available at the charging station.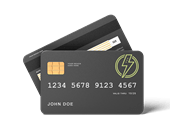 Charging card
Identical to a fuel card, to activate charging stations. Is called an EMSP (Electric Mobility Service Provider) card, and is provided by various partners with whom LeasePlan works.
Home charging
Charging at home conveniently enables you to wake up to a fully charged electric vehicle. But it's only an option for specific living situations. If home charging is for you, you'll need to know all about the advantages and costs. You'll also need to learn about the different types of charging points and how to get, install and manage one of your own.
Public charging
Do you need to charge on the go? Public charging networks are growing each year across Europe and beyond. Still, the growth of the network is not yet as fast as the growth of new electric mobility adopters. The truth is, if you're going on a long trip, you need to plan. Learn all about using public chargers. From speed, costs and using charge cards.
What types of charging stations are there?
Normal charging
Normal charging stations can charge an electric car, in public or private spaces, at charging speeds of 3.7kW to 22 kW. Costs also vary according to charging speed. Be aware of the maximum charging speed allowed by your car. In other words, if you have a hybrid or electric vehicle which charges up to a maximum of 3.7kW, you should not use a 22 kW station. Apps such as Miio can help you understand which charger is recommended for your vehicle.
Fast charging
Fast charging stations can charge an electric car, in public or private spaces, above 22 kW.
In this case the charging cable is at the station, and you do not need to use the cable that comes with the car. This type of charging, for the most part used for 100% electric vehicles, is ideal for use while travelling, since the charging time is shorter. Nationally, most of these chargers have a charging speed of 50 kW, but there is already equipment available that supports speeds up to 350 kW.
Normal outlet
You can also use the converter that comes with your car to connect to a normal household outlet. In this case, the charging time is quite long, but it is one possibility.
Charging abroad
If you're going to drive an electric car abroad, be sure to be aware of the country's charging infrastructures. Make sure your itinerary includes the necessary stops for recharging your car. In addition to the vehicle's own internal navigation system, there are many apps that can help you arrive at your destination. One example is: A Better Route Planner. In order to charge, you will have to buy special cards or use local apps.
How can I charge my electric vehicle?
How should I charge my electric vehicle? The battery is the heart of your electric vehicle, so you must take good care of it. When you fill up your car with petrol or diesel, you usually think: "The fuller, the better". In electric vehicles, lithium batteries will last longer if you keep them charged between 20% and 80%. Although a full charge is not ideal, it's not the end of the world – so long as you don't leave your car parked for a long time after a full charge. Fully draining your battery's charge is also not advisable. If this happens, it is important to recharge your car as soon as possible. Where can I charge my electric vehicle? You can charge your electric vehicle **at work, at home or on the road**. There is an extensive and growing network of electric chargers in Portugal and in Europe (more than 150,000). As a company, what charging options can I offer my drivers? If you represent a company, you can address 90% of your drivers' charging needs by offering chargers at home and at work. How long does it take to charge an electric vehicle? Different chargers offer different charging speeds, although charging time is also influenced by the vehicle's capacity. PHEVs charge at speeds of 3.7 kW to 7.5 kW, and as a rule in slow charging. In these types of vehicles, the battery has a capacity of about 10 kWh, so in order to fully charge the battery, which has a charging speed of 3.7 kW, it will take approximately 3 hours. 100% electric cars charge at speeds of 7.5 kWh to 22 kWh or up to 150 kW, depending on the current used – alternating (AC) for slow charging or direct (DC) for fast charging. For example: a car with a 50 kWh battery, with a charging speed of 22 kW in AC, will take approximately 2.5 hours to charge. If in direct current, with a charging speed of 50 kW, it will take approximately 45 minutes to reach the maximum limit of 80% of battery capacity (in DC, in order to preserve the battery life). If I move to a new home, what happens to the charger? If you move, the equipment can be transferred to your new home, but the deinstallation and installation costs must be paid by you or by the company. Will my building have the energy capacity to install the charger? To determine whether buildings have the proper energy capacity, a technical visit will be done by the LeasePlan partner responsible for charger installation. It is important to meet one of the following conditions: - single-phase installation with a minimum contracted power of 5.75kVA; - three-phase installation with a minimum contracted power of 13.8 kVA. If neither of these power conditions can be met, is important to determine if the capacity can be increased. Are charging costs billed to me or to the condominium? Billing will depend on the type of charging solution chosen, which falls into one of two categories: - **Plug & Charge**, with no connection to the Mobi.E network: we offer an account settlement wallet solution between the condominium member and the condominium. - **DPC, with a connection to the Mobi.E network**: use of an EMSP card which unlocks the charger and allows charging, with all charges done using the card, and not the joint condominium account. This is also the best solution for automatically reimbursing charges between the company and the employee. For more information, please see the website of our mobility partner Mobi.E. If you have any questions, contact our specialists via e-mail at [consultoria@leaseplan.com](targetSelf:consultoria@leaseplan.com "consultoria@leaseplan.com"). For companies, what are the advantages of having a LeasePlan charging solution? - We analyse cost settlement between the employer and employee. - The investment in the charging station, electricity and debit card will depend on the situation, and can be included in the cost of renting. - You will receive only one bill, with the constant guarantee of having a practical, cost-effective solution. - You will also have a single point of contact for everything involving electric cars.
Articles on electric mobility