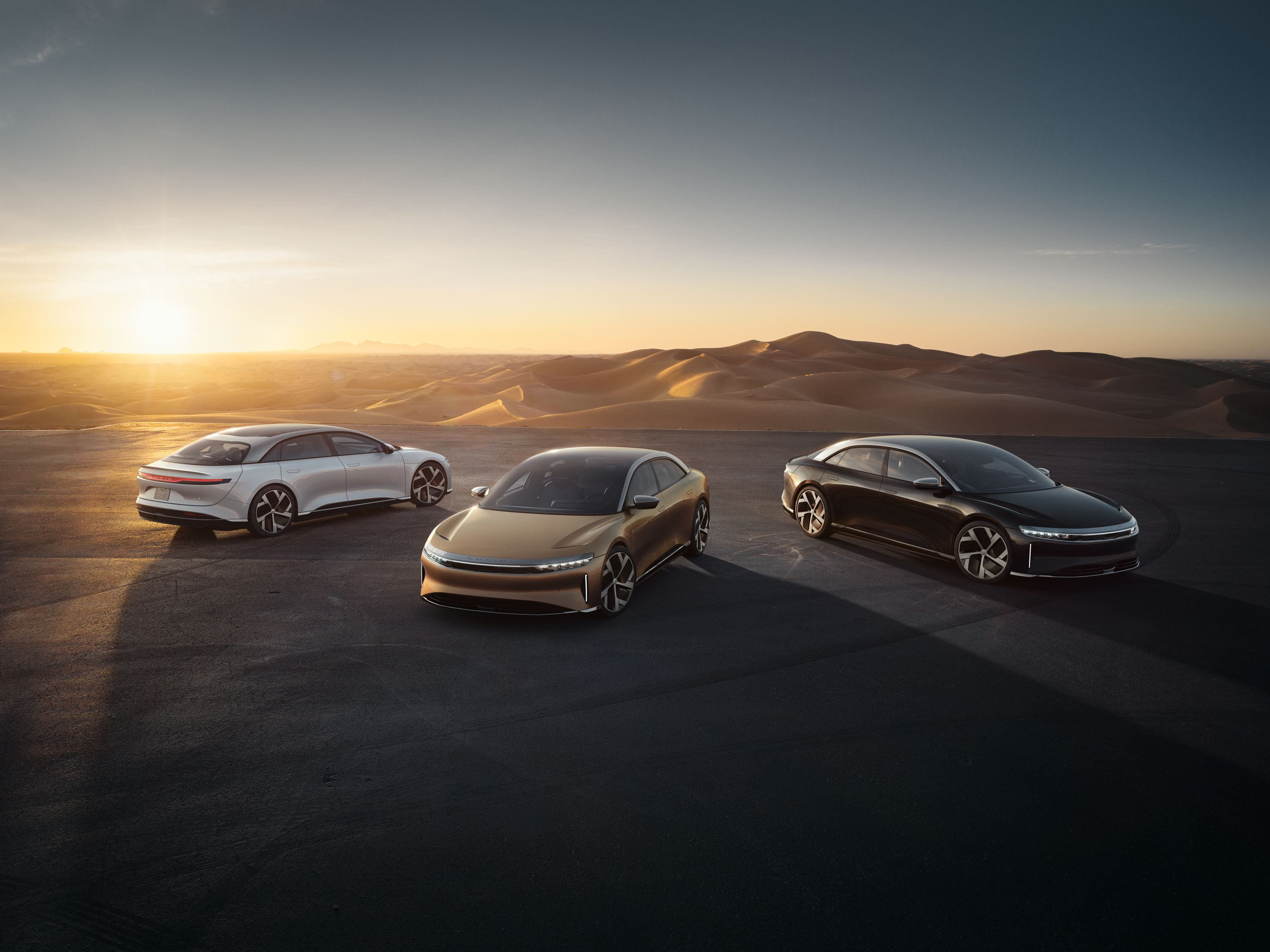 Lucid Air
Feather light, fast as the wind
Articulate Tesla challenger
2021: It's Lucid vs Tesla
Christmas can't come any faster for EV fans. The first Lucid Air Dream Edition cars roll off the production line at the end of 2021 straight into a face-off with Tesla's new Model S Plaid. The most powerful model in a four-strong line up from the Newark, California brand, the Dream Edition packs horsepower of 805kW (1080BHP) into an aerodynamically styled, aircraft-inspired form, going from 0 to 100 km/h in just 2.7 seconds, with a mere 0.21 coefficient of drag. All that, plus a range of between 500km to 900km depending on the model. The Dream Edition hits the roads first, with availability of the others – Pure, Touring and Grand Touring, following in 2022 and 2023. Car rivalries are the stuff of legend. With the Lucid Air's run-off against Tesla, we're finally seeing a showdown worthy of our woke, eco-conscious era. North America will be the first country to offer the all-new Lucid Air in its leasing options.
Aerodynamic techno dream
Although the bulk of deliveries don't commence until 2022, the Lucid Air is certainly worth waiting for, with pin-up looks and a driving experience akin to flying. Designer Derek Jenkins' sleek, flowing lines will command attention, with dazzling, spaceship-worthy Intelligence Micro Lens Array headlights and swooping taillights. In the top-end models, the electrochromic canopy glass roof – similar to glass in the Boeing 787 – adjusts the light streaming into the business-class-worthy cabin. Rear-seat passengers will be able to recline nearly horizontally to watch the clouds streaming by. From a tech perspective, the Air's intuitive, easy-to-use Lucid User Experience (Lucid UX) features Amazon Alexa and a slew of integrated apps behind two monitors: a curved 34-inch 5k display and a second touchscreen to access all the goodies. There's plenty of hardware, too: from a 21-speaker surround sound system to a mix of analogue and digital toggles on the steering wheel and around the cabin.
Airworthy road warrior
Team Lucid recognises that taking on Tesla requires more than guts – drivers will rate the Air on how it handles. Early previews indicate the Dream Edition performs superbly. Beyond the tremendous acceleration and the ability to travel 400m in under 10 seconds, the Air doesn't slow down as it gathers speed, perhaps due to the proprietary permanent magnet electric motor that spins up to 20,000 rpm with enviable, ballerina-like grace. The DreamDrive assistance suite features 32 sensors, including radar, camera, ultrasonic devices and a long-distance LIDAR to measure distance using laser beams, providing all-weather functionality and keeping the driver informed at all times. The 88.0 kWh battery on the entry-level Pure supplies just under 400km within 16 minutes' fast charging, while the Dream Edition's 113.0 kWh battery adds 450km of range in 20 minutes. All this may help explain why the Dream Edition, the first off, the assembly line with a price of €175,000 in Europe, is closed to new bookings. Luckily, LeasePlan will soon have all four Lucid Air models available to customers with plenty of leasing options.
Lucid Air specifications
| | Lucid Air Pure | Lucid Air Grand Touring | Lucid Air Touring | Lucid Air Dream Edition |
| --- | --- | --- | --- | --- |
| Seats | 5 | 5 | 5 | 5 |
| Electric Range* | 540km | 530km | 660km | 645km |
| Acceleration 0-100kph | 4.2sec | 3.4sec | 3.2sec | 2.7sec |
| Top Speed | 200kmph | 250kmph | 270kmph | 270kmph |
| Drivetrain | Rear | AWD | AWD | AWD |
| Battery Capacity | 88.0kWh | 88.0kWh | 113.0kWh | 113.0kWh |
| Fastcharge Time | (54->432 km) 16min | (53->424 km) 16 min | (66->528 km) 20 min | (65->516 km) 20 min |
| List Price (NL) | €80,000 | €100,000 | €140,000 | €174,000 |
| Availability | 2022 | 2022 | 2022 | 2021/2022 |
* Range is based upon manufacturer's projected EPA estimated range when equipped with 19" wheels. Vehicle specifications are subject to change and EPA estimated ranges are not currently available. Actual range will be dependent on many factors, including battery age, driving habits, charging habits, temperatures, accessory use, and other factors as described in the owner's manual. – Lucidmotors.com
Top FAQs electric driving
What is a full electric vehicle? An electric vehicle, also called an EV, uses one or more electric motors or traction motors for propulsion. The energy used for driving an EV is stored in the battery and the battery is charged at a charge station (at home, at the office or in public).What do I need to charge my electric vehicle? To charge your electric vehicle, you will require a recharging station, a charging cable, and a charging card.How many kilometres can I drive on a fully charged battery? A fully charged battery with a capacity of 40 kW will enable you to drive 200 to 250 kilometers. If you drive sensibly, you will achieve even more. Speed has the most effect on the amount of power drawn down from your battery, so you are advised to keep to the permitted speed limits. There are also other factors that may have an effect on your driving range: - High or low temperatures (resulting in continuous operation of the air conditioning/heating) - A (too) sporty driving style - Driving with a strong headwind - A fully loaded car - Driving uphill for a long period of time Does an electric vehicle require different maintenance than a vehicle with petrol or diesel? An electric vehicle requires less maintenance. This is due to the engine's reduced number of moving parts compared to a conventional combustion motor, which therefore leads to reduced wear. Moreover, oil changes are a thing of the past and the vehicle does not have an exhaust or gears. In addition, the brakes are less susceptible to wear thanks to the regenerative braking capacity.How safe are electric vehicles? Electric vehicles are approved for all safety factors, just like conventional vehicles. In the event of a collision, there is a possibility that some parts may receive an active charge or that short-circuiting causes an electrical fire, though the safety precautions and construction have limited this risk to an absolute minimum.How long will it take to charge my vehicle? That depends on a number of factors: the type of vehicle, the power left in the battery, how fast your vehicle charges, and which type of recharging station you will be using. When charging your vehicle with a standard power socket, approximately 10 hours is required. This is approximately 2 to 4 hours when using a public recharging terminal. When using a fast-charger (primarily located along highways), your battery will reach 80% charge in 30 minutes. Do keep in mind that using fast-chargers is more expensive than standard recharging stations.What does it cost to charge an electric vehicle? This depends on where you will be charging your vehicle. Home recharging stations are the most economical in most situations. The average electric vehicle uses 15 to 20 kWh per 100 km. If your home electricity rate is €0.25 and you drive an average of 15,000 km per year, your charging costs will range between €563 and €750 per year. When charging away from home, your rate is determined by the recharging terminal provider. A starting fee and incentive rate are often charged in addition to the kWh charge. Via www.plugsurfing.com, you'll find an overview of available recharging terminals in Belgium and Europe including the price per kWh. 
Want to know more? We're here to help!
Private Lease
Looking for a new private lease car? Or do you have any questions about your actual Private Lease car? Contact us via the form by clicking on ''E-mail us''.