Introducing the EV Readiness Index
Are you ready for electrification? The answer to that question is co-determined by a range of outside factors and will influence whether - and how - you go EV. And those factors vary by each state.
The Index provides much more than an overall state ranking; the detailed data for each of the key factors provides actionable insights into each market's EV Readiness. This helps fleet and mobility managers make the right decisions when it comes to electrifying their fleets.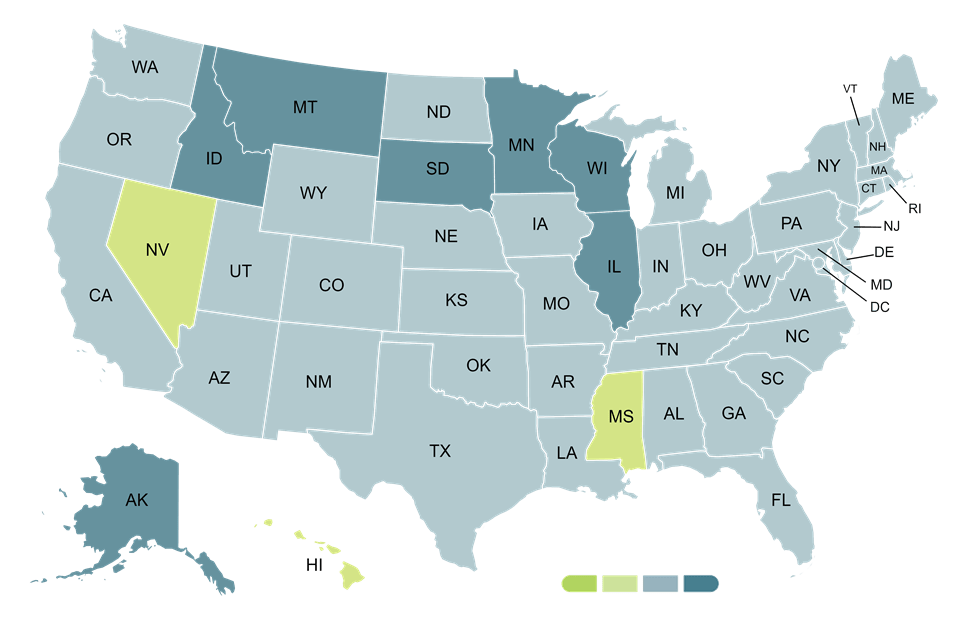 A closer look at EV Readiness in the US
While LeasePlan has published an annual European version of the index since 2018, the USA index ranks states on a weighted scale based on five unique factors, including favorable state legislation and incentives, EV penetration, charger to vehicle ratio, public charger availability and climate suitability.
In 2022, data showed that Nevada, Mississippi and Hawaii are the best prepared states for electric vehicle transition. All three states have a healthy climate for EVs, with Nevada and Mississippi also providing a reasonable amount of public charging stations.
Click here to download the full report.
Key takeaways
No state ranked as EV ready

No states ranked in the top bracket for readiness, and the top three states crept into the second rating bracket of EV accepted. States that ranked highest are not classified as realistic environments for EV transition but are merely better prepared than others. These rankings incorporate the fluidity of the transition to electric vehicles and growth of the market and will shift as the EV landscape evolves.

Climate suitability is crucial to EV readiness

Climate suitability plays a significant role in determining EV readiness. Cold environments are not yet ideal for EV operation due to the impact low temperatures have on driving range, charging speed and duration. On average, states that experience colder weather need to take additional measures in their EV transition efforts to secure a successful transition. European countries like Norway have proven that cold climates are not impossible to overcome, but proactive measures must be taken to ensure EV readiness.

Public charging infrastructure lags

For the purpose of this index, only public charging was assessed. While it's promising to see federal government commitments, such as the planned $7.5 billion to accelerate EV adoption from the Infrastructure Bill, developing this network of chargers will likely take years and make public-only charging solutions impractical.
Why now?
Transport is the fastest-growing contributor to climate change, with the transportation sector accounting for approximately 30% of carbon dioxide emissions in the US.
Making the switch to a low-emission fleet is one of the easiest ways for businesses to lower their overall emissions footprint and to help tackle climate change.