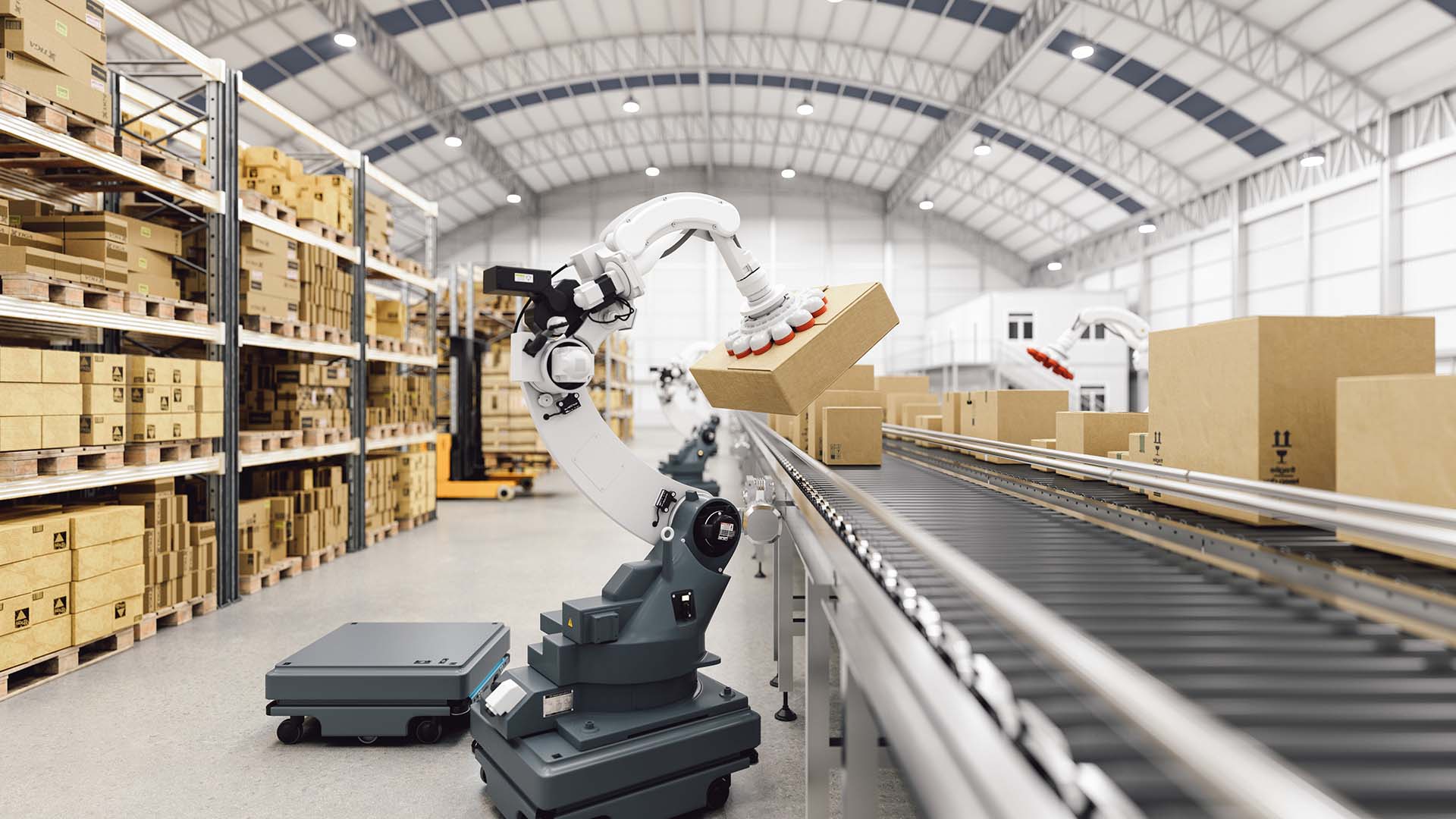 How Automation is Driving the Future of Material Handling
4 min to read
Technology
---
Automating your material handling operations may seem like an undertaking that is out of reach. This article covers why automation is important for sustaining operations, what automation is and the results it delivers, and how LeasePlan can help your business explore, implement, and manage an automated material handling solution that is right for you.
It used to be that automation was a scary word, one that conjured up images of unemployed assembly line workers and robotic takeovers. But these days, thanks to ever-advancing technology, automation is driving the future of business – and it's nothing to be afraid of. In fact, automating your warehouse, manufacturing processes, or supply chain can help you avoid disruptions and keep your business running smoothly.
Why Automate?
Beyond curiosity, the motivation to automate is driven by the need for efficiency. Over the past two years, we've seen an explosion in demand through e-commerce and an expectation of continued growth through 2025. Labor shortages, rising wages, and supply chain disruptions are working against organizations hoping to capitalize on the growth in e-commerce. All of these factors accelerate the need for efficiency and drive the need to automate. Automation efforts deliver:
Time Savings

- Automation can save employees time by performing tasks that are repetitive and predictable.

Increased efficiency

- Automated machines run faster and more efficiently than humans, leading to an increase in production.

Error Reduction

- Automation reduces the chances of human error, which can be costly in a warehouse or manufacturing setting.

Improved Safety

- Automated machines can perform tasks that are unsafe for humans such as moving hazardous materials.

Resource Optimization

- Automated machines use less energy than humans, making them more environmentally friendly.
The benefits of implementing automated material handling systems go beyond cost savings. Automation also reduces risk and provides resilience against rising labor costs and labor shortages. A slowing birth rate and an aging workforce are factors that will continue to work against businesses and drive the need to automate. UPS is proof that automation efforts payoff when industries are faced with unstable market conditions. Thanks in part to a continued investment in automation tools, UPS continues to see revenue growth even after increasing some wages by up to 30%. When an organization is faced with uncertainty or disruptions out of its control it must find ways to become more efficient. Potentially, in other areas of the business. Efficient operations through automation deliver greater resilience in the face of disruptions such as processor shortages, pandemics, and a breakdown of the supply chain. The "Why" for automation isn't the tough question for organizations to answer but "How" and "What".
What is automation and how does it work?
Automation is everywhere. Beyond simply removing human beings from repetitive tasks, automation works to enhance processes and save time, resources, and money. When automation is used correctly, businesses reap many benefits including increased productivity and enhanced material handling safety standards. Automation primarily comes in two forms: robotic material handling equipment, and material handling systems. Robotic material handlers are responsible for moving material around a warehouse or manufacturing facility without human interaction. They can accomplish this task because they're programmed with the correct goal in mind (to move material) and then left to handle the logistics on their own. Robotic material handlers use material handling technology to determine the most efficient material handling route before transporting material to its proper area. Material handling systems are more of an overarching material handling concept than a material handling machine. These systems encompass everything from conveyors, material storage equipment, and automated guided vehicles (AGVs). Material handling systems can be used in warehouses or manufacturing facilities where the material is moved around for processing. These material handling systems are designed to be flexible based on changing material transport needs. For example, if a company begins shipping out large quantities of material they didn't ship before, their material handling system will accommodate this change with an automated conveyor or some other material handling device.
How to Automate
Automation is not out of reach no matter how big or small your organization is. How to automate, starts with understanding what solutions are out there that make sense for your business today and into the future. Which investments will provide the greatest ROI, improve safety & efficiency, and drive growth? Are you unsure where automation fits into your business or your manufacturing processes? Identifying pain points in your business is a good starting point as well. What current material handling processes can be automated that provide a solid return and a foundation for growth? Sometimes this requires a site survey and process review to find the ideal solution. Advancements in technology coupled with business disruptions are making automated material handling solutions more accessible and more necessary for organizations to operate efficiently. What solution is best for your business? LeasePlan makes implementing automation and material handling solutions easy while providing maximum returns on your investments. LeasePlan can help your organization answer the "How", "What", and "Why" for automation solutions and help make them a reality by managing the entire lifecycle of your material handling fleet. Our experts can provide you with a tailor-made solution for each phase in the lifecycle of your equipment - no matter how big or small. Have we piqued your interest? Contact us today!
Published at February 25, 2022
Was this article helpful?
---