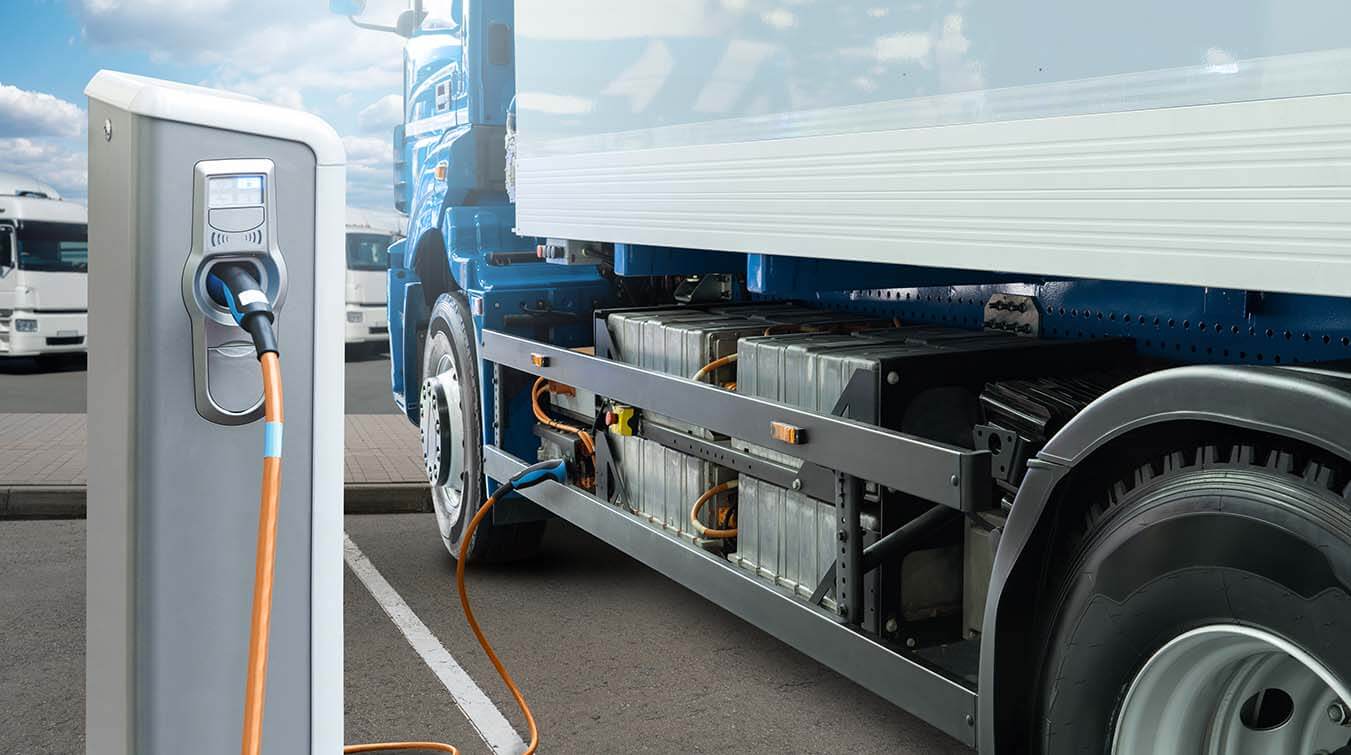 Future of the Commercial Trucking Industry
8 min to read
Technology
---
2022 may bring some of the most exciting changes to the world-wide commercial trucking industry in 40 years. Because of upcoming CARB2022 and COP26 inspired deadlines, the transportation industry is hurtling towards a massive shift in what propels them to their destinations. 
Many companies have introduced new models with battery-electric powerplants that outpace torque and the overall performance of an internal-combustion engine. Freightliner, Rivian Automotive Company Inc., Volvo AB, and Tesla are just a few significant companies creating vehicles for everything from Class 8 to last-mile delivery. And corporations like SoCal Edison have been testing trucks as an alternative mode of transportation for goods delivery.
Fleet managers are beginning to see truck manufacturers' rapid deployment of vehicles as Freightliner, IH, VW, Ford, and others respond to the call of regulations. In addition, decreasing costs for battery-electric drivetrains, a joint government and business ownership of a power grid and hydrogen power build-out, and autonomous vehicles could bring a renaissance to the trucking and logistics industry.
But is there a need for a change? And if it's changed, is it good? First, let's look at how we see the future of the trucking industry.
Change to the Trucking Industry is Often Forced
In the late 80s and 90s, EPA regulations forced changes to the industry. Electronic controls replaced simple unit injectors, jerk pumps, and pressure-time fuel systems that had served faithfully for 50 years. As a result, engine life increased, as did fuel efficiency.
Although there were complaints and pushback, manufacturers included electronic advances in the powertrain to the chassis and everything in between. Now, telematics tracks a truck's location, time, speed and assists the driver in every step of the logistics chain. In addition, electronic systems make it easier to produce the most fuel-efficient trucks ever made.
But it would have never come without intervention or forced regulation. The move to a battery-electric or alternative fuel future for the industry is following that same path.
Although agencies and groups have been pushing the world-wide governments to do something about a perceived climate issue, it wasn't until California's CARB2022 that has put restrictions on future sales of ICE (internal combustion engines). And even though diesel has made huge strides toward more sustainable-like emissions, its usefulness is on the block for change to a more sustainable transportation model.
CARB2022
In 2018, California's Air Resource Board (CARB) mandated commercial truck manufacturers move an increasing percentage of their models to zero-emissions vehicles if they wanted to still sell to California's massive trucking industry. Its innovative Advanced Clean Trucks rule "regulates a manufacturer's ZEV sales requirement and a one-time reporting requirement for large entities and fleets." The regulations also state "Promoting the development and use of advanced clean trucks will help CARB achieve its emission reduction strategies as outlined in the State Implementation Plan (SIP), Sustainable Freight Action Plan, Senate Bill (SB) 350, and Assembly Bill (AB) 32." Like it or not, if it happens in California, it's going to happen everywhere.
Currently, CARB requires that all heavy transport trucks sold new in California be emissions-free. The Air Resource Board further requires that manufacturers provide only battery-electric power or hydrogen fuel cells and halt diesel or gas engine production. It's up to the manufacturers to innovate, engineer, and develop the new technologies for this requirement. With the rules set to begin in 2024, the time is short, but manufacturers are stepping up their game to provide a sustainable future for trucking.
Are Commercial Battery-Electric Trucks Available?
Yes. Depending on where you live, you may have been around a battery-electric Class 8 truck and didn't know it. However, battery-electric trucks have been road-tested by Freightliner, Amazon, and even Edison International. In addition, many corporations are running Class 8, last mile, Box, and heavy-duty pickups from Arrival, BYD, ELMS, and Rivian Fleet.
For Class 8, Freightliner has made the biggest splash with its eCascadia and eM2 battery-electric trucks. The eM2 is made for local distributors, and the eCascadia is currently fit for regional transportation and port duty.
"GreenBiz says that zero-emission freight vehicle availability will increase from 24 manufacturers producing 70 different models to over 30 companies, which will increase to a total of 85 for fleet purchases in North America alone."
Peterbilt, Volvo, and Kenworth are also producing Class 8 battery-electric models. And many hope that this investment with a combination of other renewable energy sources will have alternative fuel trucking moving all over the country. First, however, there's a big hurdle called infrastructure.
The Need for a Battery-Electric and Alternative Fuel Infrastructure
It's such a big hurdle that companies are saying, "before I buy vehicles, show me how I can keep them operating." But governments are saying, "we want to make sure you're buying the trucks before we build the infrastructure." So, it's a challenging catch-22, unfortunately. But, while accepting there's a long way to go, there are signs of movement.
The Realities of Battery-Electric Charging Infrastructure
Leasing a Tesla Powerwall and solar panels for your house is relatively easy. You drive into your garage every day, and, assuming you're not abiding by an Ohm Hour or experiencing a possible rolling blackout, you plug in the Tesla, and it charges up quickly. There's no overload on the neighborhood grid, and everyone is happy.
If you're a self-employed plumbing, electrical, or building contractor who has a new Ford E-Transit ordered, the Tesla experience will be very similar when you finally receive it. So, assuming you have space in your garage, pull in, plugin, and relax.
Things get more interesting if you have more vehicles. For example, Ford's E-Transit will have a starting price of $45,000. You'll also need a $40,000 non-residential 350-watt DC Fast charger installed at your business. And since you have multiple vans, you'll need more DC fast chargers. So, as you can see, costs begin to add up.
If you move up to Class 8 tractors and their multiple batteries, then $100,000 of personal infrastructure costs is your target. And that's assuming you don't buy a one-megawatt charger - assuming you have a supporting electrical grid.
An E-Transit or similar service van is a very feasible option if your service area is average. You'll be able to do deliveries during the day and bring it back to the stable for charging each evening. However, it's currently difficult to justify the CapEx cost for a Class 8 battery-electric truck that will only go 150 miles before it needs to be plugged in for a very long charge. Additionally, companies currently testing Class 8 BEVs say extended downtime is an issue when a diesel version of the same truck can make over two trips to every one trip of its battery-electric sibling.
But there's more to consider. For example, a Ford E-Transit will charge its battery in no more than six hours with a Level 2 charger. Class 8 trucks can charge on a DC fast charger at about the same time if it puts out 350 watts. However, if you run multiple medium to heavy-duty BEVs, you're going to want a one mega-watt charger.
Regardless of the limitations, manufacturers are also working alongside infrastructure partners to assist customers in building out the system. For example, ChargedFleet reports that "Navistar's NEXT eMobility Solutions business unit recently signed an agreement with energy solutions provider In-Charge Energy to develop charging infrastructure and offer consulting services to Navistar and fleets interested in moving to electric." Volvo, Freightliner, and others are doing the same.
Utility companies are also assisting. For example, Southern California Edison-Edison International's Charge Ready Transport program will provide no cost or low-cost electrical system upgrades to support charging equipment if you get a qualifying vehicle in Southern California.
The Realities of Hydrogen Fuel Cell Infrastructure
Support for battery-electric charging vehicles is far further down the road than the hydrogen fuel cell infrastructure. In mid-2021, 48 open retail hydrogen stations were in the US, and 60 stations were in development.
Europe has over 200 hydrogen stations. Germany leads with 100. France is second with 34 operating stations and has plans for another 38. Most existing and planned stations for the US are in California, with installations at current gas stations.
To help worldwide adoption, the Department of Energy launched H2USA to accelerate the development of fuel cell electric vehicles and infrastructure in the US and Germany, Japan, and the UK.
H2USA and industry supporters see hydrogen fuel cell electric as the best option for long-haul trucking than battery-electric vehicles. A fuel cell generates electricity through electrochemical reactions combining hydrogen and oxygen. Electricity powers the motor silently and with similar power to a battery-electric.
Since batteries are made from mined rare-earth metals, fuel cells are much cleaner to make and use. Plus, relying on electrical grids these days is beginning to be questionable.
Toyota, Honda, and Hyundai have been producing hydrogen fuel cell vehicles for a while, and Hyundai recently introduced its Xcient line of Class 8 tractors. In addition, Kenworth partnered with Toyota in 2019 to create ten fuel cell electric vehicles powered by Toyota. They're currently operating in California. Hino USA is also developing Class 8 fuel cell electric trucks using two of the Mirai hydrogen fuel cell with better performance than a current diesel model.
Although California is putting together a good fuel cell infrastructure, it's success won't pay for what's needed nationwide. Currently, hydrogen costs $10 - $15 per kilogram at the pump, and it needs to be closer to $5 to be cost-competitive with diesel.
To assist, in 2020, the Department of Energy formed a Million-Mile Fuel Cell Truck consortium to improve fuel cell costs and infrastructure. Concurrently, there's a push to fund hydrogen's initial infrastructure costs from fleet operators who run on predictable schedules. So, Amazon, FedEx, UPS, and other shippers may be coerced to provide what's needed.
Regardless of how it expands, hydrogen fuel cell trucking is a better environmental choice than batteries. Moreover, the similarity to diesel in refueling time, mileage, and longevity shows that it could win out over battery-electric for the long haul.
Will 2022 Be the Year of Battery-Electric or Hydrogen Fuel Cells?
Infrastructure, market demand, vehicle availability, and incentives must align, even if somewhat imperfectly, for 2022 to be the year of success. But that doesn't mean it can't move in small steps. For example, Amazon, FedEx, and UPS have committed to using alternatives to internal combustion engines. As more multi-national companies adopt the technology, we'll see prices become more affordable than diesel solutions.
However, smaller companies and contractors can see significant benefits in the use of battery-electric or fuel cell vehicles. Immediate savings will come through lower maintenance and fuel costs, but the vehicle's haloed image will show sensitivity to the environment and future. Public perception is worth millions.
As the industry, businesses, and states work together to support vehicle innovation and ecosystem innovation, we'll see society changing to zero emissions. And it will be a change for good.
Published at February 22, 2022
Was this article helpful?
---