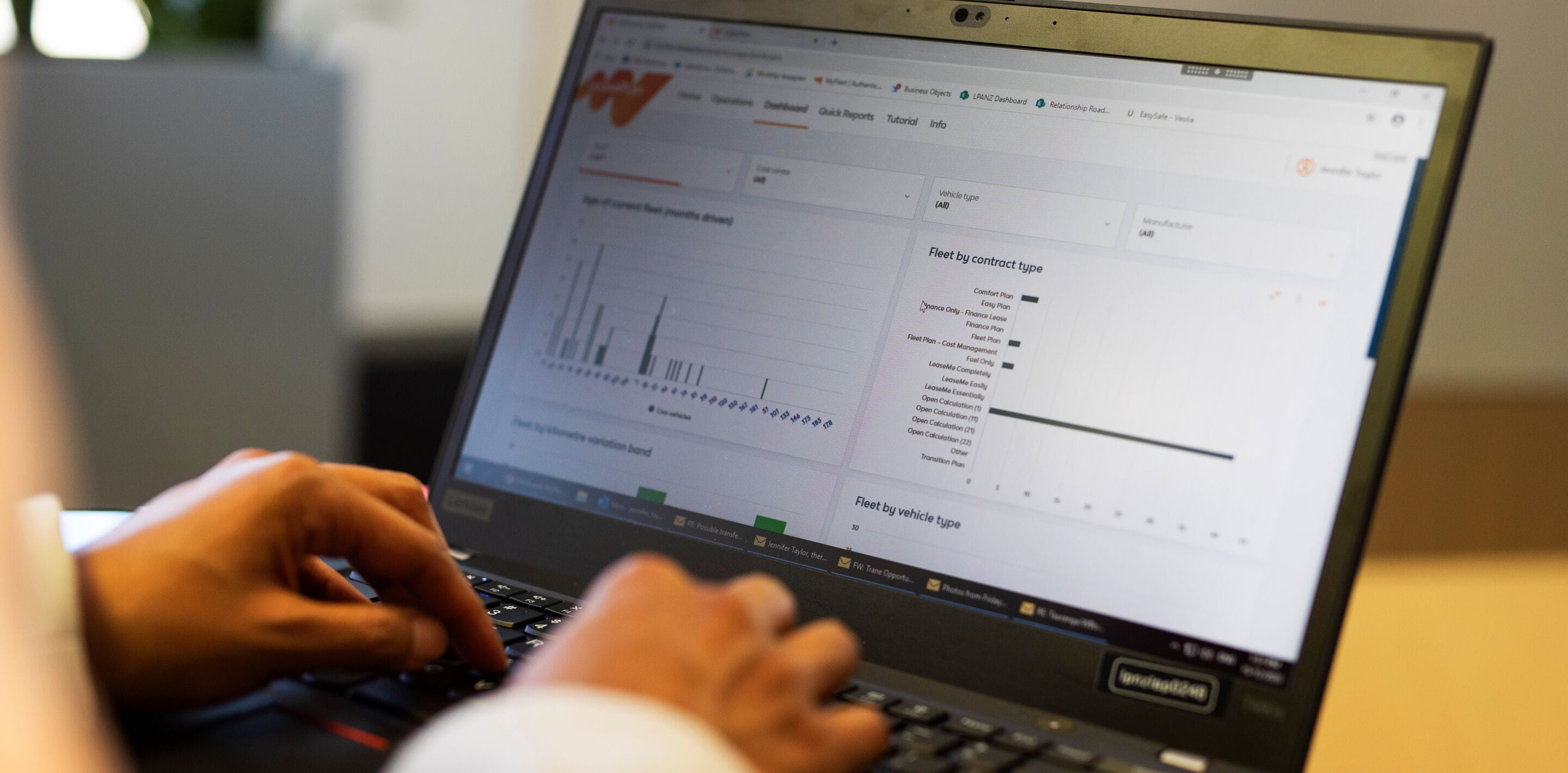 Can Tech Save the Supply Chain?
4 min to read
Technology
---
4 Key Takeaways from LeasePlan's Participation in Tech Alpharetta Panel.
Tech Alpharetta, an organization dedicated to helping grow technology and innovation initiatives, recently hosted a panel of prominent industry leaders to discuss pandemic-related supply chain disruptions and ways technology is creating solutions to these challenges.
LeasePlan USA's vice president of product management, Kris Bush, was invited to speak alongside Dan Garcia, senior analyst at SIMS WorldWide, Kiran Manchikanti, vice president of information technology at UPS, and Don Wilke, vice president of products at KORE Fleet Management and KORE Wireless.
One common theme emerged from the discussion: innovation is upending every aspect of the supply chain.
Here are four key takeaways from the discussion:
1. IoT solutions are positively impacting the supply chain, but substitutes are often required
Kris Bush: IoT sensors can be used to track any class of vehicle, from cargo deliveries to Uber deliveries and more. In the future, as more companies incorporate IoT devices into their products/fleets and provide more visibility, more companies will be able to better track their assets and use data to improve speed, efficiency, quality and cost, all of which will enable a more efficient and effective supply chain.
Don Wilke: Supply chain challenges are affecting tech companies due to both chip and raw materials shortages. Our company is both a consumer of hardware and devices as well as things that people make and deliver to customers who need IoT solutions. We now consider whether there may be device substitutes available, or similar but not identical devices, that we can then adjust/enhance to make them customer-ready.
2. Despite constraints, technology is creating supply chain efficiencies
Dan Garcia: There are always constraints in the supply chain, whether a pandemic, port strike, shutdown or misdirected assets. Most businesses have a contingency plan, but the pandemic has led to major labor shortages due to illness and employee resignations, and this has led to shipping delays. Consumer demand has rebounded since the early days of the pandemic, and manufacturers and retailers are struggling to catch up. Tech can enable better supply chain management from basic tech – longer life of GPS batteries – to the more complex, such as asset management tracking software. AI and machine learning are now seen as enablers of improved supply chain processes.
Over time, that tech will replace manual processes and significantly improve supply chain efficiency of cost, time, volume & quality, but it will take time for full replacement.
Kris Bush: In the future, we expect cars to have digital license plates and fully digital registration – no physical license plates, no registration stickers and no DMV visits. This will reduce manual processes and significantly increase the efficiency and accuracy of managing fleets of vehicles. We also expect that IoT will ultimately enable faster cargo deliveries by tractor trailers, by eliminating the need for trucks to stop and weigh in at truck stops. Trucks will digitally communicate in advance with the truck stop and drive through without a stop. Any tech that can decrease human touch points and human margin of error will increase the speed and efficiency of the supply chain.
3. Video is a rapidly growing tool in fleet management
Don Wilke: One of the biggest growing areas within fleet and fleet management is all things video. There are lots of use cases for video for autonomous vehicles in particular. Vehicle video within fleets of all sizes increases road safety. Cameras can now detect if a driver is smoking or on their cell phone, for example. Companies and fleet managers can use these kinds of recordings for driver coaching, to increase safety and reduce risk and maybe even reduce insurance premiums for fleet managers.
Kris Bush: Video telematics is starting to ramp up. Video gives us a whole new understanding of driver behavior, which ultimately helps us create safer drivers and roadways. Telematics tend to tell a very reactive story. Cameras, however, can tell a deeper story and give us more context for the driving environment. The more data we have, the more we're able to train and proactively work with our drivers to create safer roadways.
4. There is still plenty of room for improvement
Kiran Manchikanti: Collaboration throughout the supply chain is still lacking. There's still room for improvement when it comes to connecting multiple parties and a lot of room for tech companies to develop new solutions that enable better collaboration.
Kris Bush: Anytime someone says this is just simply how we do this, it is often an opportunity to disrupt and use technology to find new and better ways of doing things.
Don Wilke: The next opportunity for innovation as we experience continued physical labor shortages is going to be all things autonomous, be that vehicles, deliveries, drones, etc., where autonomy can help the supply chain.
Thank you to Tech Alpharetta for hosting this insightful conversation and to LeasePlan's Kris Bush and his esteemed panelists for sharing their perspectives. It's clear that it's an exciting time with many problems to be solved, and technological advancements hold significant opportunities for companies willing to embrace innovation.
Interested in learning more about how LeasePlan is preparing for the road ahead? Check out our blog on 8 technologies that will shape the future of mobility.
posted on February 24, 2022 by

Kristofer Bush

in Technology
Was this article helpful?
---