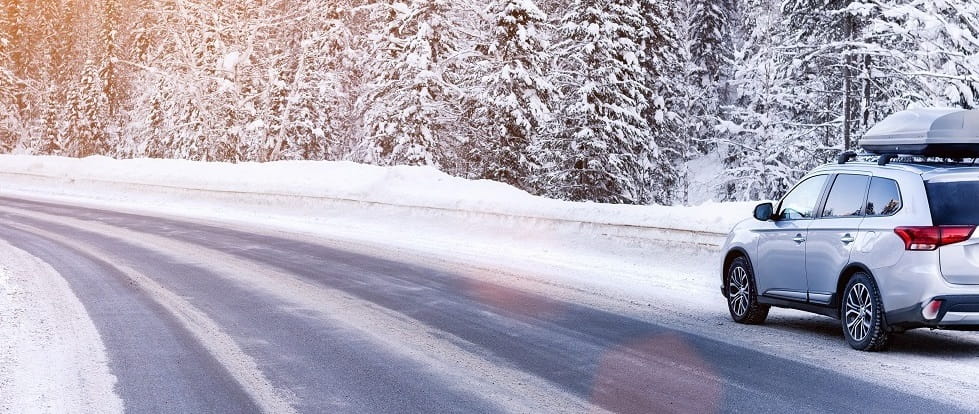 Winter car and driving tips for safer journeys
2 min to read
Safety
---
Winter is on the way and with the colder, wetter and darker days it's essential that your car is in top shape and you adjust your driving to the conditions.
Tips to keep your car in tip top winter shape
Tires: If you haven't changed to winter tires yet make sure you make that appointment asap. Once the temperature is regularly below 40 degrees it's important to drive with winter tires for better traction on the road. Regularly checking your tire's tread and pressure is essential to ensure your tires are safe to drive on.
Fluids: Checking your car's fluid levels should be done on a regular basis and with the change of the seasons it's a good time to do it. Remember to check and top up: Oil, anti-freeze and windscreen washer fluid. For winter it's particularly important to check your anti-freeze levels and top it up if needed. Anti-freeze helps your engine maintain a regular temperature even in extreme cold and avoids corrosion.
Lights: With the darkest days here it's important that all your lights are working well. Test your front, rear, break and fog lights so you're not left in the dark on any of your journeys. You can check your break lights by asking a family member or friend to stand behind your car and checking. Or, test them yourself by parking in front of a window and checking the reflection.
Windshield: When the temperature starts dipping below zero your windshield will naturally start icing up. This means you should plan extra time before setting off to de-ice your windows. To de-ice your windows you should use an ice scrapper. Remember to also de-ice all your other windows, lights and mirrors. Don't use hot or boiling water to de-ice your windows as the extreme sudden change in temperature can damage your windows, even cracking them.
Tips for driving in winter
Adjust driving to the conditions: Winter can bring a lot of rain, ice, fog or snow and each of these conditions brings its own driving challenges. As a general rule, we recommend increasing the distance between you and the next car to allow for a greater distance for stopping, which can reduce the chances of a collision. When it's snowing or icy out accelerate gently and don't drive too fast.
Be ready for emergencies: Even if you follow all the tips and take your car for regular maintenance, breakdowns can still happen and it's better to prepare ahead than to be caught out in the cold. Make sure your car has a few essentials including: a blanket, water, ice-scraper, sunglasses, flashlight & spare batteries.
If you drive a LeasePlan car you can schedule any repairs, maintenance or tire appointments with us. Just contact us via MyLeasePlan or by phone.
Final note
The automotive aftermarket is still going through disruptions with shortages of spare parts and high demand of vehicle service jobs at garages. At LeasePlan we're keeping a close eye of the supply chain and the availability of service slots in the garages. So when your car is due for maintenance or any other vehicle service, just get in contact with us to limit the hassle and to avoid long waiting times.
With LeasePlan as your main contact for everything car related, you do the driving and we take care of the rest.
Published at December 14, 2021
Was this article helpful?
---