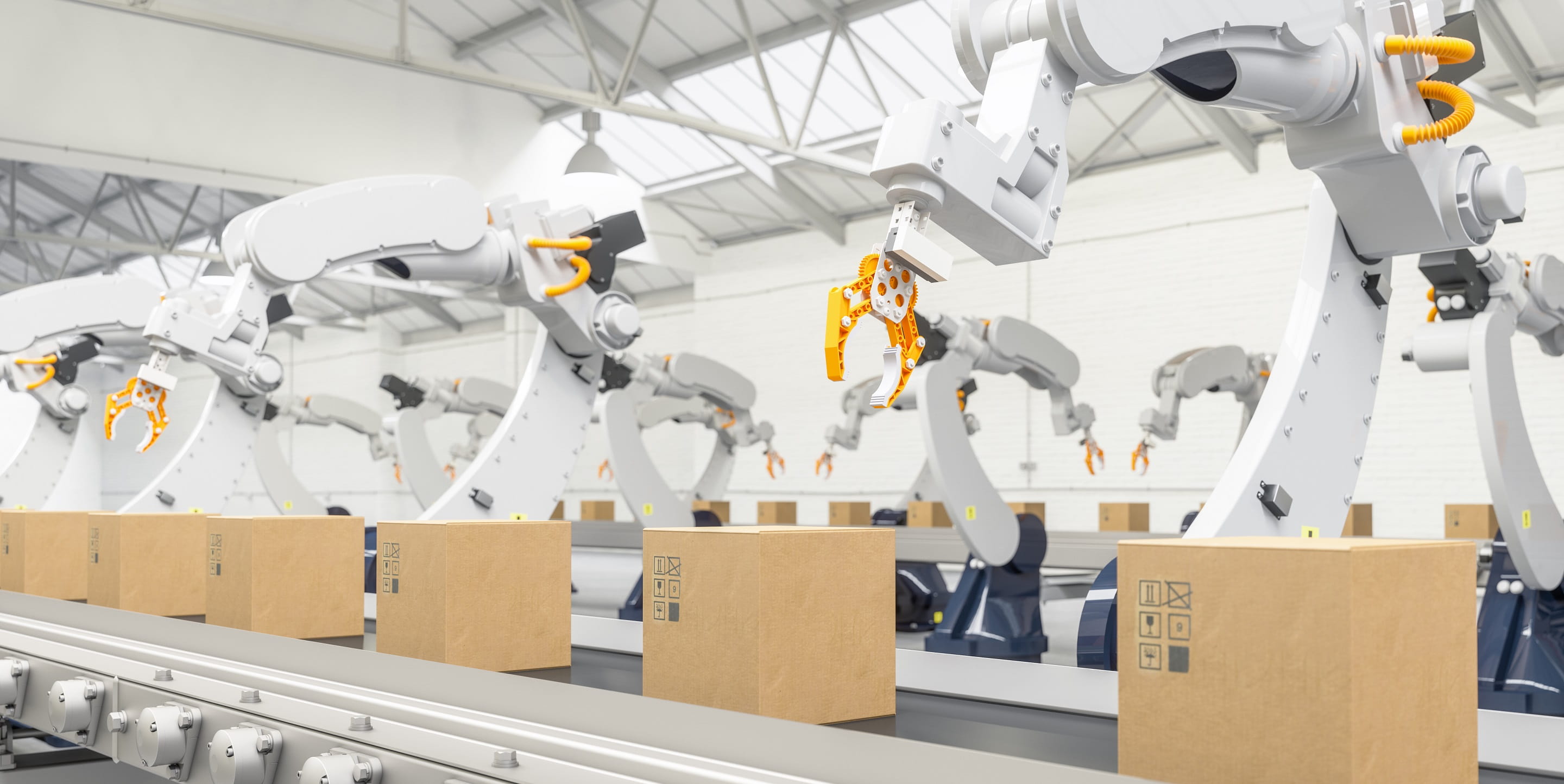 Warehouse automation: what's the hold-up?
6 min to read
News and More
---
Material handling automation has the potential to address most of the supply chain struggles organizations have encountered over the last couple of years.
However, an estimated 80% of Warehouses and Distribution Centers (DC) are without automation. So what's the hold-up? There are some misconceptions about automation. But we believe the changing views on the supply chain are the real reason we will see an explosion in automated material handling solutions in the upcoming years.
The landscape changed dramatically with eCommerce outpacing growth by as much as ten years. Last-mile delivery expectations from customers are front and center along with the value that an effective supply chain can deliver. Supply chain investments are becoming more prevalent in organizations' strategic plans as they are seen to add value as opposed to only reducing costs. Industry 4.0 is coming and with it, a massive increase in automated material handling solutions.
The Myths about Automation
One of the biggest reasons for the slow uptake of warehouse automation is that many companies are still unsure about these solutions' actual benefits. They may argue that while automation may improve throughput, it could come at the cost of accuracy or even jobs. They may also claim that automation isn't essential and that the current state of warehouses and DCs is just fine.
Many organizations had automation projects as part of their long-range plans prior to the pandemic. The need for these solutions was accelerated due to the recent supply chain disruptions, labor challenges, and pandemic-related changes to shopping habits. Organizations are expected to increase spending on automated material handling solutions over the upcoming years to combat these challenges.
The Myth
Automation is too big of a change
Change, even when it is for the better, can be scary. It's understandable that those in charge of a warehouse or DC might be hesitant to implement automation. After all, there is always some risk with change and leaders are responsible for meeting deadlines, ensuring accuracy and efficiency, and keeping costs down. So, while the promise of automation is certainly attractive, it is understandable that some managers and employees might be hesitant to make the switch in fear it would disrupt operations.
The Truth
Automation is not so scary
The integration of material handling solutions is easier than ever. Material handling suppliers recognized integration as a barrier to entry for many of their given solutions and made simplified integration a top priority for their product offerings. Some robotic solutions deliver seamless integration into any WMS. In addition, using technology that has a similar look and feel to technology employees use in their personal lives ensures rapid adoption.
One concern associated with implementing automated solutions will add more work or slow production. With the right support, automation can be a smooth transition for businesses with significant benefits for the bottom line. Automated material handling solutions integrate seamlessly into the material flow, working quickly and accurately to pick and place items within the warehouse. AMRs, for example, are designed to work alongside people and are easier to use and maintain than traditional industrial vehicles.
The Myth
Automation is too expensive
The biggest reason for the slow uptake of warehouse automation is likely the cost. Automated solutions are perceived to be too expensive to implement, and this is often a deterrent for companies that are unsure about the long-term benefits. For smaller businesses, the investment may seem out of reach due to cost or not having the same throughput demands as larger businesses. The cost of automation is no longer cost-prohibitive, thanks to semi-automated and collaborative solutions. While there are some clear advantages, such as increasing throughput and improving accuracy, many decision-makers are also turning to automation to mitigate the risk associated with future supply chain disruptions.
The Truth
The cost of not automating
The cost of not automating may be higher than many businesses realize. Inefficient manual processes can increase shipping costs, stock-outs, and even result in lost customers. The potential disruption due to pandemics or other unforeseen events only heightens the importance of risk mitigation strategies, including warehouse automation. As we move into an ever-more automated world, it is clear that warehouse automation is no longer a luxury – it is a necessity. Material handling automation is garnering more attention thanks to outside factors such as the acceleration of eCommerce, supply chain disruptions, and labor challenges. The bottom line is that the cost of inaction may be higher than businesses realize. In addition to cost savings, automation can help businesses improve accuracy, optimize space, and mitigate risk, resulting in a significant return on investment. Other benefits include increased worker safety and ergonomics.
The Myth
We don't have time for this
Warehouses and DCs are fast-paced environments. The hectic workload and frenetic pace are a badge of honor for supply chain leaders. Shutting down or slowing operations to implement a material handling solution may not be met with the warmest of welcomes.
The Truth
You have time for this
There are several options for automating material handling solutions that are fast and easy to implement. Attending trade shows or contacting vendors are a couple of ways to explore the true benefits of automation for your organization and find a solution that can deliver results without disrupting your business during implementation. According to a recent survey, the number one reason to automate is to fill orders faster to meet growing customer needs. Speed and flexibility matter to the customer. There is unprecedented growth in eCommerce with no signs of slowing down. For this reason, it makes sense for warehouses and DCs to invest in automation as part of long-range planning.
The Myth
There isn't an automated solution for what we do
Another reason for the slow adoption of warehouse automation is that many warehouses are still using outdated manual processes that are thought to be difficult to automate. Engineers love a challenge; when given the challenge to automate something that doesn't seem possible, they go to work and develop one. Look no further than solutions like the Falkirk wheel to dispel this myth.
The Truth
There's an automated solution for just about everything
There is an automated solution for just about everything - it's just a matter of finding the right vendor. With the right vendor, it's easy to find a material handling solution that can automate your warehouse or DC processes. From conveyor systems to robotics and everything in between, there is a solution that can help your organization improve accuracy, throughput, and ROI.
Automation can help to improve accuracy and efficiency in warehouses, and it can also help to optimize space and reduce costs. With the right solution, automation can be a game-changer for warehouses and DCs.
When evaluating your current material handling equipment, consider The 4 R's.
Retain – High Utilization, Low Cost per Hour Relocate – Lower Utilization, Low Cost per Hour Remove – Low Utilization, High Cost per Hour Replace – High Utilization, High Cost per Hour
Conclusion
When it comes to the adoption of warehouse automation, myths abound. But with a better understanding of the truths behind these myths, businesses can make an informed decision about whether or not to automate their material handling process. And with semi-automated and collaborative solutions becoming more prevalent and affordable, now is the time for businesses to explore the many benefits of automation. Curious about what automated material handling solutions will deliver the best results for your organization? LeasePlan will handle all aspects of your material handling equipment, from financing to maintenance and sales. Our experts can provide you with a tailor-made solution for each phase in the lifecycle of your equipment - no matter how big or small. Have we piqued your interest? Contact us today!
Published at July 22, 2022
Was this article helpful?
---