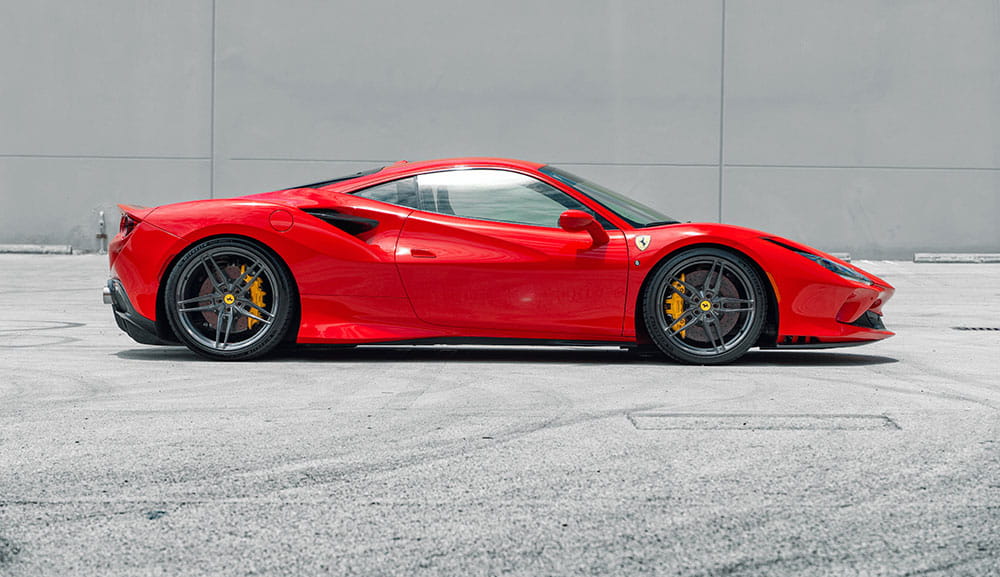 Does Red Really Go Faster? Car Color Choices in 2021 and Beyond
4 min to read
News and More
---
In spite of the array of colors on offer over the past 12 months, white cars still outsold every color on the market. If you could pick any color, what would it be?
Car color choices in 2021 and beyond
They say red cars go faster, drivers of black cars are trying to exude confidence and white cars are the most practical option. In a move away from the traditional silvers, greys, blacks and whites, 2020 brought with it some bold color choices for drivers, as well as a host of understated but interesting options for the discerning buyer.
If you could pick any color car, what would it be? Would you be brave enough to go for an Atlas Blue Ford Explorer, or a pastel Bentley? Would you be tempted by Audi's Nardo Grey, BMW's Laguna Seca Blue or Porsche's Metallic Amethyst, or would your choice be white every time? In spite of the array of colors on offer over the past 12 months, white cars still outsold every color on the market, making us curious about what influences buyers as they choose the color of their new vehicle. Here's what we found out:
Resale value
Often before they've even completed a car purchase, people are thinking about resale. It's well-established that certain colors hold their value better than others and will also sell more quickly and easily. Generally, the more a color shows the driver's personality – think custom colors, as well as oranges, yellows and purples – the more time it will take to sell, as the seller waits for the right buyer to come along. Color trends also tend to wax and wane, meaning that your bright orange car that was highly sought after a decade ago, may not be to everyone's tastes when you go to sell. According to Kelley Blue Book, white, grey, black and silver continue to top the list of best colors for cars.
Environmental impact
The majority of people will say practical considerations affect their vehicle color choice the most. In hotter climates, drivers tend toward lighter colored cars, such as white or silver, to offset the heat. Researchers at the Berkeley Lab Environmental Energy Technologies Division looked into this phenomenon and found that the color of your car not only impacts a car's fuel economy, but also its pollution levels. The study found that lighter the color of your car, the cooler the cabin air, and the less you need to run your air conditioner. Air conditioning in cars reduces fuel economy while increasing tailpipe emissions, making light colored cars a more environmentally conscious choice.
Saving time
Washing your car is both the best and the worst job ever. You need to make time to suds up in your own driveway or find a reasonably-priced car wash to take care of the job for you, but once the job is done, you drive away feeling like a million dollars. There's nothing quite like that clean car feeling! Buyers often purchase cars based on the amount of work that will be involved to keep them looking clean in future. Light-colored cars, for example, white, yellow and silver, are the easiest to keep clean, but can quickly start to show dirt on the lower half of the doors after wet weather. Grey, orange and green cars are surprisingly good at hiding dust and dirt, leaving dark metallic finishes, such as blue and black, as the hardest to keep clean and free of water spots and dirt. White was the most popular vehicle color purchased in the United States in 2020, and it turns out this could be as much to do with time saving as aesthetics.
Where are color trends headed?
Elon Musk recently announced that his favorite Tesla color is deep crimson, which could signal the direction the trend-setting car maker will take next. Other auto makers are also looking at reddish-brown hues, while blue and grey continue to rise in popularity.
In 2017, Toyota's president told the company to stop making boring cars. The result? Interesting sports car and off-road truck models, but also a whole host of new colors that add some excitement to everyday models. Most notable are the Electric Lime, the Voodoo Blue and the Lunar Rock color, that will allow drivers to really show their personalities on and off the road. Ford has also branched into new palettes, introducing Cyber Orange and Cactus Gray, while Dodge's Sublime green and Plum Crazy are an extrovert's dream. What would your choice be?
Published at June 21, 2021
Was this article helpful?
---