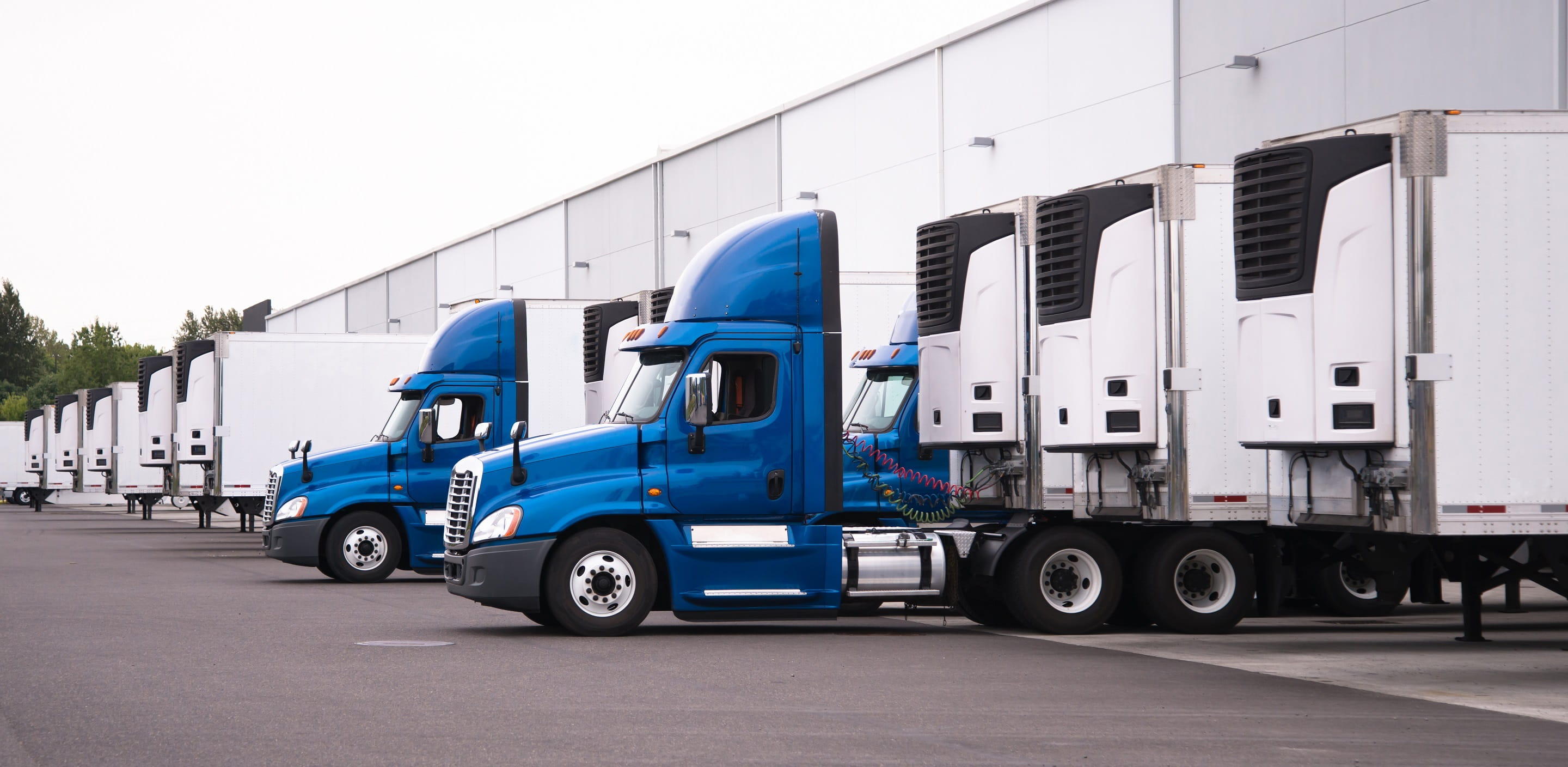 Cold Chain Logistics: Transportation
5 min to read
News and More
---
The food and beverage industry is a massive sector of the global economy, and it is constantly evolving. To keep up with changing consumer demands, companies in this industry must be able to transport their products quickly and efficiently.
One of the most important aspects of transporting food and beverages is keeping them at the correct temperature throughout. This temperature-controlled supply chain sector is known as the "cold chain." If goods are not kept cold, they can spoil or become contaminated, leading to waste and loss for businesses. This article will discuss cold chain transportation and how it helps preserve food and drink for optimal consumption.
Cold Chain Transportation
Cold chain transportation involves transporting temperature-sensitive products that need to maintain a low temperature to prevent spoilage. Air, sea, and road transportation methods are all utilized to move food, beverages, and pharmaceuticals throughout the supply chain. By keeping these products cold, businesses can avoid waste and ensure that their products maintain the highest quality.
The cold chain is a system of temperature-controlled supply chains involving the transport and storage of perishable goods at chilled or frozen temperatures. The cold chain ensures that food and medicine supplies remain fresh and potent throughout local and international transport. Here are three reasons why cold chain logistics is so necessary:
1.

Maintaining a consistent temperature is essential for preserving the quality of food and medicine supplies. Products exposed to extreme temperatures or slight temperature variations that break the cold chain can cause products to spoil or lose their efficacy. Food logistics recently reported driver error, equipment breakdowns, incorrect documentation, and as much as 32% of temperature-sensitive cargo is loaded at the incorrect temperature as drivers of waste within the cold chain.

2.

The cold chain helps to reduce food waste. By keeping food and medicine supplies at a consistent temperature, the cold chain helps to prolong their shelf life and prevent them from going bad prematurely.

3.

The cold chain contributes to global food security. Transporting food and medicine supplies quickly and efficiently throughout the cold chain ensures that everyone has access to fresh, safe products.
Cold Chain Logistics Vehicles
There are several ways to maintain the cold temperature necessary for cold chain logistics management. One standard method is to use refrigerated trucks with temperature control. These trucks have special insulation(passive) and cooling systems(active) that keep the products inside at a consistent temperature. In addition, many trucks now have tracking systems so that businesses can monitor the temperature range of goods at all times.
Insulated Trucks - These trucks and vans are designed to keep product cold but has no active cooling system. The walls and doors of these vehicles are insulated and designed to maintain temperatures.
Cooling System Trucks - These vehicles are designed with varying levels of insulations and are equipped with an active cooling system. Many third-party logistics providers utilize temperature-controlled air circulation in their vehicles to maintain temperature-controlled environments.
In addition to drivable cold chain logistics vehicles, there are several containerized options for cold chain transportation. Containers range from small refrigerated containers to massive 53' containers.
Sea vessels and trucks transport these refrigerated containers to large-scale refrigerated warehouses that can store and distribute products worldwide. All the while, products are carefully monitored to ensure the integrity of the cold chain remains intact.
The use of cold chain transportation is becoming increasingly important as global consumer demands continue to change.
Opportunities in Cold Chain Transportation
Demand for cold chain logistics will see continued growth and change over the upcoming years. In North America alone, the cold chain logistics market is forecasted to grow by nearly 2.5 times by 2028. Removing waste, reducing environmental impacts through green technologies, and customer expectations are all opportunities facing this industry. Electric vehicles and sustainability initiatives have industry experts rethinking how cold chain products are stored and transported. Technology plays an essential role in the growth of food and beverage logistics. Visibility, monitoring, driverless vehicles, fully automated cold storage warehouses, and micro-fulfillment centers are all opportunities for growth in global supply chains.
Dynamic Routing IoT devices play a critical role in the supply chain and cold chains. IoT devices are revolutionizing how businesses operate and manage their cold chain shipments. Utilizing IoT devices to track the temperature of goods throughout the supply chain for temperature-sensitive products provides greater visibility that allows businesses to make better decisions about where to store and transport their products. In addition, IoT devices paired with the right software can create dynamic routing algorithms. These algorithms can optimize goods' routes from Point A to Point B. This ability can help businesses save time and money while ensuring that their temperature-sensitive products maintain the ideal temperature.
Energy Efficient Cold chain storage and transport typically require massive amounts of energy. Reducing the environmental impact of cold chains involves using energy-efficient methods and technologies. Energy-efficient methods can help businesses save money on their energy bills while reducing their carbon footprint. Energy-efficient cooling systems, insulation, and vehicles can all play a role in assisting companies to become more environmentally friendly.
Green initiatives will also transform how cold chain products are stored and transported. Many organizations have adopted sustainability goals around carbon emissions. These initiatives will speed the adoption of electric vehicles and green technologies in the cold chain logistics industry.
Electric vehicles are becoming more popular throughout the supply chain as technology improves. They are a more environmentally-friendly option than gas-powered vehicles, and they can be used for cold chain transportation. Industry leaders in cold chain logistics like Thermo King have committed significant financial investments towards electric fleets. Thermo Kings expects to provide "all-electric, zero emission solutions for end-to-end cold chain by 2023.
Reducing Waste In a recent podcast, industry experts discussed studies showing up to 20% of vaccines might spoil along the cold chain. Data from the United Nations(UN) shows that 17% of food is wasted each year globally. Waste drives up prices for consumers and adds to food insecurity, making it a significant opportunity in cold chain logistics. Improved cold chain infrastructure will help us get food to those who need it while reducing the amount of wasted food.
The Future of Cold Chain Logistics
There are a number of opportunities for growth in cold chain logistics management. These opportunities are driven by changes in technology, the environment, and consumer demand. Businesses that want to stay competitive in this industry need to embrace these changes and find ways to incorporate them into their operations. The future of cold chain operations is looking bright, and businesses that are prepared for these changes will be the ones that succeed.
If you're looking for fleet management assistance that specializes in cold chain transportation, LeasePlan is here to help. We have over 30 years of experience in the fleet industry and can provide you with the best options for your needs. Contact us today to learn more about our fleet leasing options and how we can help you manage your cold chain logistics needs.
Published at August 8, 2022
Was this article helpful?
---