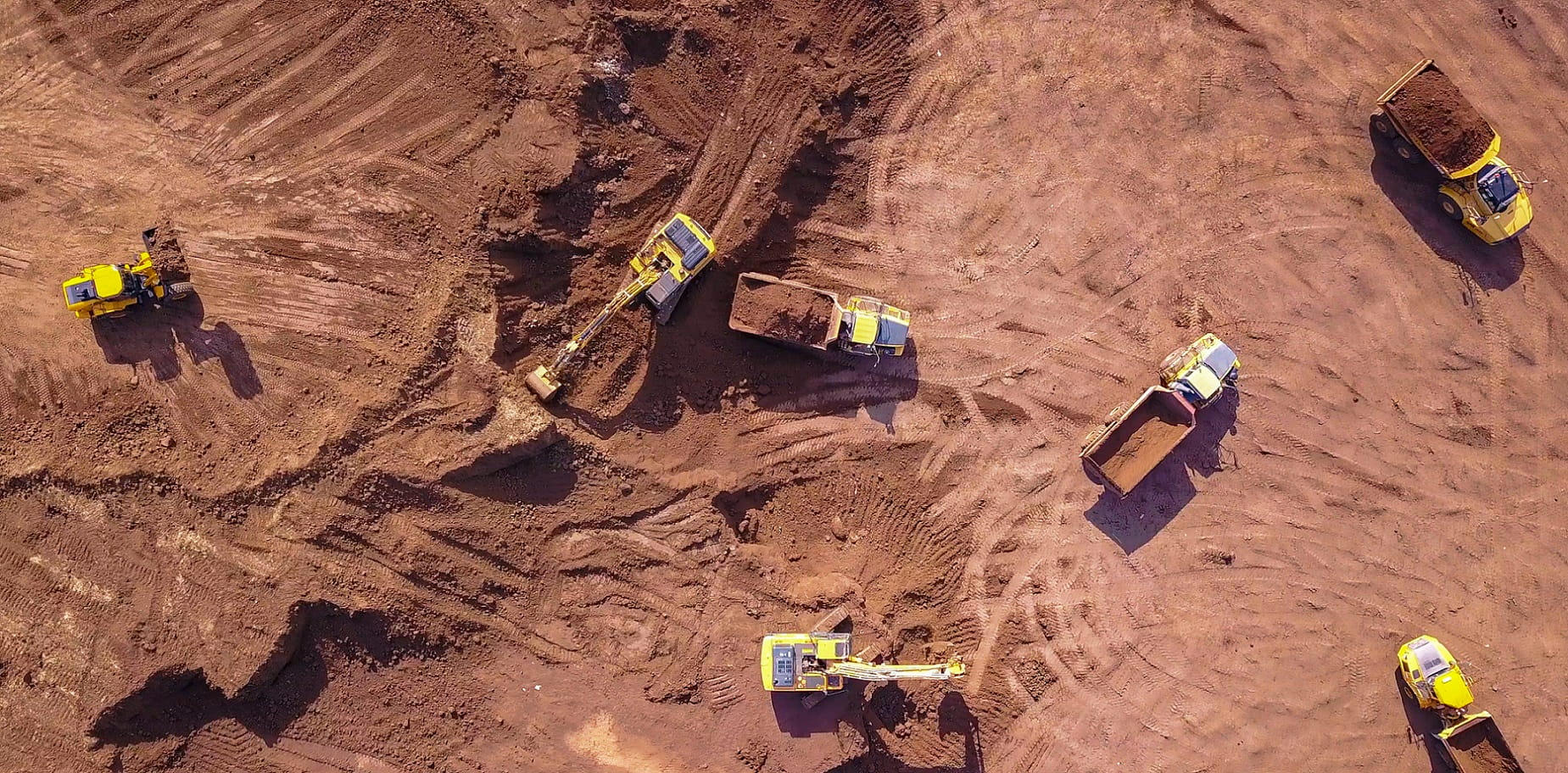 Heavy Equipment: Tackling the biggest projects
4 min to read
Leasing
---
The heavy equipment industry is an exciting and ever-evolving field, full of innovative solutions and opportunities for growth. These massive pieces of machinery make it possible to tackle even the most daunting construction projects.
These massive pieces of machinery make it possible to tackle even the most daunting construction projects, whether we're talking about infrastructure projects like building new bridges or tunnels or large-scale mining and excavation operations.
And while these impressive machines rely heavily on fossil fuels to keep them running, leading drivers of sustainability in the industry are working hard to find ways to cut back on their reliance on these non-renewable resources. Many companies are turning to automation to operate heavy equipment. Automation is one way to relieve labor challenges, replace hazardous jobs, and improve overall efficiency. In this way, the heavy equipment industry continues to push forward in its quest for innovation and sustainable solutions.
State of the industry
The heavy equipment industry will add another $100 billion globally to its market size by 2030. While growth and demand are strong, manufacturers struggle to keep up with demand as lead times continue to grow.
Long lead times make strategizing on heavy equipment expenditures more critical than ever. The avenue of financial acquisition has no bearing on lead times. However, leasing does ensure operators have the most up-to-date and efficient equipment. Leasing provides flexibility for manufacturers should demand shift, technology change, or other disruptions occur.
Capabilities
Heavy construction equipment is capable of various functions, from excavating and grading to material handling and transportation. As a result, construction companies need to have the right equipment for their projects. The right equipment can be the difference between completing a project on time and within budget or struggling to make progress due to the limitations of your equipment.
It's awe-inspiring what these machines can accomplish and the speed and efficiency they do so. The LR 13000 crawler crane is one of the most powerful models on the market, with a lifting capacity of 3,300 tons and a max hoist height of nearly 800 feet. In addition to its impressive lifting capabilities, this crane is also known for its advanced automation features, which help streamline operations and reduce downtime.
While no longer in production, the Komatsu D575A or "Super Dozer" claimed to be the largest production model bulldozer in the world. It has an operating weight of nearly 300,000 pounds and could move massive amounts of earth in a short period of time. Not all construction equipment needs to be huge to be impressive, innovative works just as well. Built Robotics has developed the Exosystem, transforming excavators into autonomous trench-digging machines. Equipped with robust safety features, adding an Exosystem means trenches can be dug with minimal human involvement allowing for safer work conditions and quicker construction times.
Operator training
When it comes to operating heavy equipment, safety is always the top priority. That's why operators need to receive proper training before they get behind the controls of a machine. There are several vocational schools that offer operator training. Another option is on-the-job training as a heavy equipment operator's apprentice.
Augmented reality is one solution for training operators on heavy equipment operations. Volvo recently announced the opening of a new training facility that will use augmented reality to train operators on its construction equipment. The new facility, which is set to open in 2023, will include machine bays, classrooms, and a virtual lab with video, augmented reality, and other technologies.
This type of training is beneficial because it allows operators to get hands-on experience with the controls and features of heavy equipment while also providing trainees with guidance on best practices and potential hazards. As automation becomes more common in construction companies, training operators on these new technologies is critical for ensuring safety and efficiency.
Leading manufacturers are already using this technology to provide interactive, hands-on training for their operators. By investing in operator training, companies can avoid the costly mistakes that can occur when inexperienced operators are under the control of a machine.
Failure to operate heavy equipment safely can result in devastating financial losses to both the equipment and property or, worse yet, injuries or even the loss of life. Heavy equipment operations require a high level of skill, adequate training, and a safety-first mindset.
Sustainability
Beyond automation, another major trend impacting heavy equipment is the growing need for sustainable solutions. Heeding calls from environmental organizations for reduced reliance on fossil fuels, companies within this industry are turning toward new technologies like electric vehicles and fuel cells as viable alternatives.
The shift from fossil fuels to alternative power is a challenge for construction companies, as the new technologies are still in their early stages of development and lack the infrastructure needed to support widespread adoption.
Volvo recently added three fully electric heavy equipment models to its product line. The large and small wheel loaders and the compact excavator produce zero-tailpipe emissions and are extremely quiet.
With growing concerns about lithium supplies, Hydrogen-power fuel cells are another innovation that can revolutionize heavy equipment operations. Companies like Hyundai have already experimented with these zero-emission fuel cells. There is hope hydrogen power could soon become a mainstream alternative by developing their first 14-ton hydrogen-powered excavator.
While there's still work to be done before zero emissions, fully electric construction equipment can significantly impact the industry. Companies that prioritize sustainability in their operations lead to a more sustainable future. Whether through innovative technologies or sustainable business practices, heavy equipment operators have an essential role in building a greener, more efficient construction landscape.
Conclusion
Heavy equipment is an incredible feat of engineering, capable of tackling some of the most significant and challenging projects worldwide. These machines pack immense power and utilize state-of-the-art technology to deliver efficient, reliable, and sustainable solutions.
In short, the heavy equipment industry continues to push boundaries and develop innovative solutions for zero emissions and fully electric machinery that can handle even the most challenging jobs. Whether large-scale excavation or small-scale automated trenching, having cutting-edge machines at your disposal ensures a safe, efficient job site.
Published at July 19, 2022
Was this article helpful?
---