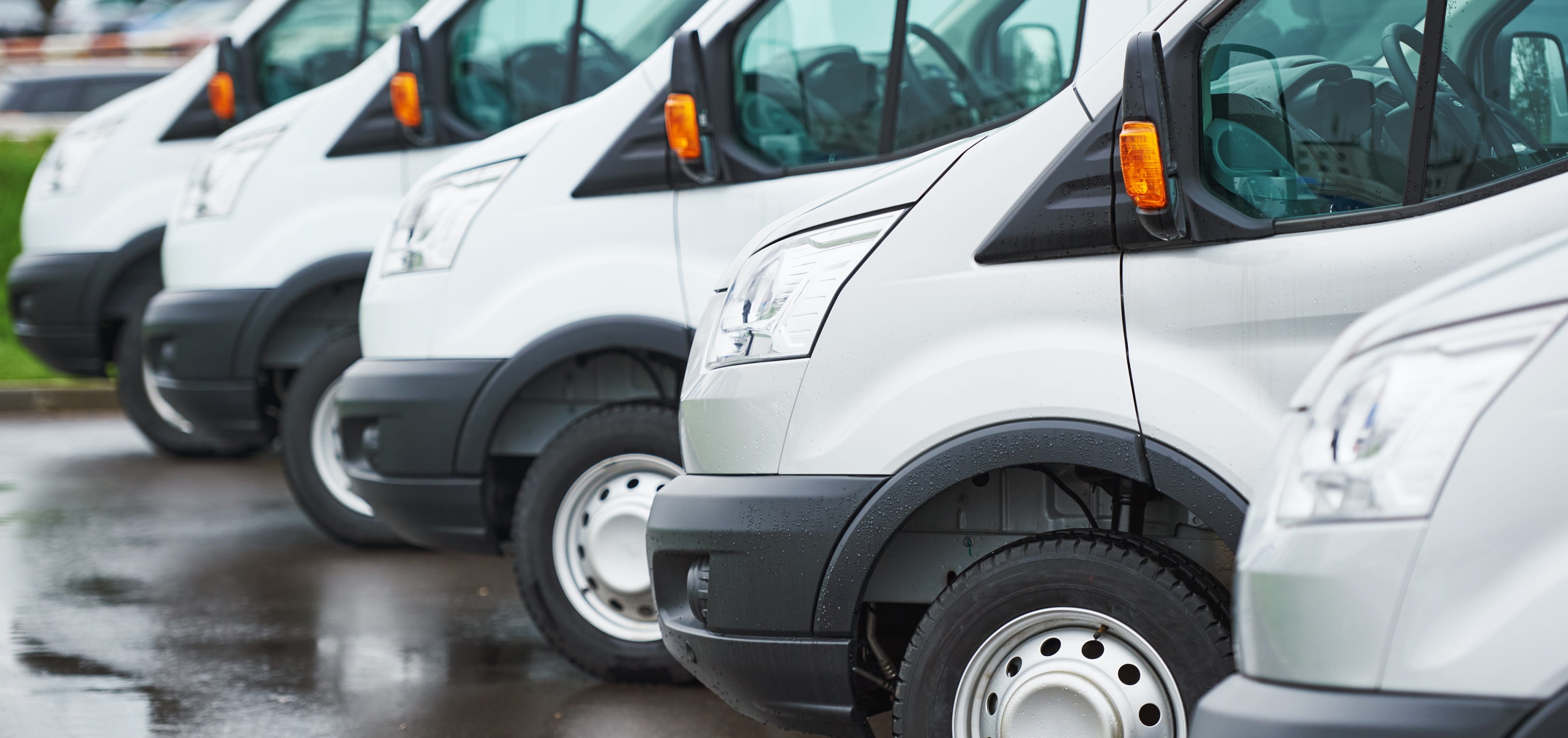 Van acquisition: last mile delivery
6 min to read
Fleet management
---
The last mile is ripe with opportunity as the most expensive part of a product's journey. Businesses able to conquer the last mile have a decisive advantage over their competition. Not to mention happy and loyal customers.
In recent years, the growth of e-commerce has been nothing short of explosive. With increasing numbers of consumers turning to online platforms to shop and purchase goods, businesses recognize the need for faster and more reliable delivery services. Traditionally, delivery services have focused on speed over quality, prioritizing the completion of deliveries in as short a time as possible at any cost to reliability. But with rising customer expectations in today's hyper-connected world, this approach is no longer sustainable. Instead, companies must build systems that ensure their delivery services are fast AND reliable
As businesses grow, they reach what Malcolm Gladwell famously calls the tipping point. The tipping point for a business can lead to slight changes or significant transformations. Developing a new delivery model is a transformative move often necessary for companies to take advantage of new opportunities. The last mile is ripe with opportunity as the most expensive part of a product's journey. Businesses able to conquer the last mile have a decisive advantage over their competition. Not to mention happy and loyal customers.
Many businesses are turning towards acquiring delivery vans to streamline the distribution process and ensure efficient transportation to conquer the last mile. When done correctly, the strategy to own the last-mile delivery can deliver substantial cost savings and other benefits.
Van acquisition as a solution to last-mile delivery problems
As the popularity of online shopping continues to grow, so does the need for efficient and effective last-mile delivery options. While there are several solutions today, such as crowdsourced delivery networks or rapid prototyping couriers, one popular solution is delivery van acquisition for last-mile delivery. Last-mile delivery vehicles are typically vans, trucks, mini-vans, and box trucks.
Having a strategic plan ensures you get what your business needs when needed most; this will also ensure stability during times of crisis like these, due diligence on behalf of all parties involved, especially those who depend upon receiving shipments from abroad or selling goods locally! The current supply chain issues have made it difficult for factories to keep up with demand. These issues are the reason many companies are experiencing delays in their order processing.
By purchasing and leveraging vans available in the market today for deliveries, companies can not only cut costs and meet growing demand, but they can also ensure that all their orders reach their recipients before the deadline. Overall, van acquisition may be the best way to solve your last-mile delivery problems and maximize customer satisfaction.
How van acquisition can help businesses meet consumer demand for fast, reliable delivery
Businesses that want to meet the growing demand for fast and reliable delivery services often find that van acquisition is a crucial part of their operational strategy. When companies lease or rent vans rather than purchasing them outright, they gain significant flexibility and can respond quickly to changes in demand without having to incur substantial upfront costs. Additionally, lease agreements include maintenance and insurance, allowing businesses to focus on running their operations without worrying about the day-to-day care of their vehicles. Finally, by carefully selecting the right lease provider, organizations can also ensure they have access to the latest technology and features for efficient transportation, helping them stay competitive in an increasingly crowded market. Ultimately, van acquisition can be a powerful tool for businesses looking to thrive in today's demanding digital age.
The benefits of delivery van acquisition
When it comes to purchasing goods from online retailers, the logistics of getting your items into your customer's hands can be complex and time-consuming. Whether ordering flowers for a wedding or new electronics for a home, the process often involves tracking down a shipping partner and the customer waiting for your items to arrive.
However, van acquisition can provide several key benefits for consumers who need quick access to a wide range of products. For one thing, van acquisition typically involves lower shipping costs than traditional options like freight delivery. Additionally, branded vehicles serve as rolling billboards for thousands of customers and potential customers. Finally, thanks to optimized scheduling and technologies that optimize vehicle capacity, your customers will receive their orders fast and intact, all at a lower price. The better the last mile experience is, the more likely customers will return and sing your praise.
How to choose the right van for your business needs
When choosing a van for your business, there are a few key factors to consider. First and foremost, it's essential to consider your business's specific needs. For example, do you need a vehicle that can move large or heavy objects? Or perhaps your business requires maximum storage space for equipment, materials, or tools. Another factor to keep in mind is safety. And, of course, the cost is another primary consideration. You'll want to find a van that meets all your requirements while staying within your budget.
In short, when choosing a van for your business needs, you must first clearly understand what you will be using the vehicle for regularly. From there, you should carefully weigh the pros and cons of different models and consider any additional features or accessories that may be beneficial.
What factors should be considered when choosing a delivery van type
When choosing a delivery van type, there are several factors to consider. The first is last-mile delivery needs. In an era where consumers expect rapid, on-demand delivery of goods, last-mile delivery has become a critical logistical challenge. Factors to consider in evaluating last-mile requirements include the need to navigate narrow sidewalks or alleyways, access to loading zones, volume and routes of deliveries, and potential obstacles such as traffic congestion.
Another key consideration is payload capacity. Depending on the size and weight of the shipped items, you may need to choose a van type that offers more space and stability. For example, suppose you use your delivery vans primarily to transport large furniture or appliances from warehouses to consumers' homes. In that case, you will want a vehicle with a higher load capacity than if you were delivering smaller parcels or boxes of groceries.
Commercial electric vehicles (CEV) are an excellent option under the proper use case. With infrastructure investments and purchase incentives, purchasers can see tremendous savings in last-mile delivery costs when they go electric. To further enhance efficient last-mile delivery operations, upfitting options are available.
Upfitting delivery vans
Up fitting a delivery van refers to modifying or enhancing a vehicle to suit the needs of its intended purpose better. There are countless up-fit options for last-mile delivery vans, from shelving and freezer units to automatic locking systems, drawers, and safety equipment. These features make it easier and safer for drivers to complete their deliveries on time, even in busy urban areas with heavy traffic and difficult weather conditions.
Food and beverage companies have recognized the value of up-fitted vans when delivering perishable goods like fresh produce and dairy products. With proper insulation and ventilation features and safety enhancements like cameras and ladder racks, up-fitted vans can ensure quality while delivering products safely to customers' doors. In short, up fitting a delivery van is an investment in efficiency, reliability, and safety, making it an invaluable tool for businesses that depend on fast, reliable deliveries.
Closing thoughts
As e-commerce continues to grow, businesses need to find ways to meet consumer demand for faster, more reliable delivery. Traditional last-mile delivery poses challenges for companies and consumers alike, but van acquisition can be a solution. Van acquisition provides businesses with the means to meet consumer demand for fast, reliable delivery while offering benefits like lower shipping costs and more choices for consumers. When choosing a van for your business needs, it's essential to consider factors like cargo space and fuel efficiency. LeasePlan can help you find the right van for your business.
Published at December 28, 2022
Was this article helpful?
---