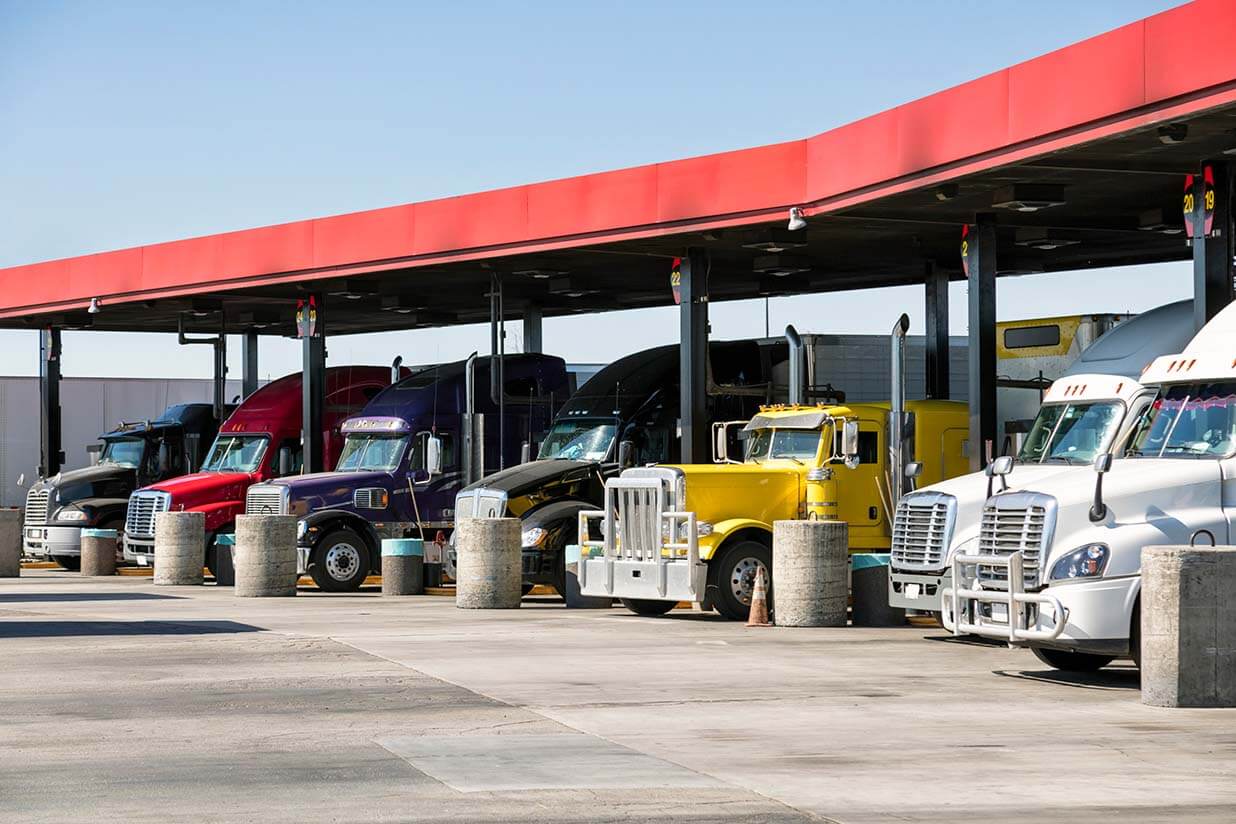 The Path to Profit with Fuel Management
5 min to read
Fleet management
---
Rising diesel prices, increasing fraud, employee error, and aggressive drivers challenge any organization. They'll harm business relationships, delivery schedules, and profit margins. Talk to any industry professional, and they'll tell you what you already know as a fleet manager: Companies are facing more challenges in optimizing fleet fuel efficiency than ever before.

But we have confidence that fleet management software can help improve fuel efficiency and streamline operations, regardless of the company size.
Let's Start with Something You May Know
Fuel could be 32-44 percent of a vehicle's total cost

: Reduce your fuel costs by utilizing a smaller engine when possible and cost-control measures that a managed program can provide.

Fleet fuel costs

: Unfortunately, when fuel costs frequently exceed projections, it's time to look for fraud. But most often, it's occurring from outside the company.

Helpful data collection

: Telematics, costs, and data analytics all point to one thing - a way to be more efficient and increase profit. You want your data to be better and more beneficial to meet your budget goals.

Budgets

: Every fleet manager is pushed to be better at budgeting. A fleet management solution gives you the tools to review, enhance and encourage the folks in procurement.
Fleet Managers Prepare for Higher Fuel Prices
Rising fuel prices will need immediate and mid-term consideration for fleet management. For example, consider the chart below. Gas prices have fluctuated wildly over the past 20 years, between approximately $1 and $4 a gallon. And in 2022, Kiplinger suggests, this spring, the national average gasoline price could be well over $4, a level not seen since 2008. In addition, diesel prices, now averaging $3.65 per gallon, are also rising, adding to overall inflation as it gets more expensive to ship goods by truck and train.
Fuel price increases can be unpredictable for companies in the transportation industry, regardless of the size of your fleet. And it's not just your fuel price increases that increase costs for you. Fuel costs also increase your budget for everything you will pay for in 2022.
Facts About Fuel Fraud
Inflation and increasing fuel prices seem to be constant companions as we look ahead through the year. Added to those companions are the reality of fraud and error in fuel costs reporting. It would be easy to blame employees, but there are other dangers. Although there's always the potential for internal fraud, our research has shown that outside forces can be the culprits.
Compromised fuel stations: In New York, three stations had skimmers that transmitted real-time card data sharing the data worldwide. Once installed, the fraudster never needed to return to the pump.

Skimmers: In Florida, over 200 skimmers were found with an average of 100 credit card numbers with $1,000 stolen on each card. And this was just one state. Skimmers are everywhere and becoming more challenging to locate.

Non-fuel purchases: Over 60 percent of non-fuel purchases in June of 2017 were car washes. Although not always fraud, adding a maximum number of non-fuel purchases or completely restricting them can help save on expenses.

Fuel exception reports: The way to control costs and fraud is through exception reports. And this is only possible through a fleet management tool like ePlan that allows you to handle exceptions when they happen.
As a fleet manager, you're the one being relied on for ways to mitigate loss. Since fuel cost can be 32-44 percent of a vehicle's total cost, reducing your fuel costs could be easier than you think. You have control by utilizing trustworthy cost-control measures that a managed program can provide.
Best Practices for Combating Fuel Fraud
With the scams and frauds part of daily operations, it would be easy to throw your hands up because you have no control over what happens at the pump. But you do have options on reducing the chance of fraud taking place. Wex Fraud Services and LeasePlan share a few best practices on getting started.
Establish safe PINs: Assign a PIN to each driver that is confidential and not shareable. Then, take it another step by using a signed written agreement that restricts usage and sharing.

Hold fraud awareness training: Quarterly fraud awareness training will help continually educate your drivers on what constitutes fraud, how it impacts the company, and how to identify it. It's also essential to provide a way for employees to report fraud safely and efficiently when it happens.

Promptly report driver and vehicle changes: If a vehicle is sold or an employee is dismissed, it's essential to cancel the card and PIN associated with the vehicle and driver immediately. If possible, retrieve the card and destroy it.
It's Possible to Project Fuel Costs Accurately
If you continue doing the same thing you've always done, you can be confident that costs will exceed projections for 2022. It may be because you could control inefficient route planning, accounting errors, and driver behavior. But, most likely, it will be things you could mitigate like theft, fraud, and even fuel. So, with rising fleet fuel costs, can you reduce the impact of those costs on your budget projections? Yes, you can.
By working with LeasePlan, purchasing a fixed contract with a fuel supplier permits you to control fuel costs. There are more considerations, however.
Ready for an Emission-Free Future?
Fleet fueling options are rapidly expanding as we transition to emission-free fleets. In addition, our fleets and heavy equipment will no longer consist exclusively of gas and diesel vehicles in the coming years as we incorporate hybrids and battery-electric vehicles. The fuel landscape is evolving along with it, and LeasePlan offers the right solutions for fuel management, but also so that your drivers can refuel and charge quickly.
Until battery-electric fleets become widely available, your fleets will have a mix of fuel needs. Although predicting the exact dollar amount will always be a challenge, a fleet management system can save you millions of dollars a year. You'll also have visibility into your costs' "who, what, and where."
Why Should You Consider a Fuel Management Strategy?
With increasing fuel costs, it's essential to review how you're purchasing fuel. Keeping track of fuel spending is vital. Fleet fuel management systems can play a crucial part in alerting you of any irregular fuel costs, supporting a prompt and efficient investigation to determine the cause quickly.
With Leaseplan Fuel Management services, you can benefit from
Bulk fuel purchases at wholesale prices

Fuel spend and costs analytics
It's always worthwhile to regularly review your costs with your current provider and compare. And as you change to alternative fuel vehicles, Leaseplan will assist you in that transition. We'll run your program just like we do for our non-EV fleets, with a few EV-specific needs, too, like maintaining charging stations and employee electric bill reimbursement.
Published at February 22, 2022
Was this article helpful?
---