Tesla Model Y vs Ford Mustang Mach-e
Will Ford gallop to victory against the favourite?
The legend versus the upstart. Brash courage against old-school glamour. The maverick versus the outsider. In a electric drag race between Ford's Mustang Mach-E and the Tesla Model Y, the winner could be decided on brand attributes alone. Rumour has it that the Mach-E was designed with one eye on the Model Y, but the result is a superb, fun-to-drive car that holds its own in battle – and could kickstart a new, decades-long EV rivalry between the two brands.
Tesla Model Y Long Range Dual Motor
The Tesla Model Y serves up the best of the millennial brand at a mid-range price. With excellent driving performance and significant roadworthy credentials, the luxury crossover will turn heads – even when there's a family on board.
Seats: 5 (7)
Max cargo space: 2100 litres
EVDB real range: 450km
Top speed: 217 km/h
Seat comfort: Standard
Smooth & silent drive: +++
Fast charge time (250 kW): 25 mins
Mustang Mach-E
As Ford's first dedicated EV, the Mustang Mach E channels the brand's iconic heritage into an impressive and sophisticated package. Bearing the unmistakeable galloping horse on the front, with a premium interior and smartphone-friendly tech, it's a family friendly crossover that's sure to please.

Seats: 5
Max cargo space: 1420 litres
EVDB Real Range: 345 km
Top speed: 180 km/h
Seat comfort: Excellent
Smooth & silent drive: ++++
Fast charge time (115 kW): 38 mins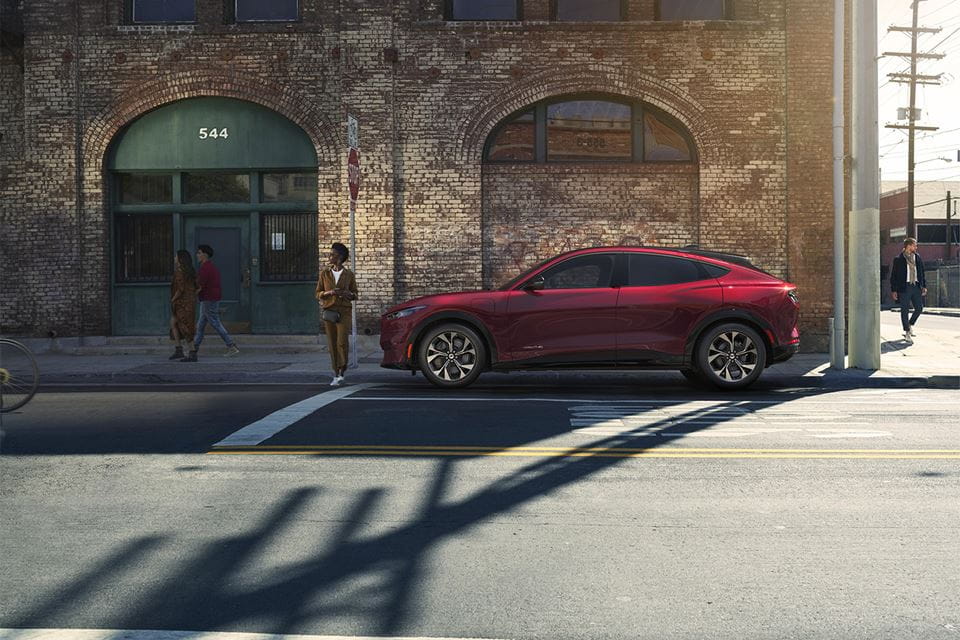 Range and power
A head-to-head comparison reveals the finer differences between the two cars. Built on Ford's bespoke Global Electrified 1 platform, the Mustang Mach-E Standard Range RWD will travel an impressive WLTP-certified 440km on a single charge, thanks to a power output of 198kW delivered off a regular 68kWh battery. That's a peak torque of 430Nm. By contrast, Elon Musk's Model Y Dual Motor Long Range does better on the third-generation platform it shares with the Model 3, covering 550km according to WLTP standards. In performance terms, that's 340kW of power with a torque of 490 Nm – from a more powerful 82kWh battery. Naturally, the Model Y's two independent motors perform better on the road, accelerating from 0-100km in 5.1 seconds as compared to the Mustang's slower 6.9 seconds. At top speed, the Tesla maxes out at 217kmph, leaving the Mustang, at a top speed of 180kmph, far behind in the dust.
On the road, you're looking at a fast-charge rate of 115kW for the Mach-E SR RWD but double that (250kW) for the Tesla Model Y. Ford has four more powerful Mustang EVs coming off assembly lines soon: a standard-range AWD number, extended range AWD and RWD models, and the top-end GT. The last will do 0-100 in 4.4 seconds and top out at 200kmph – but it will face the Tesla Model Y Performance, which promises to stay in the fast lane at 240kmph on an acceleration of 3.7 seconds.
Design and tech
A sideways glance at their profiles and panoramic sunroofs, and the target family market buyer could be forgiven for mistaking these two SUV crossovers for one another. Look at them from the front, and the distinctive noses are instantly identifiable, which is no bad thing if you want to command attention in rear-view mirrors. Inside, the Mach-E's interior blends mid-century modern with contemporary EV styling. There's a fabric dashboard, a depth-adjustable steering column that enhances seating comfort and physical switches around the interior. By contrast, the Model Y is minimalist Tesla: wood-finish dashboard and near button-free space-age interiors – with a stunning 2100 litres of cargo space. Tech-wise, both cars have large touchscreens built for the millennial EV driver: crystal-clear and easy to use. While the Mustang's first-rate Co-Pilot 360 suite offers intersection assistance and intelligent navigation, fan boys will appreciate the Model Y's autopilot, traffic monitoring and stoplight notification features. While the Tesla has the greater variety of inbuilt apps, the Mach-E wins out for smartphone compatibility with Android Auto and Apple CarPlay.
Conclusion
Which one is better: the Mustang Mach-E or Tesla's Model Y?
Both manufacturers have a lot riding on these models. Musk expects the Model Y to be Tesla's highest-selling EV. But Ford is making a major play for the EV market with the Mustang Mach-E, betting that classic car lovers will find it easier to upgrade with an iconic brand. Plus, the Mach-E is on the market right now and comes at a much more pocket-friendly price (expect at least a 10% difference in most countries).
In the final analysis, the Mustang reputation and the Mach-E's wide range of configurations could help petrolheads transition to the EV. The Model Y's power and brash roadworthiness will win an entirely different set of fans.
Would you like to drive the Tesla Model Y or Ford Mustang Mach-e?
Please, send us your details so we can get in touch with you. We will be happy to analyze the operational leasing options, without any commitment.