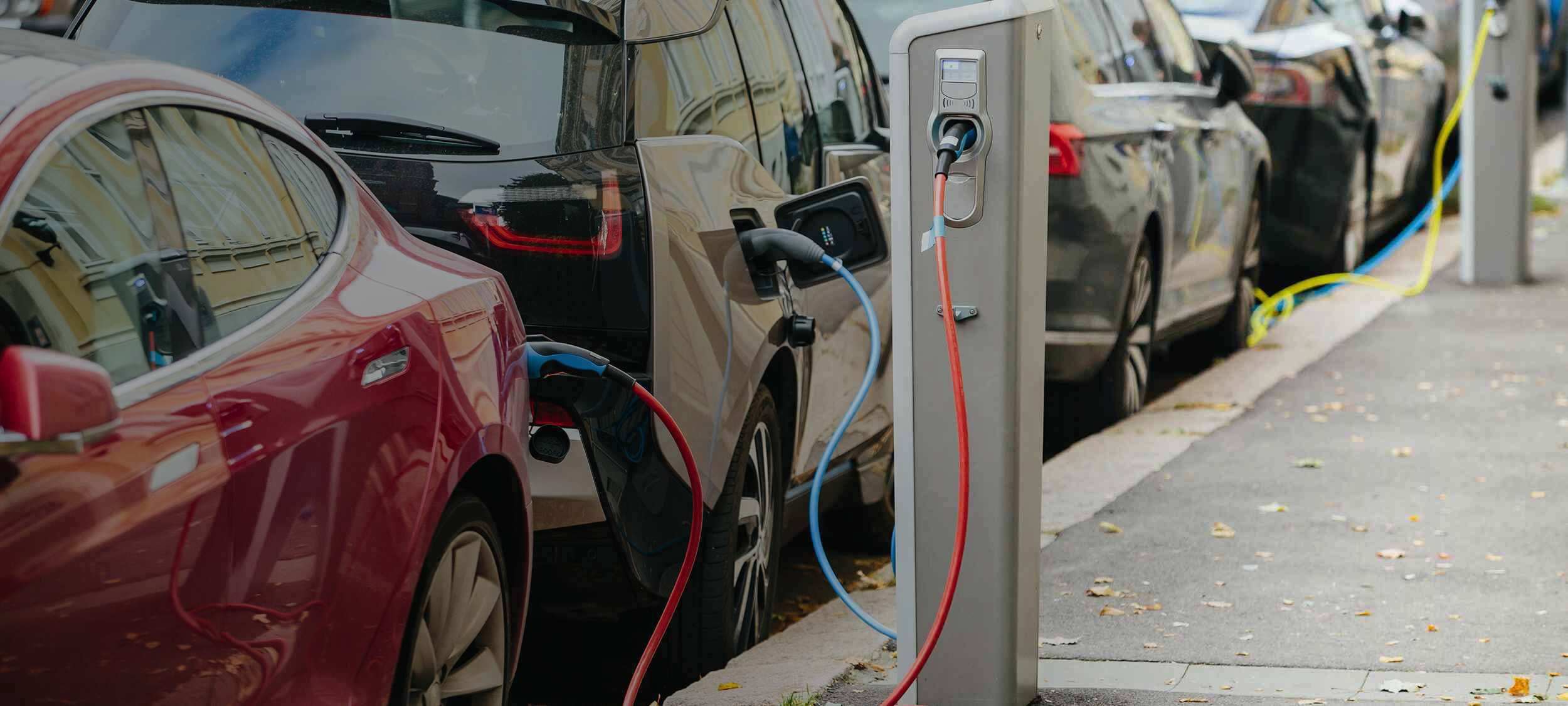 Public charging
How to charge an electric vehicle on the road
If you want to charge your EV while you are away from home, the solution is to use public charging stations. But remember that planning is key.
There are different types of public charging stations, from slow chargers to fast chargers, so check what you need. There are many apps, such as Miio, that you can use to find the nearest charger, and more and more EVs have this functionality directly in the navigation system to help you find the right charger.
Find a public charging station near you
Public charging stations are fantastic resources. In just half an hour, they can charge most electric vehicle up to 80% capacity. But if you've recently your first electric vehicle, you might not be familiar with the etiquette around charging in public spaces.
But don't worry - we're here to explain what you should and shouldn't do!
Public charging: do's and don'ts
Do's

- Do … always leave the charging station in the best possible condition As with any filling station, you should leave it in good condition. This means putting the plug back when you are finished and not creating any hazardous situations that could result in falls. If there is a problem with the equipment, report it promptly in your charging app or contact the charging station administrator.

**- Do … keep an eye on the time ** Imagine the following scenario: your electric vehicle will take half an hour to charge, so you decide to make a call while stretching your legs. When you finish your conversation, you notice that 45 minutes have passed since you left your vehicle. When you return, you run into another driver who is waiting to use the charger and is impatiently looking at his watch!

Don'ts

- Don't … treat the charging station as a parking space! By keeping an eye on the time, you won't use the public charger for longer than necessary, and you can help other drivers get back on the road faster. Some stations have time limits when it comes to public charging: make sure you respect these rules. Also, the cost of occupying the station can be as expensive as the energy itself.

- Don't … monopolize the charger Charging your vehicle to 80% capacity takes about half an hour. The last 20% also takes half an hour. Staying to charge your vehicle until the end is a waste of your time, and the time of other users, so don't keep using the charger after it has reached 80% capacity. Plus, it's a bad idea to overcharge your vehicle: it increases the risk of your battery overheating. So keep this in mind: charge as much as you need and free up the charging station for other users.
How much does it cost to charge in public?
The costs to charge in public depend on the operator of the charging station. Prices can include a starting fee (one-off) and can be based on either per minute or per kWh. Using a fast charger is more expensive than standard public charging stations or charging at home. It's good to see if the speed advantage is worth it compared to the higher cost.
Minute based charging: The operator charges you based on the time your car is connected to the charging station. This means that you pay as long as you are parked at the charging station, even after charging has been completed.
Charging per kWh: This operator charges based on of the kWh consumption in combination with the parking time at the charging station.
Frequently asked questions about public charging:
How should I charge my electric vehicle? The battery is the heart of your electric vehicle, so you must take good care of it. When you fill up your car with petrol or diesel, you usually think: "The fuller, the better". In electric vehicles, lithium batteries will last longer if you keep them charged between 20% and 80%. Although a full charge is not ideal, it's not the end of the world – so long as you don't leave your car parked for a long time after a full charge. Fully draining your battery's charge is also not advisable. If this happens, it is important to recharge your car as soon as possible. How long does it take to charge an electric vehicle? Different chargers offer different charging speeds, although charging time is also influenced by the vehicle's capacity. PHEVs charge at speeds of 3.7 kW to 7.5 kW, and as a rule in slow charging. In these types of vehicles, the battery has a capacity of about 10 kWh, so in order to fully charge the battery, which has a charging speed of 3.7 kW, it will take approximately 3 hours. 100% electric cars charge at speeds of 7.5 kWh to 22 kWh or up to 150 kW, depending on the current used – alternating (AC) for slow charging or direct (DC) for fast charging. For example: a car with a 50 kWh battery, with a charging speed of 22 kW in AC, will take approximately 2.5 hours to charge. If in direct current, with a charging speed of 50 kW, it will take approximately 45 minutes to reach the maximum limit of 80% of battery capacity (in DC, in order to preserve the battery life).
Articles on electric mobility