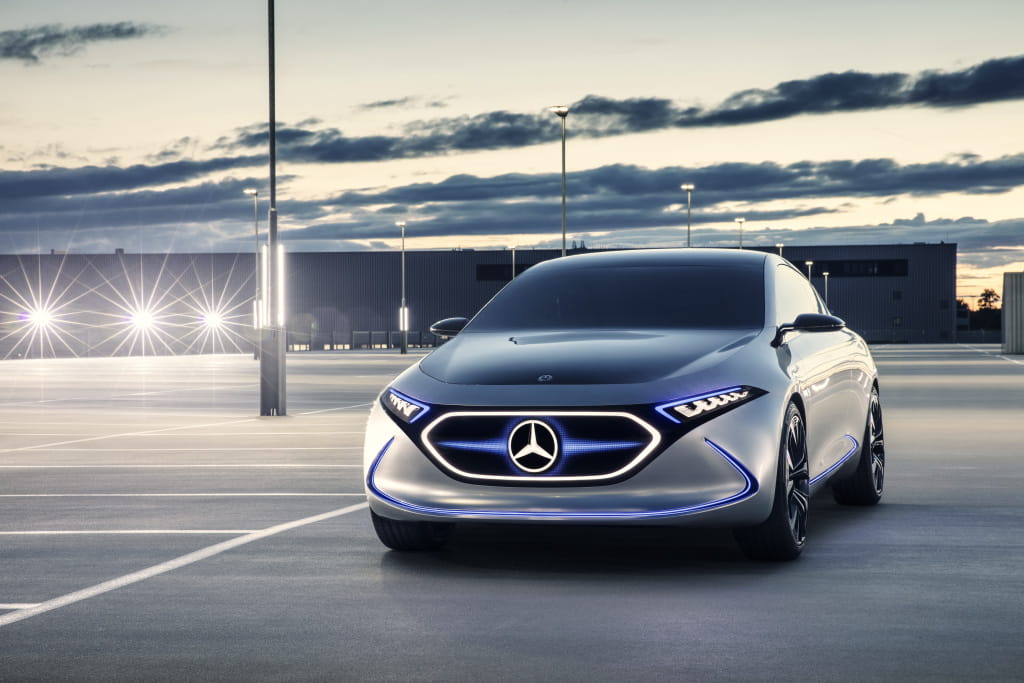 Mercedes EQA
Electro-aesthetics inside & out
Up to 486 km electric range
Progressive luxury
Electric intelligence
A progressive, electric athlete
The new Mercedes-Benz EQA250 brings clean looks and forward-looking luxury to the electric compact crossover market. With a rapid charging time of just 30 minutes and an estimated range of 486 km, the EQA250 is set to rival the likes of BMW i3 and Volkswagen ID 3. The all-electric cousin to the ever-popular GLA, the EQA delivers all the same thrilling characteristics, which should come as no surprise, since it shares the same base, steel body shell and bumpers. But with an efficient electric powertrain and unique blanked-off grille—a signature planned for all Mercedes EQ models—this electric Benz is in a class all its own. 
Progressive design, intuitive operation
The EQA's dynamic design mirrors its driving performance and hints at the electro-aesthetics that mark it out from its conventionally powered sibling. On the front, a black panel radiator grille with the Mercedez central star sits between the two LED high-performance headlamps. Electric blue and rose gold highlights embellish the interior design, where you can ride in luxury on faux-leather-upholstered, electrically-adjustable seats as you intuitively operate the Mercedes-Benz User Experience (MBUX) infotainment system. There is also a standard 'navigation with electric intelligence' function that makes it even easier to roll through the city on its standard 18-inch alloy wheels.
Exceptional, intelligent power and safety
A single powertrain and battery combo provide 188 bhp and 375Nm of torque to propel this powerful electric compact SUV from 0-100 km/h in 8.9 secs. The EQA250 can reach a top speed of 160 km/h and covers a 426 km range. A true Mercedes-Benz when it comes to passive safety, the EQA uses radar and cameras to detect every day driving hazards, such as pedestrians, cyclists and other vehicles for lane-keeping assistance and automatic emergency braking. Speed-keeping assistance is also an available option.
Mercedes EQA specifications
Battery

Battery Capacity 79.8 kWh

Fast Charge Time (36->284 km) 37 min

WLTP range 426 km

Performance

Acceleration 0 - 100 km/h 8.9 sec

Top Speed 160 km/h

Total Torque 375 Nm

Miscellaneous

Body SUV

Seats 5

Drive Front

Source: https://ev-database.org/car/1147/Mercedes-EQA-250
Top FAQs electric driving
An electric vehicle, also called an EV, uses one or more electric motors or traction motors for propulsion. The energy used for driving an EV is stored in the battery and the battery is charged at a charge station (at home, at the office or in public).

To charge your electric vehicle, you will require a recharging station, a charging cable, and a charging card.

A fully charged battery with a capacity of 40 kW will enable you to drive 200 to 250 kilometers. If you drive sensibly, you will achieve even more. Speed has the most effect on the amount of power drawn down from your battery, so you are advised to keep to the permitted speed limits.

There are also other factors that may have an effect on your driving range:

High or low temperatures (resulting in continuous operation of the air conditioning/heating)
A (too) sporty driving style
Driving with a strong headwind
A fully loaded car
Driving uphill for a long period of time

An electric vehicle requires less maintenance. This is due to the engine's reduced number of moving parts compared to a conventional combustion motor, which therefore leads to reduced wear. Moreover, oil changes are a thing of the past and the vehicle does not have an exhaust or gears. In addition, the brakes are less susceptible to wear thanks to the regenerative braking capacity.

Electric vehicles are approved for all safety factors, just like conventional vehicles. In the event of a collision, there is a possibility that some parts may receive an active charge or that short-circuiting causes an electrical fire, though the safety precautions and construction have limited this risk to an absolute minimum.

That depends on a number of factors: the type of vehicle, the power left in the battery, how fast your vehicle charges, and which type of recharging station you will be using. When charging your vehicle with a standard power socket, approximately 10 hours is required. This is approximately 2 to 4 hours when using a public recharging terminal. When using a fast-charger (primarily located along highways), your battery will reach 80% charge in 30 minutes. Do keep in mind that using fast-chargers is more expensive than standard recharging stations.

This depends on where you will be charging your vehicle. Home recharging stations are the most economical in most situations. The average electric vehicle uses 15 to 20 kWh per 100 km. If your home electricity rate is €0.25 and you drive an average of 15,000 km per year, your charging costs will range between €563 and €750 per year. When charging away from home, your rate is determined by the recharging terminal provider. A starting fee and incentive rate are often charged in addition to the kWh charge. Via www.plugsurfing.com, you'll find an overview of available recharging terminals in Belgium and Europe including the price per kWh. 
Contact us!
Contact us
Fill out our form and our team of experts will be in touch.