Volvo XC40 Recharge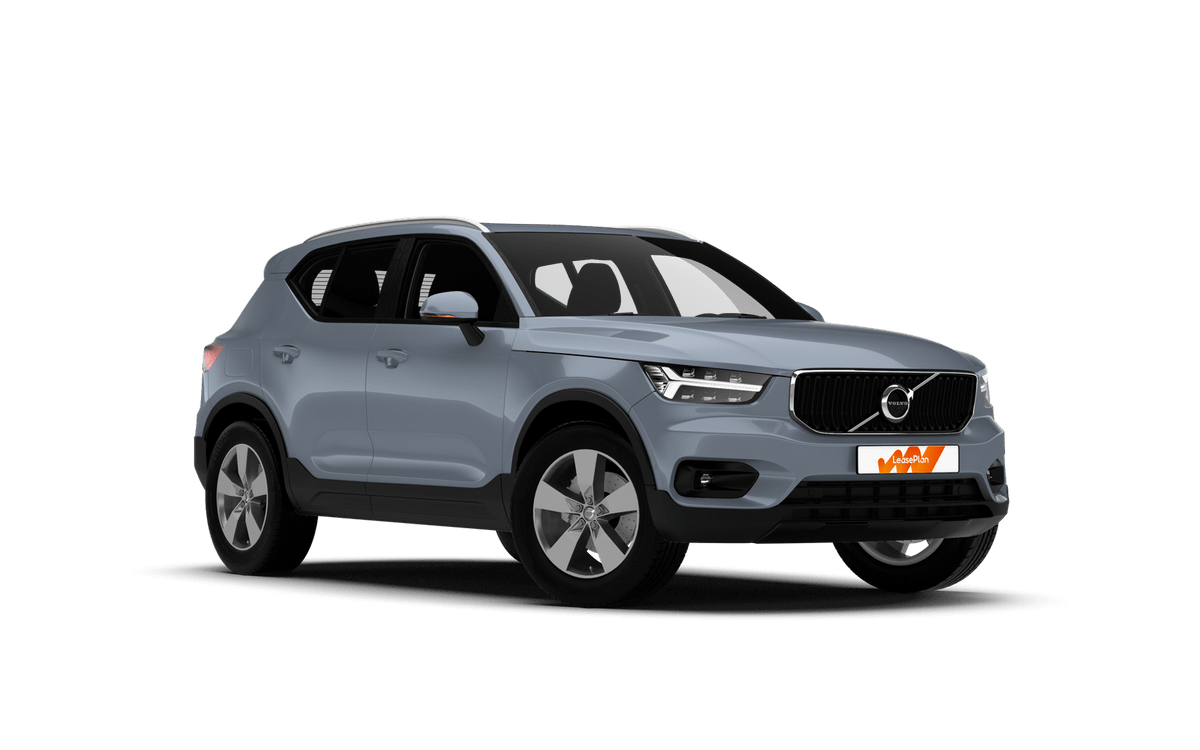 Electric dreams made real
Pure electric, pure power

Designed for now

Scandinavian signature
Award-winning all-rounder
Given its Scandinavian values, Volvo is making a major play for the EV sector, beginning with the XC40 Recharge. The pure-electric premium SUV pulls out all the stops to establish market dominance and has already won several awards for its bouquet of features. Although modelled after the regular XC40, the similarities end at the sleek looks. Instead, the XC40 Recharge channels the brand's history into one of the most advanced mid-sized all-wheel-drive cars on the market, delivering a practical WLTP-rated range of 410km on a single charge and an output of 408hp – all at competitive lease prices.
Updates over the air
The XC40 Recharge's flush grill-free front means business. It masks a helpful 31-liter 'frunk' storage space, stylish practicality that continues into the elegant and sustainable interior. Conceived to house a full-electric powertrain, there is ample legroom and storage space. Drivers will appreciate the minimalist but crisp high-resolution digital display, fuss-free control and active blind-spot monitoring. The Android infotainment touchscreen extends your smartphone with Google Maps, Play Store and voice-activated Google Assistant. As a first, software and OS updates can be received over the air, but best of all for our changing climate, the XC40 Recharge can be pre-climatised remotely.
Anticipatory performance
Safe but deliciously powerful, the XC40 Recharge manages both high performance and a smooth driving experience thanks to two electric motors of 150kW/300Nm each. The EV also accelerates quickly, hitting 100kph in under 5 seconds – yet this being a Volvo, safety features abound: a rear auto brake, Pilot Assist and Connected Safety – a feature allowing Volvo vehicles to communicate about slippery roads or accidents. On a full battery, the XC40 Recharge does a WLTP-certified 418km, but if you do need to stop, you can charge up to 80% in 40 minutes. Cars are usually designed several years in advance, but the team behind the XC40 Recharge has brilliantly anticipated drivers' needs with this sustainable, tech-forward all-electric SUV.
Volvo XC40 Recharge specifications
Battery

Battery Capacity: 78.0 kWh

Electric Range: 335km

Fast charge Time (34 > 268 km): 32 min

Performance

Acceleration 0-100kph: 4.9 sec

Top Speed: 180 kph

Miscellaneous

Seats: 5

Drivetrain: AWD

Source: https://ev-database.org/car/1188/Volvo-XC40-P8-AWD-Recharge
Top FAQs electric driving
What is a full electric vehicle? An electric vehicle, also called an EV, uses one or more electric motors or traction motors for propulsion. The energy used for driving an EV is stored in the battery and the battery is charged at a charge station (at home, at the office or in public).What do I need to charge my electric vehicle? To charge your electric vehicle, you will require a recharging station, a charging cable, and a charging card.How many kilometres can I drive on a fully charged battery? A fully charged battery with a capacity of 40 kW will enable you to drive 200 to 250 kilometers. If you drive sensibly, you will achieve even more. Speed has the most effect on the amount of power drawn down from your battery, so you are advised to keep to the permitted speed limits. There are also other factors that may have an effect on your driving range: - High or low temperatures (resulting in continuous operation of the air conditioning/heating) - A (too) sporty driving style - Driving with a strong headwind - A fully loaded car - Driving uphill for a long period of time Does an electric vehicle require different maintenance than a vehicle with petrol or diesel? An electric vehicle requires less maintenance. This is due to the engine's reduced number of moving parts compared to a conventional combustion motor, which therefore leads to reduced wear. Moreover, oil changes are a thing of the past and the vehicle does not have an exhaust or gears. In addition, the brakes are less susceptible to wear thanks to the regenerative braking capacity.How safe are electric vehicles? Electric vehicles are approved for all safety factors, just like conventional vehicles. In the event of a collision, there is a possibility that some parts may receive an active charge or that short-circuiting causes an electrical fire, though the safety precautions and construction have limited this risk to an absolute minimum.How long will it take to charge my vehicle? That depends on a number of factors: the type of vehicle, the power left in the battery, how fast your vehicle charges, and which type of recharging station you will be using. When charging your vehicle with a standard power socket, approximately 10 hours is required. This is approximately 2 to 4 hours when using a public recharging terminal. When using a fast-charger (primarily located along highways), your battery will reach 80% charge in 30 minutes. Do keep in mind that using fast-chargers is more expensive than standard recharging stations.What does it cost to charge an electric vehicle? This depends on where you will be charging your vehicle. Home recharging stations are the most economical in most situations. The average electric vehicle uses 15 to 20 kWh per 100 km. If your home electricity rate is €0.25 and you drive an average of 15,000 km per year, your charging costs will range between €563 and €750 per year. When charging away from home, your rate is determined by the recharging terminal provider. A starting fee and incentive rate are often charged in addition to the kWh charge. Via www.plugsurfing.com, you'll find an overview of available recharging terminals in Belgium and Europe including the price per kWh. 
Learn more about the Volvo XC40 Recharge today
Private Lease
Looking for a new private lease car? Or do you have any questions about your actual Private Lease car? Contact us via the form by clicking on ''E-mail us''.