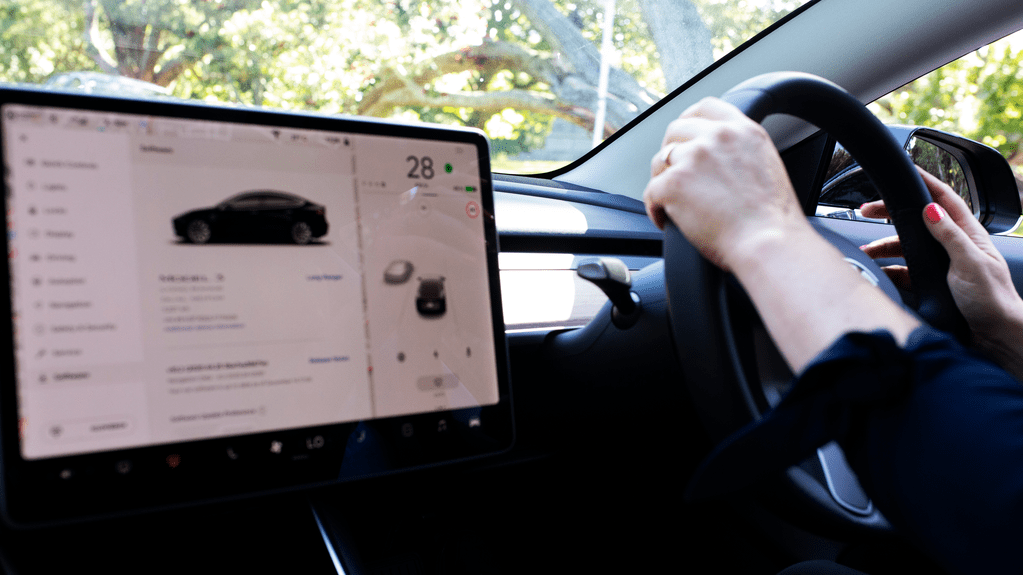 The benefits of EV telematics
3 min to read
Future
---
At LeasePlan, we believe that electric vehicles are the future of mobility. While sustainability, long-term cost efficiency, and driver comfort are often seen as the most important benefits of driving an EV, superior telematics should also get a shout-out.
What connected data can do for your electric vehicle fleet
After all, it provides fleet managers with plenty of real-time, reliable data that can help optimise operations.
For starters, what is telematics?
Telematics is a combination of two terms: telecommunications and informatics. A telematics device gathers data from a vehicle and transmits that data to a server. From there, the information can be used in various ways. Think of telematics like the black box on an aeroplane. Just like a data flight recorder, a telematics device collects and records metrics on vehicle speed, location, acceleration and braking patterns but also fuel consumption, idle times and general engine diagnostics. This data can help with the real-time detection of mechanical issues, prevent unsafe driving and improve operations.
Make telematics work for you
Most modern cars have built-in telematics; however, electric vehicles can generate and monitor a lot more vehicle data points than ICEs. That said, fleet managers must choose a reputable telematics provider and monitor all the relevant EV data points. Doing so can ensure greater efficiency and fewer breakdowns and accidents. For fleet managers still in the process of transitioning to a greener fleet, ICE telematics solutions remain a useful tool. Recent research by LeasePlan UK found that telematics is only being used by 35% of businesses that are monitoring their fleet performance. It's a shame, as it can help fleet managers to establish a step-by-step transition plan. For example, ICE telematics can identify which vehicles may be replaced by EVs and help future-proof businesses by maintaining their access to cities with ICE exclusion zones.
5 benefits of EV telematics
Telematics give fleet managers the information they need to cut costs and improve fleet performance. Specifically, EV telematics allows fleet managers to:
Even the most basic EV telematics solutions offer live map updates via GPS. It provides the location of all EV vehicles (and assets such as trailers) on a digital map so that fleet managers can keep an eye on their whole fleet. Proactive route planning can help mitigate range anxiety, especially in the early days after electrification. The real-time advantages also include traffic monitoring so that traffic jams and congestion can be avoided.
An effective EV telematics solution can provide real-time data on battery range- and consumption, as well as factors that affect the true range, such as traffic congestion, elevation, weather, and temperature. It also pinpoints all available charging stations, allowing drivers to select the best travel routes, thus saving on time and energy costs. Handy EV features include continuous charging updates, the ability to decide recharging priorities based on operational schedules and sending notifications to charging stations along the way.
In addition to showing the CO2 savings of running an EV fleet, EV telematics can help calculate fuel savings using mileage and idle time data, and suggest possible alternate routes. Reducing idle time and recharging during off-peak hours using V2G (vehicle to grid communication) are some of the best ways to reduce recharge costs.
Improve driving behaviours
EV telematics continuously gathers data about the vehicle, such as distance travelled, time taken, speeding, malfunctions, exceptional events and warnings. It provides updates on vehicle service status and unsafe driving practices and allows insurance companies to better evaluate risk levels.
Identify vehicle issues in advance
EV telematics sensors can provide fleet managers with alerts about faulty parts or tyres at risk of failure. Maintenance can be planned in, ensuring that EV-specialist mechanics and parts are available when needed and allowing fleet managers to take advantage of predictive service and maintenance savings.
What's next?
At LeasePlan, we're always asking what's next in mobility?, and we will continue to monitor developments in the field of EV telematics. If you'd like more information about telematics, or you'd love to test drive an electric car, simply contact your regular LeasePlan contact.
Published at February 25, 2022
Was this article helpful?
---