LeasePlan and COVID-19
What we're doing to help you
Keeping people safe, and your organisation mobile.
In response to the pandemic, we are working to ensure that we can provide services to keep you safely on the road - and support limiting the spread of the virus.
As soon as there are new measures or updates regarding our services, you will find them here.
 

Help everyone stay safe: If you have Covid-19 symptoms or have been told to isolate, please cancel any appointments you have booked with us and don't arrange any new ones.
The rules around the UK
Here's a quick reminder of rules around the UK
Repair, maintenance and tyre
If you have a maintained contract you must use our Service Booking line – 0344 371 8033 – to book work. This helps to control the service slots, so we can prioritise key workers and those most in need, while making sure your job is handled promptly. Booking in directly with the garage will hamper our efforts to allocate the slots fairly, so we may reallocate bookings if they are not made through our Service Booking line.
For your safety and the safety of others, please keep your vehicle in a roadworthy condition – you can read the Government's guidance here about how to check your vehicle is safe to drive.
Some garages are restricting 'while you wait' servicing.
Frequently Asked Questions
What are run flat tyres and how do I know if I have one?
Run flat tyres are designed to allow you to drive for a short distance with a puncture - even when the tyre is completely flat. This is a temporary, emergency measure allowing the driver to get to a safe place to repair or replace the tyre. Run flat tyres shouldn't be driven above 30mph and for no longer than 50 miles.
LeasePlan will always replace a damaged run flat tyre rather then repairing it as this is the recommendation.
Usually the markings on your tyre will show if they are run flat tyres, but if you're not sure, call the LeasePlan tyre line and they'll advise you.
What if it's an emergency?
We know that sometimes a tyre will need changing in an emergency situation such as a puncture where the vehicle is not drivable.
Changing tyres by the side of the road can be very dangerous, so if you're going to change your own tyre, ensure it's safe, and if possible drive to a safe location away from moving traffic. In these situations, we recommend that you call the LP Assist line and we'll send The AA out to help. They'll change the tyre (if you have a spare) or, during opening hours,they'll take you to the nearest LeasePlan approved tyre fitter to get your tyre replaced.
If a spare is fitted, please still call your DriverLine and they'll arrange for the damaged tyre to be replaced. This should be done as soon as possible as often the spare tyre may be a 'space saver' or 'skinny' that's designed to get you home but not for you to drive many miles on.
How often should I check tyre pressure?
We recommend checking tyre pressures every fortnight, not forgetting to check your spare tyre too. This should be done when the tyres are cold as the pressure will increase as they warm up. The pressure settings when the tyres are cold should always correspond to the recommendations given by the vehicle manufacturer or tyre company. You should pay particular attention to any abnormal conditions of use e.g. full loads, towing a trailer etc. In order to protect the valve and ensure that the tyre pressure is maintained, we recommend fitting a valve cap with an air tight seal.
Driving with tyres at incorrect pressures is dangerous. Under inflation causes heat to build in the tyre which can result in sudden and rapid deflation. This can happen some time after pressure has been corrected.
What other checks should I make on my tyres?
In addition to maintaining correct tyre pressures, periodic visual checks can prevent problems:
Remove any stones or nails that are embedded into the tread as they can work into the casing and cause damage and possible deflation.
Oil, fuel or paint can damage the rubber compounds used in tyres. Oil can make the tread rubber swell, reducing the pattern grooves and affecting adhesion. Immediate removal with detergent and plenty of water is recommended.

Tyre tread wear should be checked regularly. Abnormal wear is often an indication of a mechanical defect on the vehicle such as incorrect alignment, play in the steering mechanism or high spots on brake drums. In these cases the mechanical parts of the vehicle should be checked as soon as possible.

Take your vehicle to an expert immediately if you see damage such as a blister, rupture, cut or penetration exposing the casing on the tyre or if it's suffered a violent impact.
What factors affect the life of my tyre?
Speed and driving style: winding roads, rapid acceleration and harsh braking can all impose undue stresses on the tyre which can reduce its lifespan. At 120 Km/h, a tyre wears out twice as fast as it does at 70Km/h.

Overloading or under-inflating a tyre by 20% reduces its lifespan by around 26%.

Shocks: hitting kerbs, driving fast over potholes, large stones and other obstacles can be the cause of tyre damage that's not always immediately apparent.
Am I entitled to specialist tyres, e.g. winter tyres or off road tyres?
These are not included as standard and are dependent on your agreement with LeasePlan, so please check your policy.
How do I get a replacement puncture repair kit?
If you have used the puncture repair kit supplied with your vehicle and need a replacement, you can obtain one from your nearest main dealer. If you have a maintained contract with LeasePlan, we will cover the cost. If not, you will need to purchase this yourself.
How to read tyre size
If for example the tyre reads 255/40 R20 101V, it would mean the following: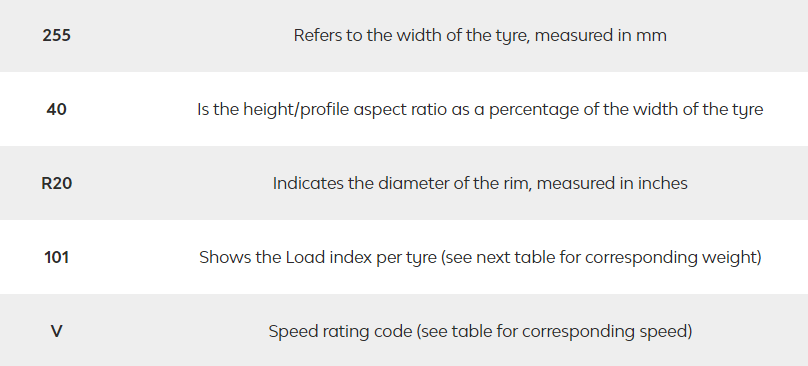 What does tyre load index rating mean?
Some vehicles are able to carry greater loads and therefore need a higher inflated tyre pressure reading. Tyres designed for higher loads bear the markings XL (Extra Load) or RF (Reinforced). The tyre load index is the maximum capacity that each individual tyre can carry and is usually represented in kilograms.
What does tyre speed rating mean?
Speed rating refers to the maximum speed a tyre can sustain under its recommended load capacity. These ratings are based on extensive testing carried out by the vehicle manufacturer and the speed rating should not be exceeded.