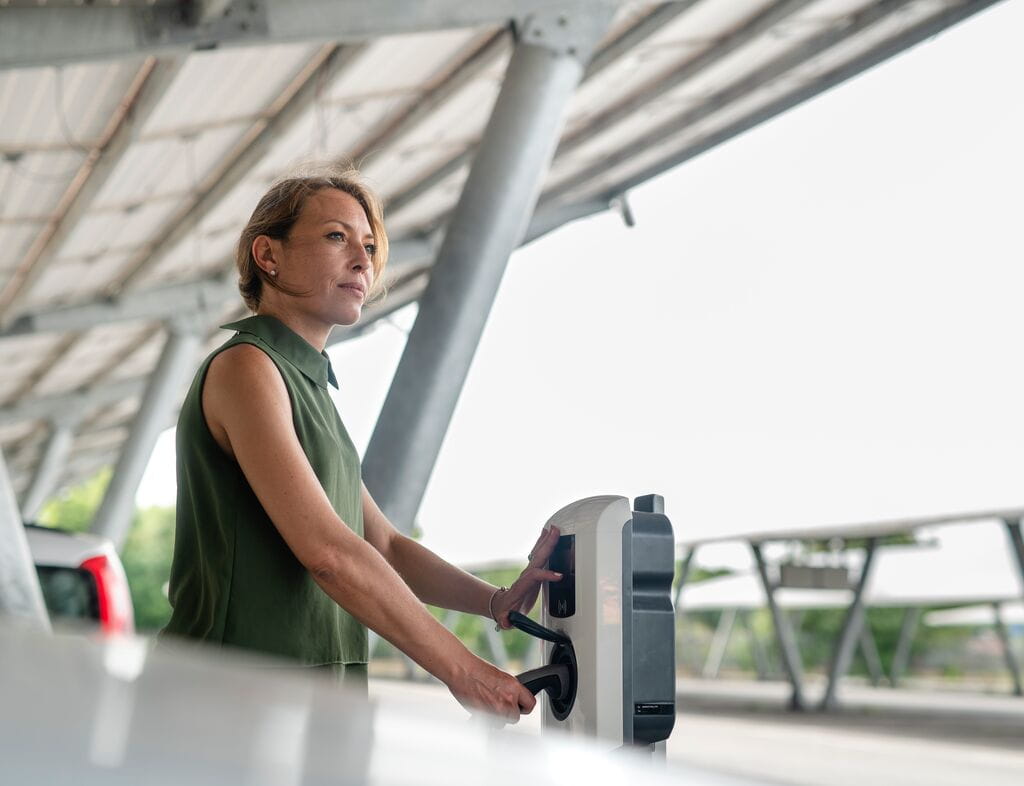 How will Smart Charging regulations affect EV drivers?
5 min to read
Electric vehicles
---
New UK laws will require chargepoints to respond to periods of high demand by slowing or delaying charging sessions, but drivers will always be in control. Here's how.
The UK's plug-in vehicle population is growing at record pace. Despite ongoing supply issues, there were twice as many plug-in hybrid and electric vehicles on our roads in June 2021 compared to the end of 2019 [1] and that demand isn't slowing down [2]. With most charging likely to take place at home, the Government is taking steps to ensure that the electrical grid can keep up.
Why do we need regulations for chargepoints?
Grid capacity isn't as big a problem as most people think. According to National Grid Group, additional solar panels and more energy-efficient appliances have reduced peak demand by 16% between 2002 and 2020 [3]. That's enough headroom for the projected 10% increase if everyone switched to electric cars, as long as that demand is managed effectively.
As a first step, the Department for Transport launched a consultation in 2019 [4] to assess potential solutions. The results informed an Impact Assessment [5] last July, suggesting smarter charging could provide a range of benefits, including:
Deferring the costly grid upgrades required to increase peak capacity

Helping drivers to utilise cheaper overnight energy tariffs

Reducing the need for fleets to carry out expensive network connection upgrades

Standardising chargepoint functionality between manufacturers
What are the new rules for chargepoints?
The Electric Vehicles (Smart Charge Points) Regulations 2021 [6] were signed into law on 15 December 2021 and come into force on 30 June 2022. These set out minimum standards for all home and workplace chargepoints sold in England, Scotland and Wales from that date, whereas previous rules had only applied to units funded by OZEV grant schemes.
The most important requirements are as follows:
Data and Connectivity
All new chargepoints must have a data connection, with the ability to measure, record and transmit usage (in minutes and as units of energy) and delay charging or slow it down during periods where grid demand is highest. Manufacturers will also have to provide a user interface for drivers, such as an app, to set parameters.
If this sounds familiar, it's because OZEV's home and workplace charging schemes already require similar functionality [7,8]. However, the new regulations mandate finer control of energy flow and charging times and apply to all new chargepoints. This includes the growing share of units being installed without the Electric Vehicle Homecharge Scheme which, from April 2022 will no longer be available for single-occupant properties such as houses and bungalows [9].
Off-Peak Charging
As a nudge to encourage smarter behaviour, new chargepoints will be pre-configured to avoid charging during peak hours (8-11am and 4-10pm on weekdays), aimed at lightening the load on the grid. The only exceptions are units which are configured to respond to periods of high demand, based on commands from energy suppliers.
Importantly, peak-time charging isn't being banned. Users can choose not to accept the factory presets and override deferred charging times or reduced outputs, even if they are controlled remotely. They can also set their own charging schedules to take advantage of cheaper overnight tariffs - not all plug-in vehicles have that functionality built in. It's hoped that this will cover some of the additional £100-400 for a smart chargepoint.
Staggered Charge Times
Electric Nation, an 18-month smart charging trial involving 700 drivers, noted a surge in electricity demand at 10pm as chargepoints came online after peak hours [10]. To avoid this, new units will randomly defer off-peak charging sessions by ten minutes, and allow utility companies to extend this to half an hour if grid demand is high.
Again, users will be able to override any delays and units which are set up to respond automatically to grid demand won't have to have this feature enabled.
Additional Security
New security and privacy requirements apply from 30 December 2022. This will require all data sent and received by the chargepoint to be encrypted, with protections for safety-critical functions and user notifications if there's a cyberattack. There are also requirements for an easy interface for drivers to change settings and delete personal data. By default, this information is stored for 12 months.
What about public chargepoints?
Smart charging regulations don't apply to public chargepoints, as these face slightly different challenges in terms of grid supply.
OZEV is close to launching a Rapid Charging Fund supporting upgraded connections at sites on the strategic network [11] while Highways England is rolling out £11m for static energy storage at other locations [12]. Access to public chargepoints are unlikely to be limited during peak hours.
What other changes are planned?
The Department for Transport will review progress after launch, informing a second phase of regulations due by the end of 2025. This could, it says, involve "further interventions" and changes to this year's regulations, but nothing is confirmed yet.
[11] OZEV. (2021). Rapid charging fund. [online] Available at: https://www.gov.uk/guidance/rapid-charging-fund [Accessed 4 Jan. 2022].
Published at 5 January 2022
Was this article helpful?