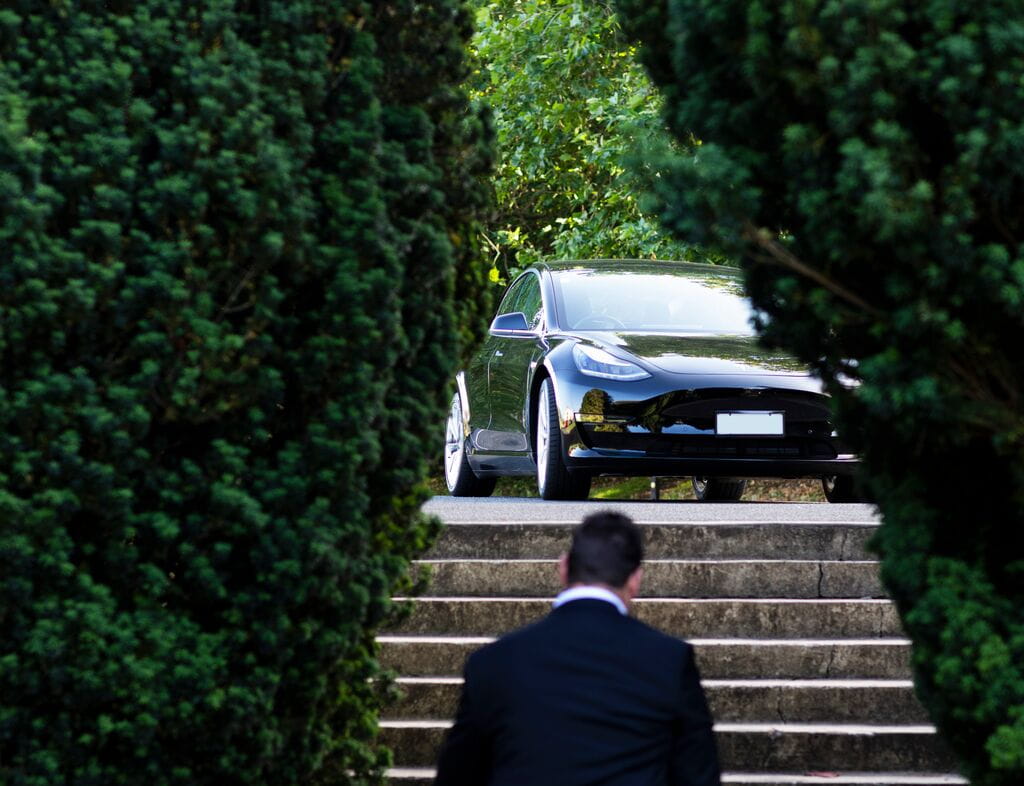 Top 20 inspirational leaders in the EV market
6 min to read
Electric vehicles
---
Back in 2017, when we co-founded the EV100 and committed ourselves to helping businesses across the globe to switch to EVs (including our own fleet), everyone said we were being too idealistic. At the time, we were just a few lonely voices trying to tell everybody that the EVolution was just around the corner. But now the excitement for EVs among businesses has reached fever pitch and there are very few people left to convince.
Years of debate around range, cost and model availability have subsided. Passenger issues have been solved. Now, companies want to go electric, their regulators are pushing them, their investors are requesting it, and their customers are demanding it.
Leading the way is a collection of expert voices, who have been working hard to make a change in awareness and attitudes.
Here's a list of our top 20 inspirational leaders in the EV market:
Natasha Robinson, Joint Head, Office for Zero Emission Vehicles (OZEV)
As the head of the OZEV, the cross-governmental team tasked with supporting the transition to electric vehicles, Natasha holds one of the most influential roles in the UK's shift to decarbonised transport. The organisation administers grant funding for vehicles and chargepoints and supports innovation designed to keep the UK at the forefront electric mobility.
Tim Anderson, Group Head of Transport, Energy Saving Trust
The Energy Saving Trust supports the government's decarbonisation plans, including developing active transport schemes, administering grants and assisting with chargepoint strategies. Anderson joined the trust in 2007 from the fleet and rental sector, and now heads up its transport programmes, promoting efficient driving, car-sharing and electrification.
Greg Archer, UK Director, Transport & Environment
Formerly of the Low Carbon Vehicle Partnership, Archer joined NGO Transport and Environment in 2012, in charge of its UK campaigns. The organisation promotes the roll-out of clean transport solutions, and campaigns for governments and industry to deliver ongoing improvements.
Kevin Booker, IT & Fleet, Brecon Beacons National Park Authority
A triple Guinness World Record holder for electric vehicle economy driving, Booker has also worked hard to champion EVs in his job. He has helped spearhead electrification of the Authority's fleet, despite challenging duty cycles and terrain, and roll out a growing network of chargepoints which are helping plug gaps in the Welsh charging infrastructure.
Dan Caesar, Joint CEO, Fully Charged
A long-term promoter of clean energy, Caesar is responsible for Fully Charged's electric vehicle video channel and its expanding portfolio of events - now held all over the world. He's also a passionate EV advocate, often found raising awareness of the technology and dispelling 'FUD' (fear, uncertainty and doubt) about EVs on social and broadcast media.
Fraser Crichton, Corporate Fleet Manager, Dundee City Council
Crichton has been at the spearhead of making Dundee one of the UK's most EV-friendly cities. As well as electrifying its own fleet, the council has introduced rapid charging hubs supplied by on-site solar panels and energy storage, hosted demonstration events to highlight the benefits for local residents and changed licensing rules to incentivise private hire operators to switch too.
Graeme Cooper, Head of Future Markets, National Grid
National Grid is a vital stakeholder in the transition to electric vehicles. Cooper's role includes co-ordinating collaborations between the Government and the automotive and energy sectors, to set strategies and provide the required infrastructure. He's also leading a project which will connect around 30GW of offshore wind generation to the transmission network, further reducing the carbon intensity of electric vehicles.
Charlie Cook, Founder and CEO, Rightcharge
A civil engineer by trade, Charlie founded Rightcharge as a platform to help electric vehicle owners make smarter choices when they plug in. It offers useful insight to help select and order charging equipment, select the right tariffs and identify the cheapest, greenest times of the day to top up.
Charlie Jardine, Founder and CEO, EO Charging
Founded in 2015, EO Charging began with a user-friendly smart-charging solution tailored towards the needs of electric vehicle fleets. The company now counts many of the UK's biggest operators among its clients, and its portfolio of hardware and software products has expanded to include systems for domestic users too.
Robert Llewellyn, Owner, Fully Charged
Writer, broadcaster and actor Robert Llewellyn has become one of the most influential advocates of sustainable technologies. The founder and host of the Fully Charged video series, his enthusiasm and inimitable sense of humour has helped convey the advantages of low-carbon transport to a worldwide audience of millions since its launch in 2010.
Lorna McAtear, Fleet Manager, National Grid
With a goal to become net zero, National Grid's 3,000-strong fleet will move away from petrol and diesel by 2030 - including commercials, each of which will save almost 21 tonnes of CO2 in a six-year lifespan. Lorna is at the forefront of that change, actively encouraging manufacturers to supply electric alternatives for the specialist vehicles and plant the business needs.
Thomas McLennan, Head of Policy and Public Affairs, BVRLA
The BVRLA's membership of 970 rental and leasing companies account for one in ten vehicles on UK roads. Tom recently took responsibility for building relationships with government, regulators and industry stakeholders, aiming to collaboratively develop policies which support a cleaner transport system and the road to net-zero.
James McKemey, Head of Insights Team, Pod Point
Chargepoint manufacturer and network operator Pod Point's insights team was set up to provide clear information about policies and incentives for electric vehicles. A sought-after spokesperson, James has had an important role myth-busting common electric vehicle misconception and helping new and existing drivers to keep up with the latest changes.
Bob Moran, Head of Environment Strategy, Department for Transport (DfT)
An automotive engineer by background and (most recently) deputy head of OLEV, Moran is working on the regulatory framework that will support the government's Transport Decarbonisation Plan, published earlier this year. This sets out how all modes can play a part in meeting the UK's 2050 net-zero emissions target.
Claire O'Neill, Managing Director for climate and energy and natural climate solutions, World Business Council for Sustainable Development
A former Conservative MP and shadow chancellor, O'Neill has an impressive track record establishing initiatives to encourage the growth of clean energy and transport in the UK ? including setting out the 2050 net-zero target, and Glasgow's winning COP26 bid. She joined the WBCSD in 2020, advocating sustainability among the world's biggest businesses.
Tom Callow, Head of Insight and External Affairs, BP Pulse
With a background in automotive technology PR, and years of experience working within the electric vehicle sector, Callow has become a go-to spokesperson at events and in the media. He offers in-depth knowledge of the market, charging infrastructure and regulations, and a deep-rooted enthusiasm for moving fleets and drivers into plug-in vehicles.
Sandra Roling, Head of Transport, The Climate Group
Sandra joined The Climate Group in 2011, forging partnerships with businesses worldwide - including establishing the We Mean Business Coalition, aimed at accelerating climate action. She would later head up the EV100 initiative, a global effort which will deploy five million electric vehicles worldwide by 2030, and is currently in charge of transport-related projects.
Avinash Rugoobur, President and Chief Strategy Officer, Arrival
London-based start-up Arrival is hoping to solve the challenges of electrifying commercial vehicles, developing a van platform that enables fast scaling of production with much lower fleet operating costs than equivalent diesel models. LeasePlan was recently named as preferred operational leasing partner, with an initial order of 3,000 vehicles in Europe.
Ade Thomas, Founder Green TV
Formerly a BBC producer and director of current affairs, Thomas has been at the forefront of promoting low-carbon lifestyles and electric vehicles. Green.TV is a multi-channel publishing network responsible for initiatives including the Oxford EV Summit, Decarbonisation Summit alongside COP26, and World EV Day, which is supported by some of the most influential brands in the industry.
Mel Shufflebotham, COO and Co-founder, Zap-Map
Zap-Map has become a household name for electric vehicle drivers, offering useful data about locations and cost, live availability and with options for users to exchange notes about faults. Shufflebotham is also an active advocate of electrification, a regular speaker at conferences and helping others understand the advantages they offer.
Published at 24 December 2021
Was this article helpful?