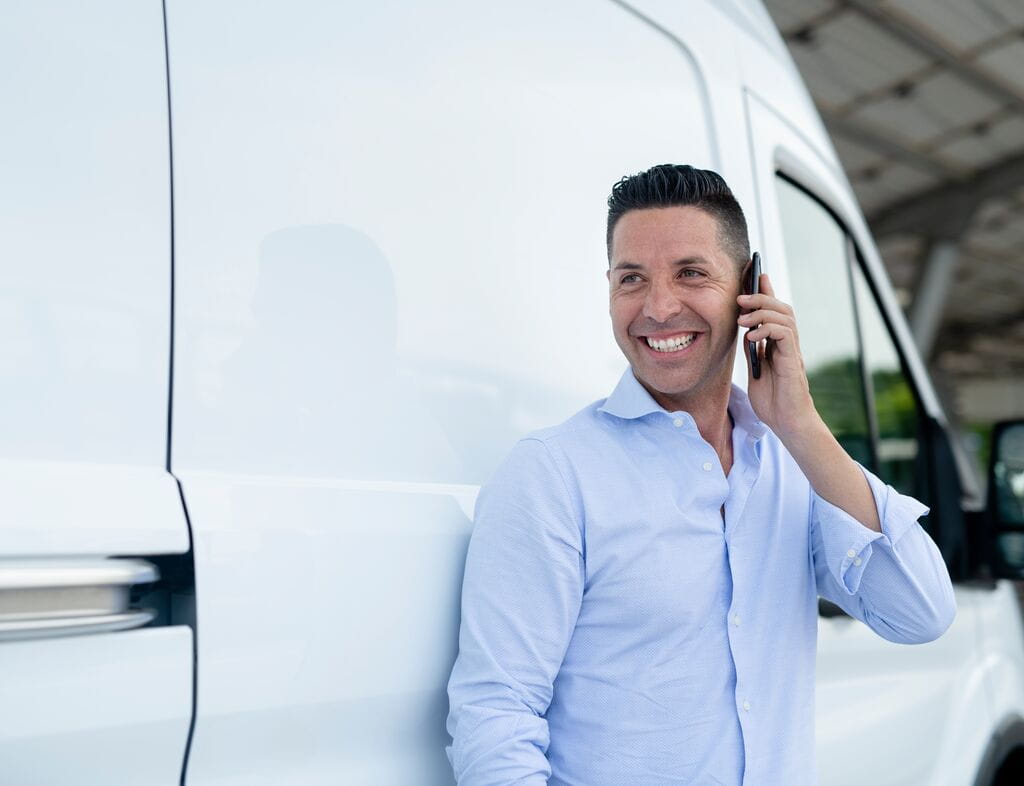 Is Hydrogen the Key to Electric Vans?
4 min to read
Commercial vehicles
---
Despite a growing choice of electric vans, range and payload compromises are an ongoing hurdle for fleets with longer-distance duty cycles – but one of the most abundant elements on the planet could be the solution. 
What is a hydrogen fuel cell?
It's essentially a miniature power plant, using a chemical reaction between hydrogen from a tank and oxygen from the air to produce electricity, while emitting only water vapour [1]. Besides backup power for static applications, this could enable electric vehicles to produce their own energy while driving.
Why might fuel cells benefit electric vans?
Advocates of hydrogen fuel cells claim they could offer similar flexibility to fossil fuels. Refilling a hydrogen tank takes a few minutes and offers several hundred miles of range, with the same smooth, near-silent driving experience as a battery-electric vehicle.
Hyundai and Toyota already sell fuel cell cars in the UK, but it could prove even more useful as a diesel alternative for long-range, high-mileage vans. It would enable operators to decarbonise their fleet, without compromising payload by using heavy, long-range battery packs.
Which manufacturers are looking at hydrogen vans?
Several manufacturers are accelerating plans to bring hydrogen fuel cell commercial vehicles to market, as a complementary technology to battery-electric models:
Newly formed automotive giant Stellantis recently unveiled versions of its mid-size Citroën, Peugeot and Vauxhall vans with a hydrogen fuel cell system on board. This provides a range of 250 miles in three minutes, and features a mains-rechargeable battery as an additional power source. Production for left-hand drive markets will start later this year, and Vauxhall says it's already working with UK fleets with ambitions to introduce it here in 2023 [2].

Renault will begin production of a hydrogen fuel van at the end of 2021, based on the Master platform and also available as a minibus and chassis cab for conversions. The vehicles are being co-developed as part of a joint venture [3] with fuel cell specialist Plug Power, providing a range in excess of 300 miles with three-minute refuelling stops. Fleet customers will be supported by a suite of services, including a supply of hydrogen and refuelling equipment to overcome infrastructure concerns.

Jaguar Land Rover is developing an electric Defender with a hydrogen fuel cell system, with testing scheduled for the end of 2021 [4]. The company says it will be an important part of the future powertrain mix, retaining its towing and off-road ability without compromising on range or refuelling times. Production timescales have not been announced yet.

INEOS is working with Hyundai Motor Group, with plans to use the company's fuel cell technology in the forthcoming Grenadier off-roader [5]. The two companies will also carry out joint research to develop a hydrogen supply chain in Europe.
How might regulation create demand for hydrogen vans?
Commercial vehicles are under the same environmental pressure as passenger cars. By 2030, these will have to offer a "significant electric range" to be sold in the UK, and five years later they will need to be fully electric [6]. In the meantime, Euro 7 emissions standards - due in 2025 - are likely to set even stricter limits for diesel engines, and require expensive after-treatment technologies for next-generation vans. It's a big change for commercial vehicles, 96% of which use diesel in the UK, according to the Department for Transport [7].
Meanwhile, hydrogen is back in the government's spotlight. Prime Minister Boris Johnson set out plans to accelerate production of low-carbon hydrogen - from electrolysis, using renewable electricity - as part of last year's Ten Point Plan for a Green Industrial Revolution [8]. Investments of up to half a billion pounds are earmarked for hydrogen projects by 2030, with ambitions to use it for heating homes and decarbonising heavy-duty vehicles - including trucks, boats and even aeroplanes. One of the world's most abundant elements could help solve some of the transport's biggest challenges.
Published at 25 June 2021
Was this article helpful?