Electricity to be the no. 1 driving power in near-future mobility
---
Already one in four new company cars registered for LeasePlan's clients in 2022 were BEVs.

Electrification of vehicles is advancing quicker than anticipated. For example, last year the vehicle leasing company LeasePlan ordered more battery electric vehicles for its clients than any other types of cars. Two interviewed Finnish experts, Hanna Kalenoja and Lassi Aarniovuori of the Finnish Information Centre of Automobile Sector and the LUT University, respectively, believe that the popularity of electric vehicles will increase rapidly in the coming years. They reckon that it may take until the next decade for hydrogen and synthetic fuels to assume a more prominent role.
The share of battery-electric vehicles, or BEVs, has increased rapidly over the past three years. The number of new BEVs registered in Finland climbed to 14,530 in 2022, compared with just 1,897 as recently as 2019. Electrification of company vehicles has likewise proceeded at a quick pace, even surprisingly quick. At LeasePlan, one out of for cars registered last year as company vehicles were BEVs.
Internal combustion engine (IEC) vehicles continue to be the most common vehicle type in traffic. As explained by Hanna Kalenoja, an expert for the Finnish Information Centre of Automobile Sector, petrol and diesel fuelled vehicles will continue to have a presence on the roads even after 2035 (when the sale of new petrol and diesel cars will be banned in the European Union), partly due to the low rate, or slowness, of vehicle stock turnover. At present, businesses and households are gaining financial advantage for shifting into EVs, so the turnover rate may well increase. Additionally, vehicle manufacturers have announced discontinuing manufacture of IEC vehicles citing profitability reasons associated with increasingly stringent thresholds for emissions.
Will there be a consumption-based taxation model? 
In LeasePlan's video podcast Tulevaisuuden käyttövoimat ("Different types of driving power of the future", available only in Finnish), both Hanna Kalenoja and Lassi Aarniovuori (the latter an Associate Professor in electric transportation at the LUT University) anticipate that the next government of Finland, or the one after it, will probably have to do away with tax benefits on electric vehicles. Kalenoja suggests a taxation model based on the distance travelled or one applied per annum.
"There is need for consumption-based taxation, as this also promotes energy savings by way of steering vehicle use," Aarniovuori says.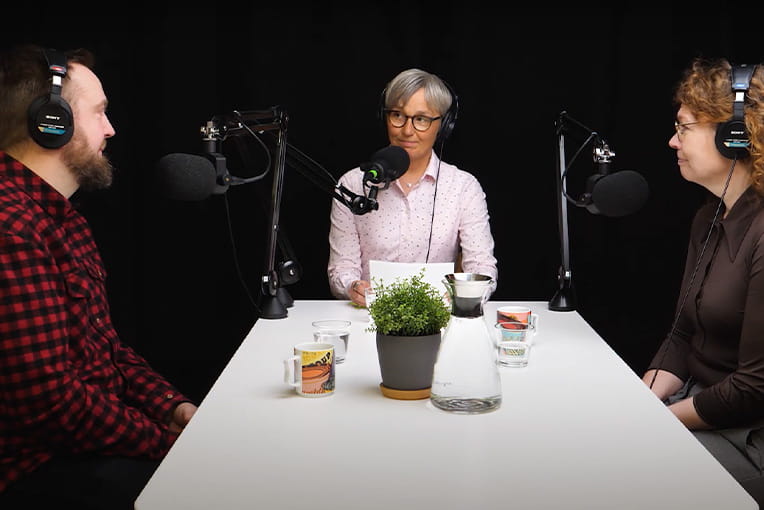 Podcast: Different types of driving power of the future
Available only in Finnish
What does the future look like for alternative fuels? 
What about hydrogen, synthetic fuels, gases and biodiesel? What could the future hold for these alternative types of driving power? Aarniovuori places the most faith on electricity, since hydrogen technology, for one, still requires a good deal of development for its utilisation efficiency and cost-efficiency to rise on par with electricity. According to Kalenoja, the use of gas as car fuel seems to have hit a wall, since gases, being fossil fuels, cannot be made to produce zero emissions, in contrast to electricity. Similarly, electricity triumphs over renewable biodiesel as driving power. Synthetic fuels hold potential for internal combustion engine technology.
"Electrification is proceeding more slowly in heavy vehicle traffic, and gas also represents a viable alternative in many transportation tasks," Kalenoja says.
"Hydrogen is more applicable for heavy vehicles than cars, as the former are challenging to electrify owing to the required battery sizes. Further out in the future, hydrogen may emerge as the principal driving power for transport companies' vehicle fleets over an extensive range from cars to the biggest vehicles," Aarniovuori suggests.
Finland has enough electrical power for vehicular traffic 
Even if Finland's vehicle stock were to be electrified almost completely, this would only spell a 10–15 per cent increase in overall electricity consumption, according to Aarniovuori. He reckons that the coverage of the country's charging network is already adequate, particularly in southern Finland. Home charging remains a necessity in sparsely populated areas and northernmost Finland.
"There is enough electrical power available, and the main grid will hold out. Regional electricity transmission companies have already commenced preparations to increase capacity, and electricity networks are revamped in connection with their repairs. I don't believe this would cause bottlenecks in shifting into a more electric mobility," Aarniovuori says.
The aim: reduce CO2 emissions
Corporate car policies are the real driver behind the popularity of electric company vehicles. When LeasePlan's experts discuss future company car solutions with client representatives, they go over all the relevant variables concerning company car use jointly with the client instead of systematically endorsing just PHEVs or BEVs to them, for example.
BEVs help companies to efficiently put their environmental and CO2 emissions objectives into practice. Tax concessions have also encouraged the transition to electric company cars. For some businesses, opting for electric vehicles and BEVs also serves as an important image builder. In light commercial vehicles (LCVs), electrification of the vehicle stock has proceeded considerably more slowly than in company cars. One way to substantially reduce the level of emissions without having to wait for the vehicle fleet to turn over is to shift into renewable diesel consumption.
"What has been surprising is the very limited extent to which LCV operators have opted for low-emission renewable biodiesel. This may be due to the higher price of the fuel," says Tiina Märijärvi, Head of Business Development for LeasePlan.
Both Holmström and Märijärvi are of the opinion that tax benefits reckon among the most substantial incentives for choosing an electric vehicle. In the mid-size range, the benefit may be as much as 20,000 euros for a company car. Another thing that makes electric vehicles attractive for companies is the affordability of their running costs.
"What remains unchanged, however, is that the purpose for which the vehicle is required continues to be the no. 1 criterion guiding the selection of a given type of driving power over another. When the daily driving distance does not exceed 200 kilometres and charging is easy to arrange, a BEV is a smart choice both from the company and the driver's point of view," Holmström explains, summing up the equation.
Battery electric vehicles accounting for 40 per cent of all ordered company cars 
The number of electric vehicles, BEVs in particular, has increased a lot over the past couple of years; especially the first half of the previous year saw record numbers of new electric vehicle registrations and order placements. Of all corporate cars ordered last year from LeasePlan, BEVs already accounted for 40 per cent. However, not all of the cars could yet be registered due to extended delivery times.
"The statistics on orders placed reveal that BEVs represented the largest share of all types of company vehicles ordered last year, accounting for 40 per cent, trailed by plug-in hybrid electric vehicles (PHEVs) at 36 per cent. Third on the list with a 15 per cent share were petrol-fuelled vehicles, including hybrid electric vehicles (HEVs) and mild hybrid electric vehicles (MHEVs). Diesel-fuelled cars came in fourth, albeit with a share of just 7 per cent. Other types of driving power, such as gases, were only represented marginally, virtually by individual cases. Diesel as driving power has run into hard times, considering that as recently as 2019, diesel-powered vehicles accounted for 50 per cent of all company cars," says LeasePlan's Business Controller Anton Holmström.
Was this article helpful?