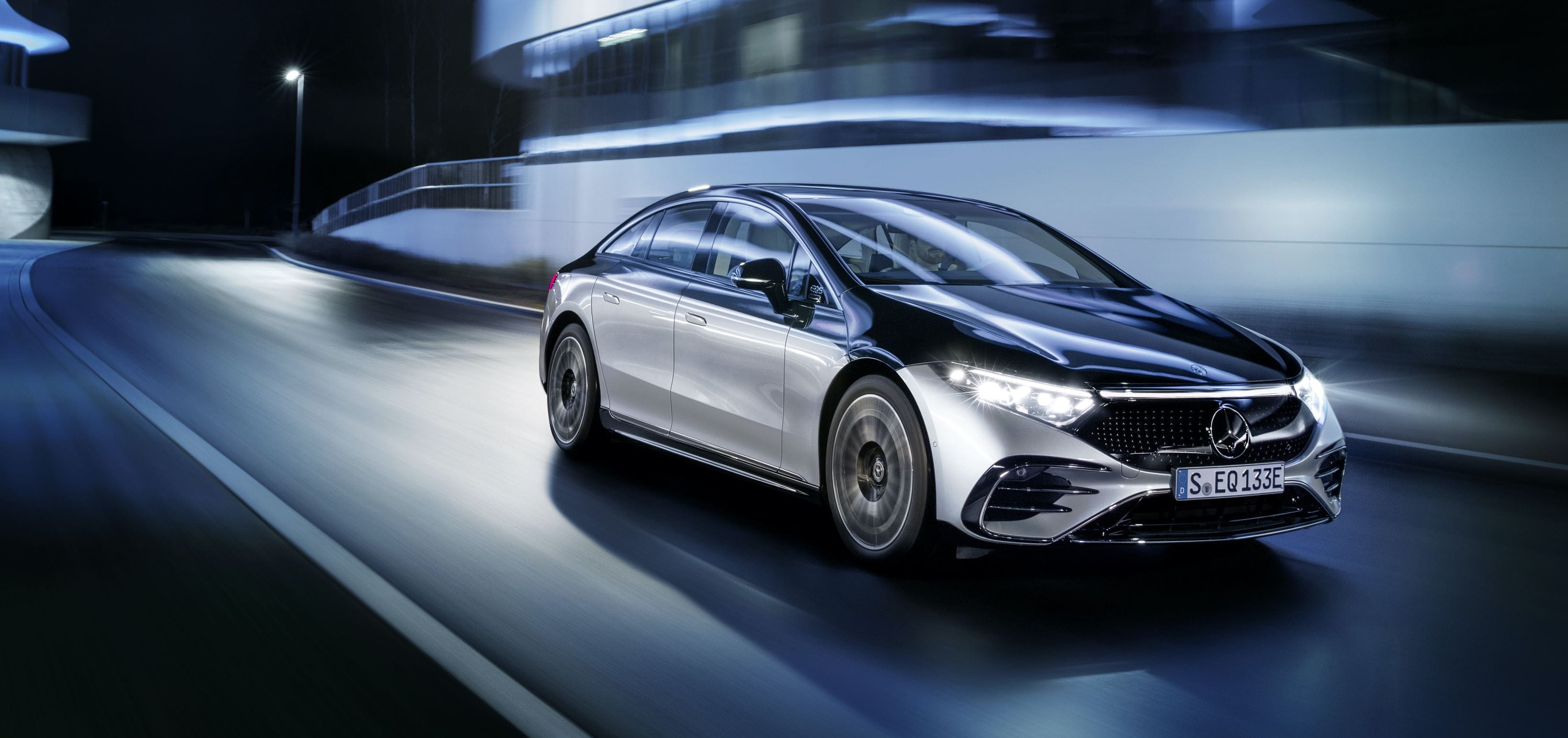 Mercedes EQS
The next phase of luxury motoring
Electric at its most luxurious

Intuitive, elegant, digital
Navigating ahead of the current
Sustainability and aesthetics go hand in hand with the Vision EQS. The starting point for a new type of electric vehicle based on a dedicated technological architecture, the new Mercedes EQS is a luxurious all-electric alternative to the likes of the Porsche Taycan, Audi e-tron GT, and Tesla Model S. Within the next 20 years — a mere three product cycles—Mercedes-Benz intends to have a carbon-neutral vehicle lineup and the Vision EQS leads the way. Seamless, digital and intuitive, the Vision EQS is the electric future in its most luxurious form. The EQS will be availabla at LeasePlan late 2021.
A bold, rethinking of the automobile
The Vision EQS draws on the heritage of the fabled S-Class yet promises even more innovation. Envisioned as a "third space" between home and the workplace, every surface of the interior can display digital content to better attune to the moods and needs of its passengers. Set sail on a sea of intuitive tech in a plentiful cabin inspired by luxurious yachts. Everything you need is right at your fingertips, without excessive scrolling thanks to the MBUX 'Hyperscreen.' The EQS premiers this system—a vast single-glass panel that spans the dashboard and combines the digital instrument cluster, central media screen, and climate controls.
Unexpected beauty and performance
With its stunning contours and stretched, "one bow" proportion, the Vision EQS streamlines automotive design into an ideal of elegance, matched by performance. Two electric motors, one at each axle, are balanced by a battery integrated in the vehicle floor. The Vision EQS glides from destination to destination, with a range of 700 km. Charging the battery to 80% takes only 20 minutes using high-power DC Fast Charging. The sedan is set to achieve 469 horsepower, 560 lb-ft of torque, and 0–100 kph in less than 4.5 seconds.
Mercedes EQS specifications
Battery

Dual electric motor

Estimated range of 700 km (WLTP)

100 kWh battery recharges to 80% in 20 minutes using high-power DC Fast Charging

Performance

469 horsepower

0–100 kph in under 4.5 seconds

Top speed 200 kph

Source: https://www.mbusa.com/en/future-vehicles/vision-eqs
*Copyright: © Mercedes-Benz AG
Model: Mercedes-EQ, EQS 580 4MATIC, Exterior, colour: high-tech silver/obsidian black, AMG-Line, Edition 1*
Want to know more? We're here to help!
Business Lease
Looking for a new lease car as a self-employed person or small business? Call +32 2 722 62 11. From Monday to Friday between 8:00 and 17:00. Or contact us via the form by clicking on 'Contact us'.