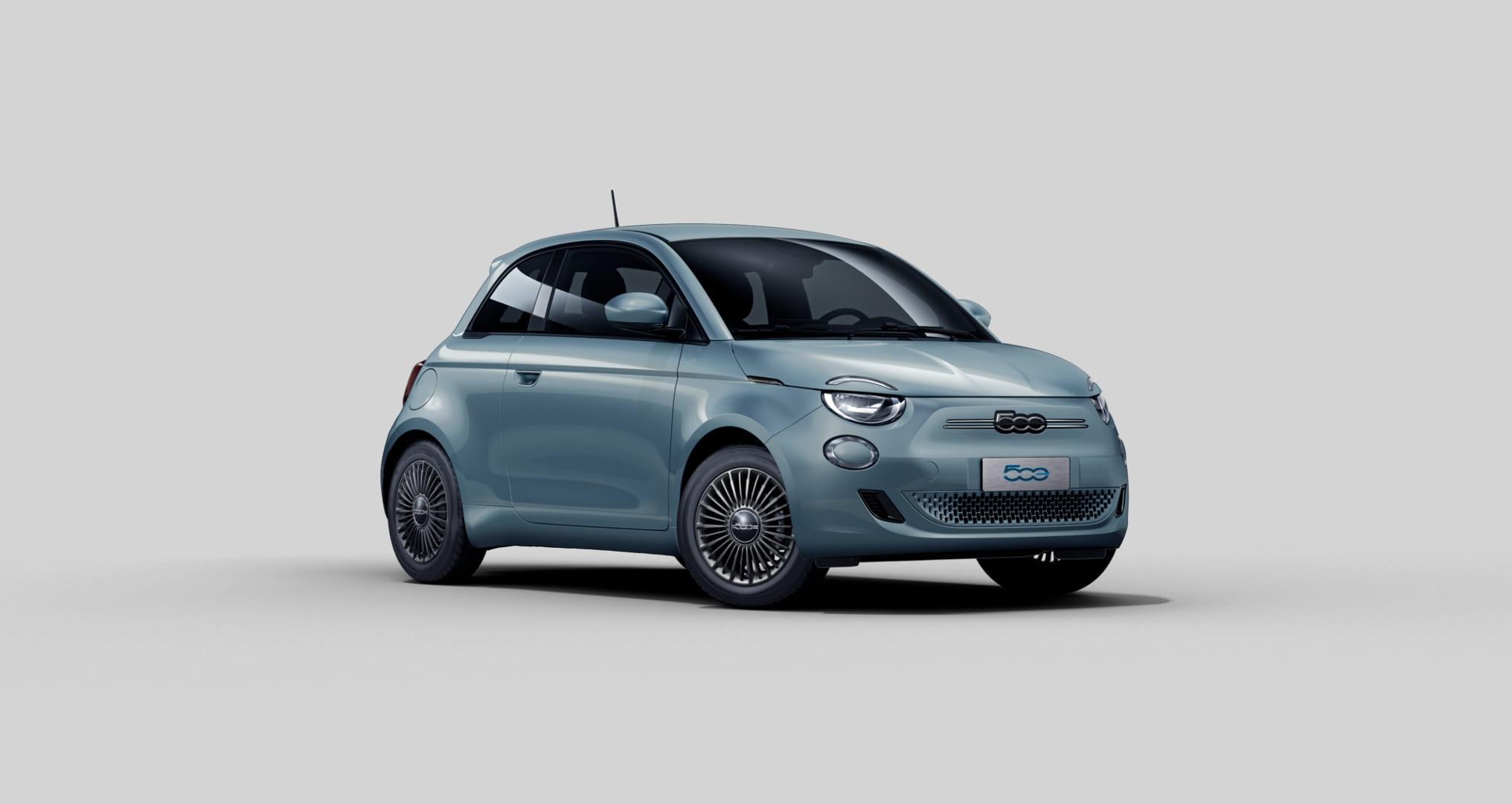 Fiat 500 Electric
Retro city car goes electric
State-of-the-art connectivity
Hustle with a smaller carbon footprint
The 500 has always delivered on character, and this third-generation, all-electric version doesn't miss a beat. Fiat integrated the classic silhouette with sharp, modern detailing to deliver a "retro-futuristic" city car with all the latest tech. Available with a 24 or 42 kWh battery and as a cabrio, hatchback and 3+1, you can hustle around town with nearly a co2 emission. Fiat boss Olivier François said the new 500 is 'not just the third generation of the car, but the third reincarnation of a spirit.'
Feel the energy with the top down
Designed from the ground-up on an all-new platform, the 500 is the first dedicated electric car from Fiat Chrysler Automobiles (FCA) and the world's first four-seat convertible EV. The base-level Action is hatchback only, but all next level trims have cabriolet options. The Passion trim comes with a 7.0 inch touchscreen, smartphone compatibility, cruise and climate control standard and sports 15 inch two-tone wheels. Or choose the Icon trim and spin around town on cool 16in alloys, navigating via a 10.25 inch 'cinerama' high-definition touchscreen.
A cute Italian city car for today
The 500 feels pretty nippy from behind the wheel, with three different driving modes to maneuver by—'Normal', 'Range, or the aptly-named 'Sherpa', which caps power and top speed to conserve energy. The base version is equipped with a 23.8 kWh battery for up to 180 km of WLTP range. The more capable 42 kWh battery version has WLTP range of up to 320 km, a more powerful 117bhp motor and faster 85kW recharging.
Fiat 500 electric specifications
Battery

42kWh battery

Fast Charge Time (22->176 km) 27 min

WLTP range 320 km

Performance

Acceleration 0 - 100 km/h 9.0 sec

Total Power 87 kW (118 PS)

Total Torque -220 Nm

Miscellaneous

Transmission - Single-speed automatic

Drive - front-wheel

Source: https://ev-database.org/car/1275/Fiat-500e-Cabrio
Contact us!
Business Lease
Looking for a new lease car as a self-employed person or small business? Call +32 2 722 62 11. From Monday to Friday between 8:00 and 17:00. Or contact us via the form by clicking on 'Contact us'.