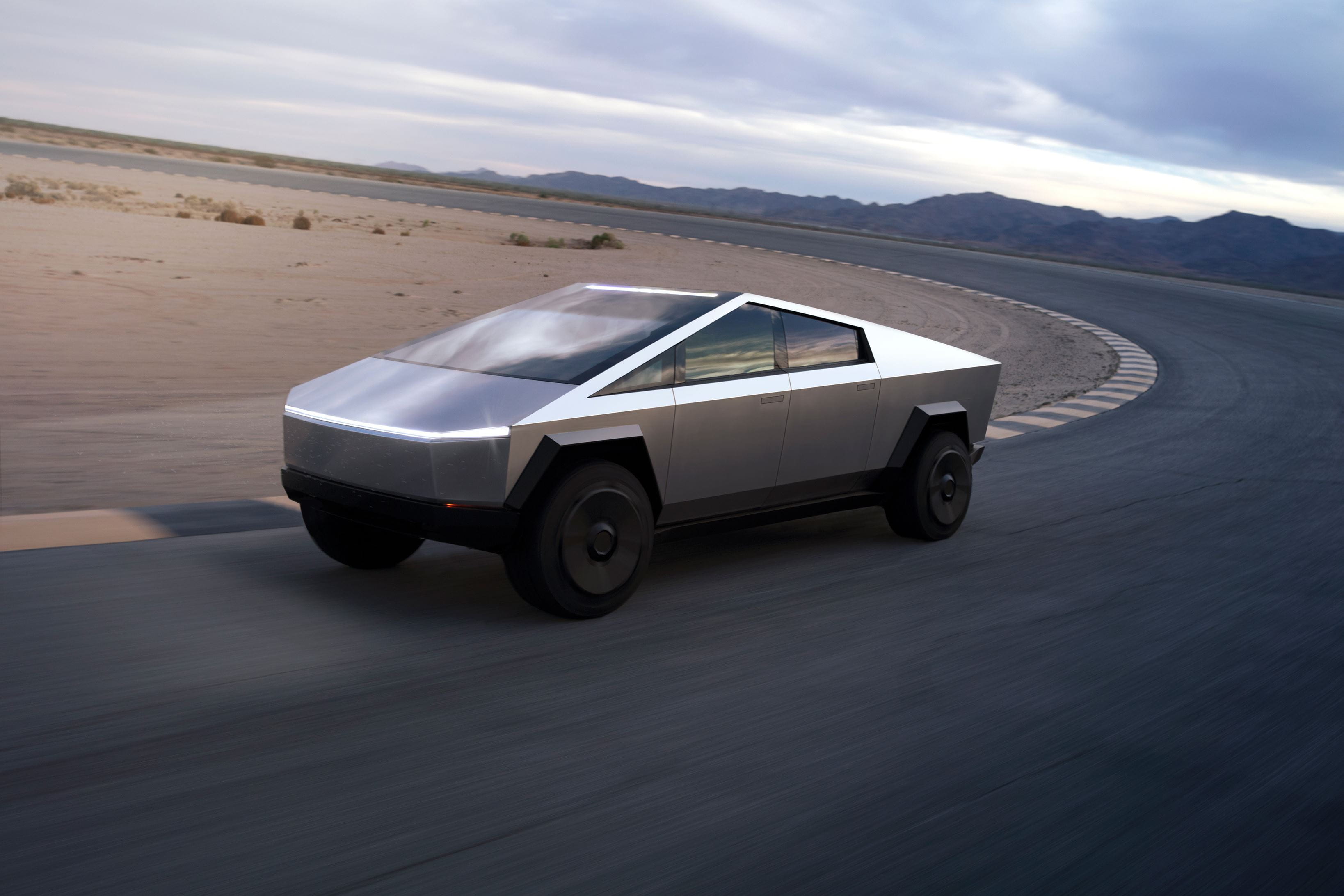 Super-Sized electric trucks
3 min to read
Mobility
---
Ever wish you could barricade yourself in a super-connected bullet-proof bunker while barrelling down the open road—or off it—without adding any cO2 damage to the planet? Well, now you can! Just hop inside any one of these all-electric, XXL trucks and go for a head-turning spin. Even if the only heads you see out there belong to wallabies or zombies, you'll feel safe and prepared behind the wheel of any one of these EV beasts. Whether you're exploring, conquering, or surviving (the end of) the world, these supersize, badass rides were built to endure almost anything.
Tesla Cybertruck
The revolutionized pick-up truck
The electric mobility pioneer has done it again, with the radical wedge-like Tesla Cybertruck. Made of scratch- and dent-resistant stainless steel, Tesla's all-electric pickup truck is seriously tough. Designed to withstand even a zombie apocalypse, this monster truck shatters every preconception of what a pickup should be. For ultimate durability and occupant protection, the Cybertruck features a high-strength outer 'Exoskeleton' shell, Tesla armoured glass, and the option of having one, two, or three electric motors. The three-motor model will essentially teleport from zero to 100 km/h in 2.9 seconds (!), Tesla says, with a top speed of 210 km/h for outrunning, well, almost anything. The Cybertruck's spartan cabin can seat up to six people—or warriors—and its cargo bed can haul up 100 cubic feet (just under 3 cubic metres) of volume. The handy, slide-out tailgate also doubles as a ramp for loading and unloading smaller two and four-wheelers. Tesla's Cybertruck may look like it came straight from a Mad Max movie, but the world won't need to end for it to prove its worth as a formidable off-road machine.
Hummer EV
The world's first all-electric super truck
Remember the old gas-guzzling GMC Hummer that was discontinued back in 2010? It's baaaack—but this time, the beast is all-electric. Engineered for "off-road dominance," according to its maker, the Hummer EV is "the world's first zero-emissions, zero-limits all-electric super truck." Recast as a planet-saving trendsetter, the all-new 2022 Hummer EV lets the world in through an "infinity roof" composed of four removable, modular sky panels. The new and improved Hummer also has a crazy four-wheel steering feature that allows it to "crab" sideways—in other words, you can drive this electric pickup truck diagonally! The Hummer EV's top powertrain option uses three electric motors, covers a range of 480 kilometres per charge and leaps to 100 km/h in a claimed 3.0 seconds. You can take on the toughest off-pavement obstacles with extraordinary confidence, thanks to real-time views provided by its waterproof underbody cameras. In fact, you can pretty much forget everything you thought you knew about trucks, because the revolutionary, reincarnated, Hummer EV just left every conventional pickup in a cloud of dust.
Ford F-150 Lightning
The friend that lights up your house
When the chips are down, you may not be able to depend on your friends – but Ford wants you to know you can count on its new F-150 Lightning. Want TV or a microwave while camping? Just run it off the truck's 2.4kW of exportable power. Need a giant freezer? No problem—simply fill the 400-liter Mega Power Frunk with up to 400lb of ice (a drain hole wicks away condensation). Need to power your home during a freak climate event? The F-150 Lightning doubles as a generator while its software is updated over the air. Reliability is a major reason why over 900,000 people make friends with an F-150 each year. With the all-electric, all-terrain, all-tech Lightning, Ford hopes to continue to win friends and influence buyers. They'll all come for the insane performance and for the cruise control. Two electric motors deliver an elephantine 1,051Nm of torque and 571hp—with acceleration to 100km/h in just over 4 seconds. Electric lung capacity ranges from 370km to 483km. With 70,000 orders within the first week and President Joe Biden already having driven one, Ford may have won the electric truck race.
Want to know more? We're here to help!
Published at September 6, 2021
Was this article helpful?