Tesla Model X vs Audi e-tron: Who comes out on top?
Tesla and Audi are shaping up to be two of the biggest rivals in the future of electric driving. We take a look at how their fully-electric, luxury SUV's compare.
Tesla and Audi took a wildly different road to arrive on the EV scene. Born electric in 2003, Tesla won over the early adopters and is now moving into the mainstream. On the other hand, Audi was founded in 1909 and has a long legacy of producing luxury petrol and diesel vehicles. The 2019 e-tron is Audi's first all-electric mass-production model.
Starting from €969
Audi e-tron 55 quattro
The e-tron is powered by a 700 kg 95-kWh battery pack, and the range comes in at 411 km. The e-tron claims a top speed of 200 km/h, but switch on the "boost mode" and you can accelerate from 0 to 100 in just 5.7 seconds without breaking a sweat.
Seats: 5
Boot space: 660 litres
Range: 411 km
Top speed: 200 km/h
Seat comfort: Premium
Smooth & silent drive: ++++
Fast charge time (150 kW): 30 mins
Starting from €1.228
Tesla Model X Long Range
Behind the wheel of the Tesla Model X, you can get from 0 to 100 km/h in an impressive 4.6 seconds and reach a top speed of 250 km/h. The X boasts between 475 km and 505 km, depending on which drivetrain option you choose.
Seats: 5 or upgrade to 7
Boot space: 2180 litres
Range: 505 km
Top speed: 250 km/h
Seat comfort: Standard
Smooth & silent drive: +++
Fast charge time (150 kW): 40 mins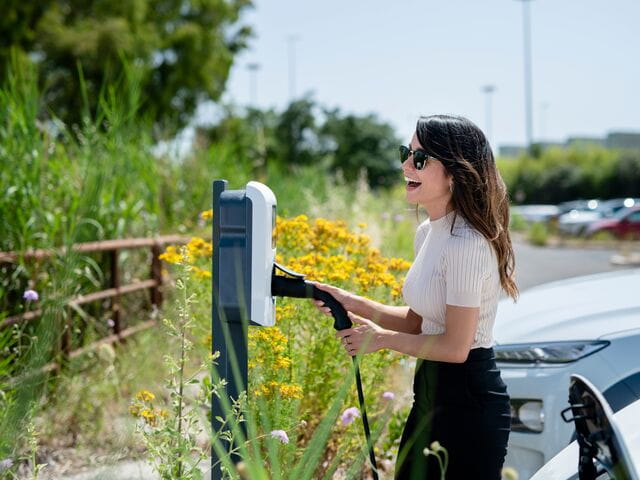 It's all about the range and comfort
When it comes to charging, Tesla decided to go its own way. They built a comprehensive charging network of 1,604 Supercharging Stations across Europe, North America and Asia. Tesla drivers turn up, plug in, and get to 80% charged in just 40 minutes. With a 150 kWh DC fast charger, the e-tron recharges to 80% in just 30 minutes. But it's more likely your route will take you past a 50 kWh charger, in that case top-up time is around 90 minutes.
Both vehicles have dual electric motors, one-speed transmissions, and four-wheel drive. The Audi e-tron has a boot capacity of 660 litres coming in significantly less than the Model X with 2180 litres of boot storage. The Model X also has a 7-passenger option, and falcon-wing-doors - a convenient design if you're parking in tight urban spaces. Inside, the Model X and e-tron both come with heated and cooled seats, but, so far, only Audi's offers a massage function as an extra option.
Conclusion
So, who's the winner? If you want superior drivetrain, ride comfort and impress with the already iconic falcon doors, then the Tesla Model X is for you. Additionally, between its Superchargers and Destination chargers, Tesla has the best infrastructure. On the other hand, if you're nervous about leaving your petrol guzzler behind, driving an e-tron might put you at ease. It's a super smooth, roomy, and beautifully designed SUV with the Audi stamp of approval.
All in all, both are beautifully designed and roomy SUV's, quieter and a lot more sustainable than their oil-burning equivalents. So whether you choose to drive the Tesla Model X or Audi e-tron, it's a win-win for you, your family and the planet.
Top FAQs electric driving
What is a full electrical vehicle? An electric vehicle, also called an EV, uses one or more electric motors or traction motors for propulsion. The energy used for driving an EV is stored in the battery and the battery is charged at a charge station (at home, at the office or in public).What do I need to charge my electric vehicle? To charge your electric vehicle, you will require a recharging station, a charging cable, and a charging card.How many kilometres can I drive on a fully charged battery? A fully charged battery with a capacity of 40 kW will enable you to drive 200 to 250 kilometers. If you drive sensibly, you will achieve even more. Speed has the most effect on the amount of power drawn down from your battery, so you are advised to keep to the permitted speed limits. There are also other factors that may have an effect on your driving range: - High or low temperatures (resulting in continuous operation of the air conditioning/heating) - A (too) sporty driving style - Driving with a strong headwind - A fully loaded car - Driving uphill for a long period of time Does an electric vehicle require different maintenance than a vehicle with petrol or diesel? An electric vehicle requires less maintenance. This is due to the engine's reduced number of moving parts compared to a conventional combustion motor, which therefore leads to reduced wear. Moreover, oil changes are a thing of the past and the vehicle does not have an exhaust or gears. In addition, the brakes are less susceptible to wear thanks to the regenerative braking capacity.How safe are electric vehicles? Electric vehicles are approved for all safety factors, just like conventional vehicles. In the event of a collision, there is a possibility that some parts may receive an active charge or that short-circuiting causes an electrical fire, though the safety precautions and construction have limited this risk to an absolute minimum.How long will it take to charge my vehicle? That depends on a number of factors: the type of vehicle, the power left in the battery, how fast your vehicle charges, and which type of recharging station you will be using. When charging your vehicle with a standard power socket, approximately 10 hours is required. This is approximately 2 to 4 hours when using a public recharging terminal. When using a fast-charger (primarily located along highways), your battery will reach 80% charge in 30 minutes. Do keep in mind that using fast-chargers is more expensive than standard recharging stations.What does it cost to charge an electric vehicle? This depends on where you will be charging your vehicle. Home recharging stations are the most economical in most situations. The average electric vehicle uses 15 to 20 kWh per 100 km. If your home electricity rate is €0.25 and you drive an average of 15,000 km per year, your charging costs will range between €563 and €750 per year. When charging away from home, your rate is determined by the recharging terminal provider. A starting fee and incentive rate are often charged in addition to the kWh charge. Via www.plugsurfing.com, you'll find an overview of available recharging terminals in Belgium and Europe including the price per kWh. 
Would you like to drive the Audi e-tron or Tesla Model X?
Please provide your contact details so we know how to reach you. We're happy to discuss your lease options, with no obligation.