Charging stations: how many are there, where are they and how much do they cost?
Since our fleet is not used 97% of the time, there is a good chance that electric cars are charged primarily at home and at the office. Even so, we need a public charging infrastructure, if only to give drivers of electric vehicles peace of mind. There are now quite a few charging infrastructure providers in the private and retail markets. The supply is growing steadily, but there is still work to be done given the ambitious climate targets that have been set.
AVERE Belgium, the local branch of the European Association for Electromobility, currently has about 10,000 charging stations on Belgian territory. It has established 3,000 public charging stations, 4,500 company charging stations and 2,500 private charging stations. Charging stations can also be programmed as prime or public if they are located on semi-private or private land. This means that charging stations can be made accessible to your own employees only or to the general public.
How is Belgium doing in comparison to the other EU member states? There are currently around 100,000 public charging stations on EU soil, and this number is increasing by the day. It is interesting to see that those charging stations are highly concentrated in four countries: the Netherlands (28%), Germany (22%), France (14%) and the United Kingdom (12%). With 32,900 charging stations, the Netherlands is the clear leader in terms of public charging infrastructure. If you look at the ratio between the territory's surface area and the number of charging stations, Belgium is in tenth place.
The EU calculated that we will need two million charging stations by 2025 if we want to get anywhere near the 25% CO2 reduction target by that time. The plan is to phase out combustion engines and sharply increase the number of electric and hybrid vehicles. The extent to which this is realistic has yet to become clear – installing 1.9 million additional charging stations in seven years' time is no mean feat.
Who are the providers?
The list below shows a non-exhaustive list of the largest charging station providers and whether they operate in Belgium only or in the rest of Europe as well. We were unable to report how many charging stations they each have, as they did not want to release these figures for competitive reasons. This doesn't particularly matter, because there are now more and more roaming agreements that allow customers to use different providers' stations with the same charge card. Free charging is also available at a number of chain stores and fast food restaurants (Delhaize, LIDL, IKEA, McDonald's and so on).
Flow Charging – Belgium/Netherlands

NewMotion – Europe (in cooperation with Shell)

Total EV Charging – Europe

Fastned – Netherlands (currently expanding into other countries)

Tesla – Europe (own network of superchargers)
How can you find the charging stations?
Navigation systems in electric cars usually have an extra feature that shows the drivers where they can find the charging stations. However, this feature is not always up to date, so it is better to use one of the many available apps: HeyEVBOX, Zap-Map, Chargemap, Plugsurfing, Smoov, PlugShare, Mobiflow, Nextcharge, EV Charging and so on. They show drivers where the charging stations are located, whether they are currently available or occupied, the type of plug they require, the rates (albeit not always) and more. You can also book a charging station by checking in. This is not an unlimited option. For example, the Mobiflow app allows you to book a charging station within a thirty-kilometre radius fifteen minutes before your arrival.
You can here find an interactive map where you can find the closest charging stations in your neighborhood.
How can you pay and what does it cost?
Although fuel card providers are now also entering the market, public charging stations usually ask you to pay with an RFID card or key fob. All charging stations are equipped with a card reader. The charging station can be activated and deactivated with the card or key fob. Unlike an ordinary fuel pump, charging stations usually do not have screens showing the charging station's price. AVERE has mentioned the lack of regulations in this respect. You can (sometimes) see the price in the apps referred to above.
The price of driving an electric car therefore depends to a large extent on where you charge your car.
Electricity does not have a fixed maximum price like fuel at a service station. In the Flemish region, the most expensive electricity is residential (€0.3/kWh). In the Brussels-Capital Region, you pay less because there are proportionally fewer green energy certificates (€0.2/kWh). In the Walloon region, you can charge your car at home for an average of €0.25/kWh. However, consumers with a day and night meter in Flanders can charge their car for just €0.19/kWh. This is less than €4 per 100 km.
The previous Intentions already mentioned the price differences between public charging stations depending on the region and the provider. In the practical tests, the average cost at VAB was €0.35/kWh, while AVERE has reported a price of €0.31/kWh (at the Fluvius charging stations, for example). Quick-charging stations are an exception, because there the price includes the electricity and the expensive installation that allows you to charge five to fifteen times faster. They cost €0.6 to €0.7/kWh, which is roughly the same as the price of fuel at a service station. However, since most drivers can charge their car at home or at the office, they only use the quick-charging stations on long journeys.
Can I always use my charge card to pay?
There are various platforms in Europe that charging station operators can join in order to accept third-party payments. If your charge card communicates with that particular platform, you can pay and charge. The biggest European platforms are Hubject (DE), GIREVE (FR) and eViolin (NL). If you want a charge card you can use anywhere, opt for Plugsurfing, EVBox, ICU, NewMotion or one of the other charge card partners. It is important to know that not every charging station is set up to allow third-party payments. Many charging stations located on private property are reserved for employees only. It is therefore important to use the right app that exclusively shows the charging stations you can use.
How quickly can you charge your car at a public charging station?
Here, we need to make a distinction between ordinary public charging stations and quick-chargers. Public chargers are available in various capacities: single-phase or three-phase and 16 amp or 32 amp. If your electric car allows single-phase charging (i-Pace, Kona, Ioniq, Leaf, e-Niro, etc.), look for a 7.4 or 22 kW charger to charge at maximum speed. If your electric car permits three-phase charging, look for an 11 or 22 kW charger. The above-mentioned apps can filter by charging power. All stations always deliver their maximum power. 22 kW chargers sometimes share their power if both plugs are in use (2 x 11 kW).
The charging speed at a quick-charger is largely dependent on your battery, because your battery charges most quickly if the temperature is not too high or too low and is sufficiently depleted. The size and chemical composition of the battery are also important. The larger the battery, the quicker it can charge. Your battery will charge at maximum speed when it is charged at 10 to 60%. The battery requires cooling during quick-charging in order to maintain this charge rate. Some cars have this feature, but others don't. This is why it is important to keep yourself well informed about these matters.
We all tend to focus on public charging stations, but if you have a charger at home or at the office, you will hardly ever use them. However, in urban areas where fewer families have their own parking spaces, it is advisable to invest heavily in a public charging infrastructure.
How much will I save?
On average, drivers of electric cars who can charge their cars at home save 50% when compared to charging at a service station. This means that they spend about €4 per 100 km instead of the €7 or €8 per 100 km that is required for a modern diesel car. Charging at the office often results in savings of up to 80%, which is why more and more companies are investing in charging stations. Thanks to their lower electricity costs, their investment in charging stations often takes just five years to pay for itself. That is the reason why there are currently more company charging stations than public charging stations.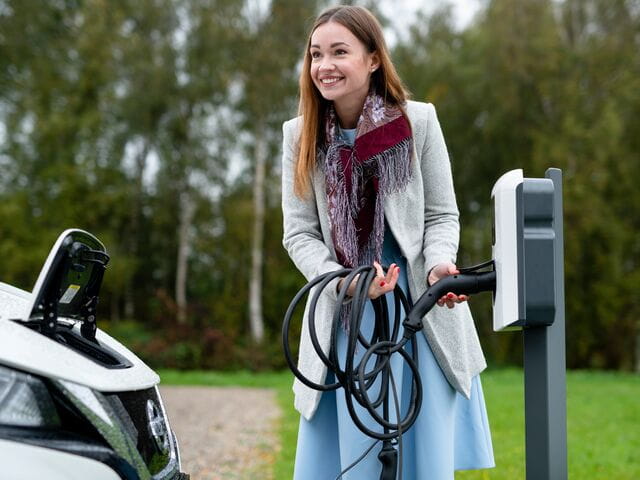 Apps show drivers where the charging stations are located, whether they are currently available or occupied, the type of plug they require, the rates (albeit not always) and more.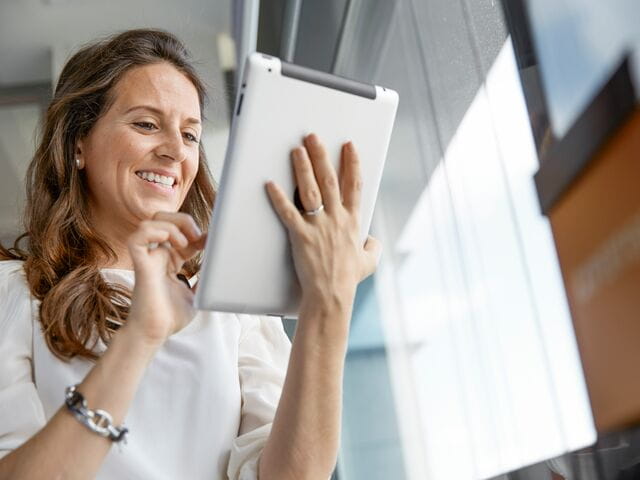 Apps show drivers where the charging stations are located, whether they are currently available or occupied, the type of plug they require, the rates (albeit not always) and more.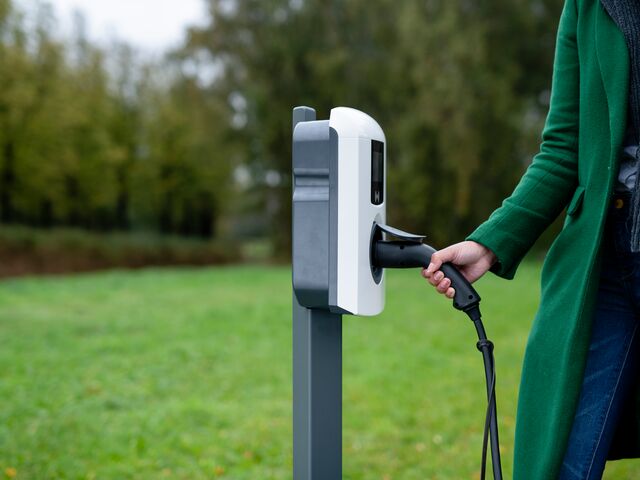 Thanks to an increasing number of roaming agreements, you can use different providers with the same charge card.